Entry Digitals
The entry Point-and-Shoot market is toughest of all to navigate. Every company seems to pile on more hype - most of which is meaningless - in an effort to persuade the unknowing into buying their camera. Before we make our recommendations, let's talk about a few things to avoid.
Digital zoom is totally meaningless and does nothing for your photos. It means either the camera chooses high ISO in low light or that the camera crops the picture it takes and digitally stretches the result to make it appear that it zoomed. Neither one does anything good for your pictures. The only zoom that matters is optical zoom, which is the zoom range of the fixed lens.
Image Stabilization - or IS, Mega OIS, VR, and other names - is important. Image Stabilization allows you to hand hold the shot in lower light than normally possible. This is very important with P&S since the tiny sensors always compromise ISO "film" speed and low light performance. Look for this feature as it makes a difference in the quality of the pictures you take.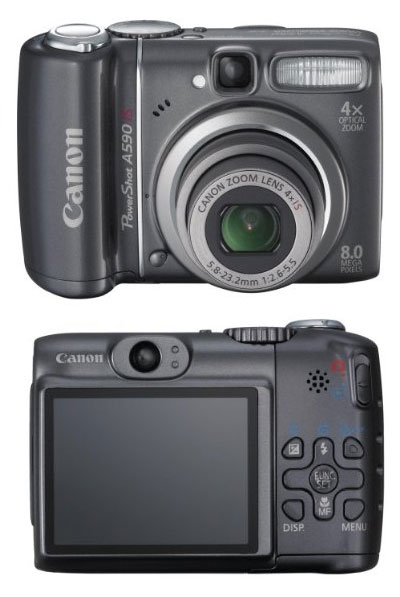 For just over $100 you can buy the Canon Powershot A590 IS. The A590 lists for $149, and it's worth it, but a little shopping will find you an even better price. The A590 features IS (Image Stabilization), a very good quality 4x zoom lens (35-140mm equivalent), and a bright 2.5" LCD in an 8.0MP dark graphite body. It features the latest in face detection and motion detection technology and produces good quality images in full auto mode or the wide selection of scene modes that work well in tricky lighting.
Experienced users, or those who want to grow with their camera, will appreciate the range of control from all Auto to adjustable ISO, color, contrast, white adjustment, and sharpness/saturation. You also get Program, Aperture Priority, Shutter Priority, and full Manual , which is very rare in an entry level point-and-shoot. In addition to the 4x optical zoom there is an added 4x digital zoom that works better than most, but keep in mind that digital zoom is of much more limited use than true optical zoom.
The A590 is small but not tiny. In the end it delivers great images right out of the box in full auto mode - there's even an easy mode for complete beginners. When you want more, there is a very wide range of adjustments you can grow with. "Film" is SD or SDHC cards and power is two AA batteries - not bad for a camera that costs just over $100.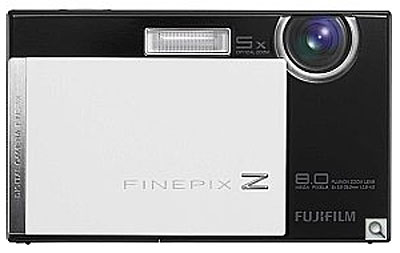 Some prefer a really tiny camera that fits easily in a purse, pocket, or backpack. A good choice for those who like thin and small is the Fuji Z100FD. This tiny camera actually packs a 5x (36-180mm) optical zoom and an 8.0MP sensor in that tiny body. It also delivers an excellent image for the cost of around $119 if you shop for it. It achieves super small size by using a small rechargeable Li-Ion battery and comes with the battery and charger. It does away with the optical finder to keep things small, but the LCD is a large 2.7". The Z100FD is also the first Z series to feature Image Stabilization and Automatic Red-Eye Removal.
The Z100FD is available in Shell Pink, Cappuccino Brown, and Tuxedo Black in addition to the standard Satin Silver. The colors will likely be a hit for those who want to tuck it in their purse, but you may have to pay more for colors other than Silver. When it was introduced, the Fujifilm Z100FD had a suggested price of $249, but it has dropped to $199 and can be found today at $115 to $120 at large etailers like Newegg and BuyDig.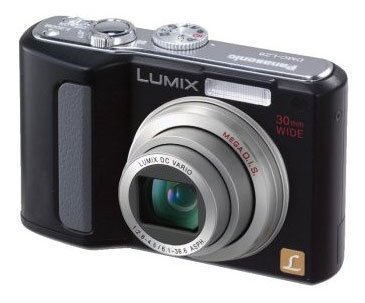 Another excellent choice in the beginner P&S category is the Panasonic Lumix DMC-L8. This 8.1MP model features a 5x (32-160mm) optical zoom lens and an exceptionally wide ISO range of 100-6400. Other features are definitely competitive with the best in this category.
If you are wondering why all our choices are around 8MP, it is because of the tiny sensors used in point-and-shoot cameras. 8MP seems to be the sweet spot for current P&S sensors. You can still achieve a wider usable ISO range and keep noise reasonably low. When you go beyond 8MP with these small sensors, image quality deteriorates very fast. Our advice here is to avoid the 12 to 15MP point-and-shoots and stick to 7 to 9MP for best overall performance.