GPU Performance
Despite the low entry price, the Acer Nitro 5 features a proper GPU in the NVIDIA GTX 1650, and if you opt for the Ryzen 7 version, it ships with the GTX 1650 Ti. Both of these GPUs are part of NVIDIA's 2020 laptop GPU refresh, and are based on the Turing architecture, sans the tensor cores features on the RTX lineup of Turing cards. Although NVIDIA launched the GTX 1650 as having "up to" 1024 CUDA cores, the Acer Nitro 5 offers 896, with 4 GB of GDDR6 on a 128-bit bus. To get 1024, you would need to step up to the 1650 Ti, and then the 1660 Ti is half-again as big, with 1536 CUDA cores and a 192-bit memory bus, so that last card is a significant performance bump.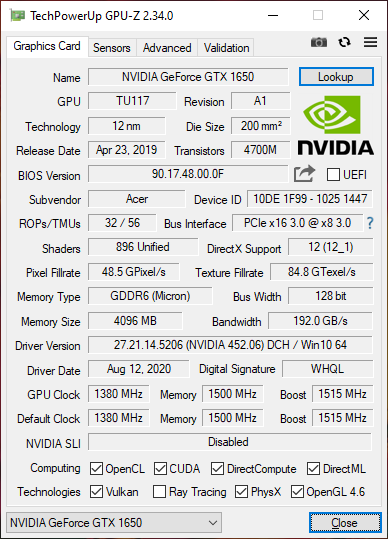 For the last several years, laptops have been hovering at or around the 1920x1080 resolution, with high-end GPUs unable to effectively push UHD resolutions in the laptop space, vendors have instead offered higher-refresh displays at 1920x1080 instead. Acer is offering up to 144 Hz, but the base model is a standard 60 Hz display, which, as you will see, is fine.
To see how the Acer Nitro 5 fares in gaming, we have tested it against our gaming laptop suite, starting with a couple of synthetic tests, and then moving on to proper games.
3DMark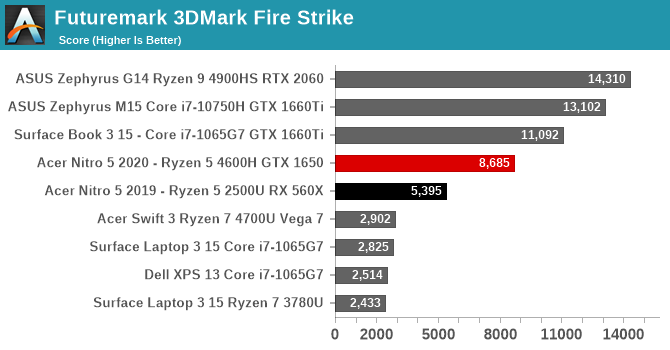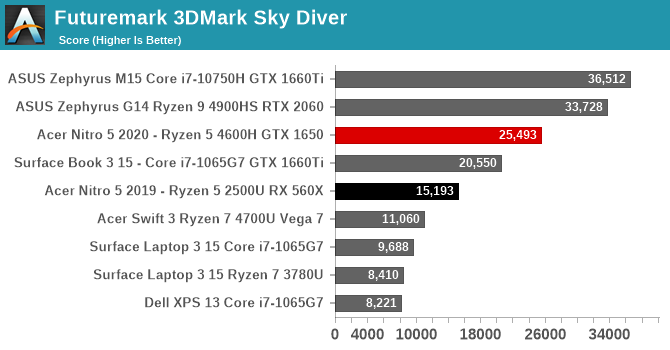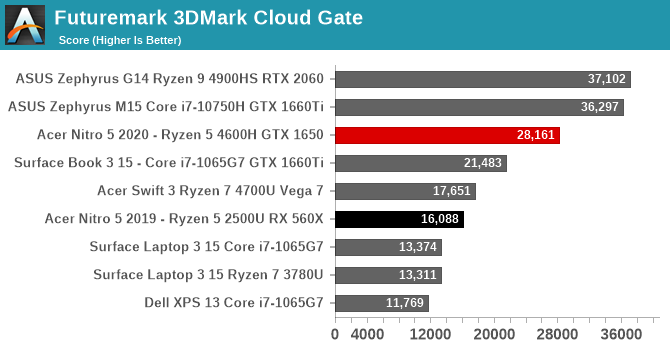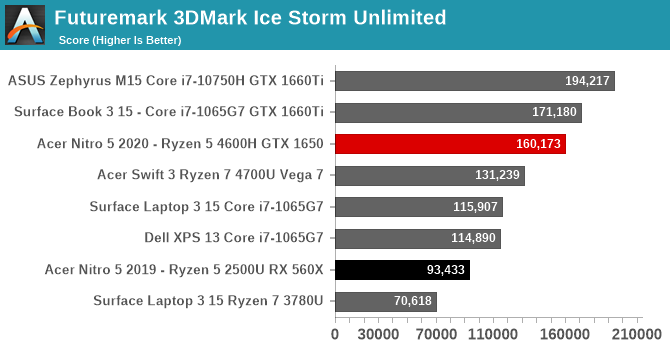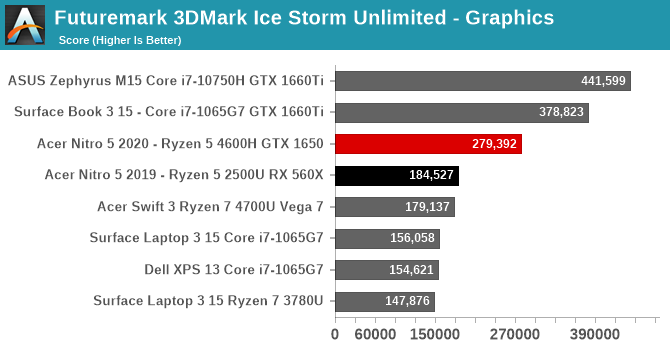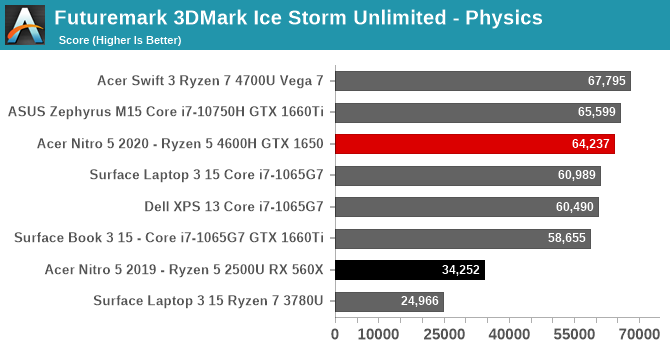 UL's 3DMark offers a variety of workloads, with Fire Strike being the most demanding on the GPU, and moving down from there. As the game is less demanding on the GPU, it becomes more CPU bound. Despite offering the "entry-level" GTX 1650 laptop GPU, there is still a large jump from the integrated GPUs in Ryzen 4000 and Ice Lake, which have both pushed the limits of integrated GPUs significantly in the last year. But a proper GPU, with its own power budget, and its own memory, just puts them to shame. The 1650 almost triples the Fire Strike score of the Ryzen 7 4700U.
GFXBench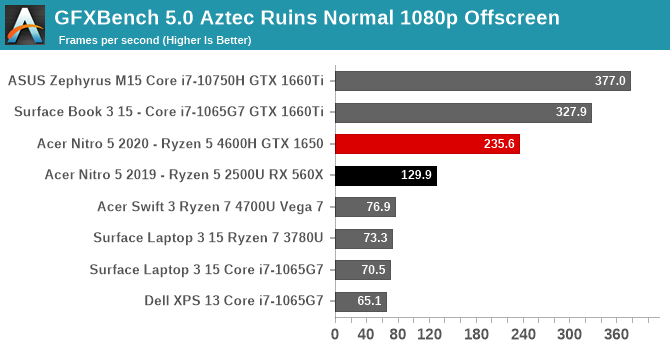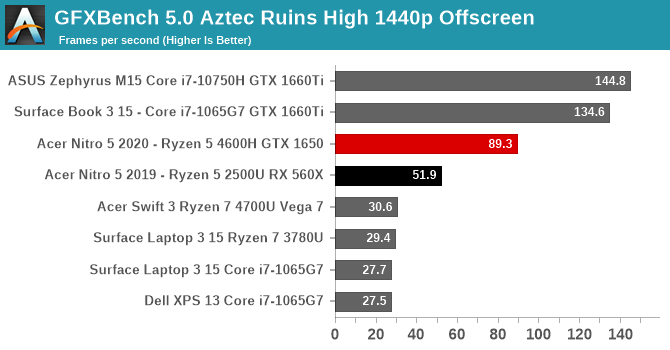 With version 5.0 of GFXBench, Kishonti introduced DirectX 12 workloads, which are also the same workloads available in their smartphone app. Although designed for smartphones and low-power PC GPUs, the 1440p Aztec High result especially is very demanding on integrated graphics, but the Acer Nitro 5 has no issues on either workload.
Tomb Raider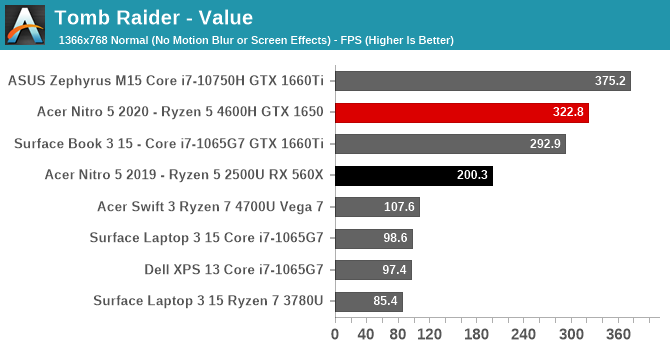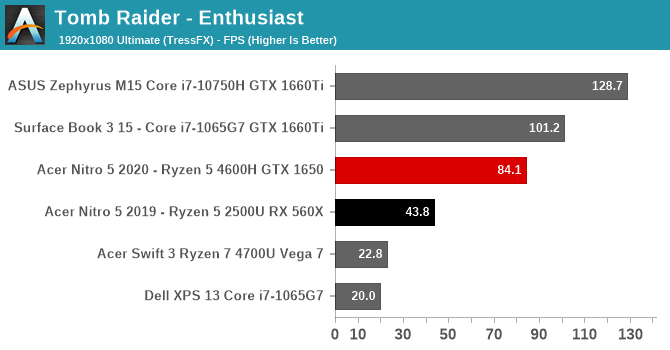 The original Tomb Raider reboot is still quite demanding on laptop-class GPUs, especially at our enthusiast-level settings at 1920x1080. The Acer Nitro 5 is able to handle this game very easily though, averaging almost 90 FPS even at maximum settings.
Rise of the Tomb Raider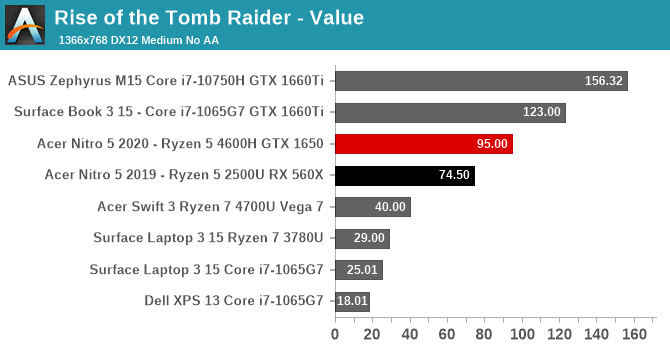 The second installment in the Tomb Raider reboot really amped up the graphics, and introduced DirectX 12 support. It can be punishing on mid-tier GPUs, and the Acer Nitro 5 handles the game fairly well, just under the 60 FPS threshold. With only a few minor tweaks with GeForce Experience, this game would also be very smooth.
Shadow of the Tomb Raider


The most recent installment is also, shockingly, the most demanding on the GPU, with the Acer Nitro 5 definitely playable, but likely with a few settings turned down to ease the burden slightly. This game is an example of where the 1660 Ti really shows its worth.
Strange Brigade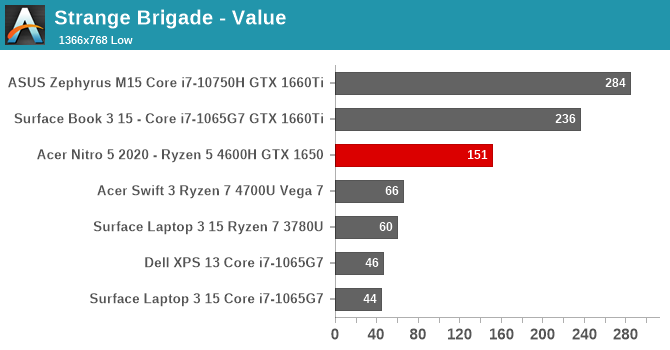 Offering both DirectX 12 and Vulcan options, this benchmark was run in the DirextX mode. Although the game scales down to integrated GPUs quite well, at maximum settings it can still cause a lot of stress on a discrete GPU. The Acer Nitro 5 is able to manage the 60 FPS average though.
Middle Earth: Shadow of War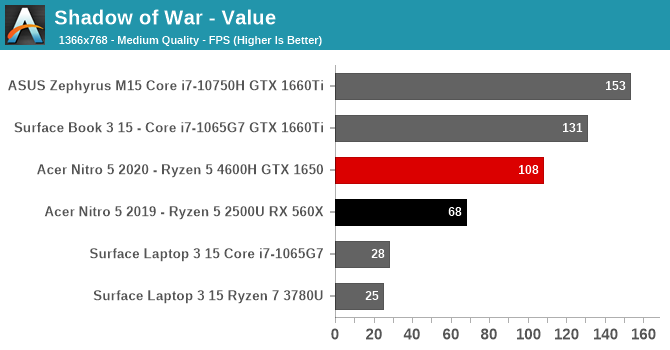 Shadow of War is also a game with a wide dynamic range of playability, and the GTX 1650 in the Acer Nitro 5 does struggle here at maximum settings, achieving only 42 FPS average. It can still play at 1920x1080, but some graphical fidelity will have to be sacrificed.
F1 2019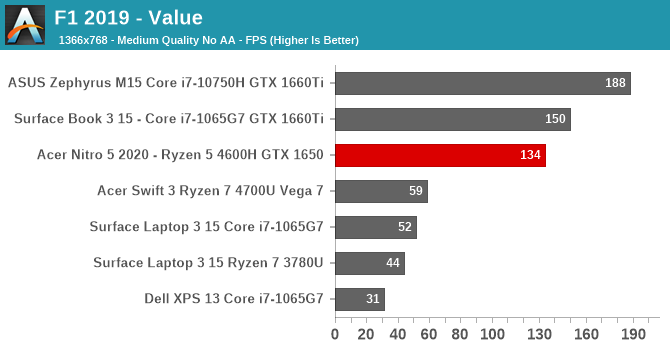 Codemasters has been tweaking the F1 game for quite a few years now, and F1 2019 brought about DirectX 12 support. This racing came, based on the Formula 1 World Championship, has tended to be CPU bound in previous versions of the title, but the DirectX 12 appears to have helped with that somewhat. The Acer Nitro 5 can play this game at maximum settings, although just.
Far Cry 5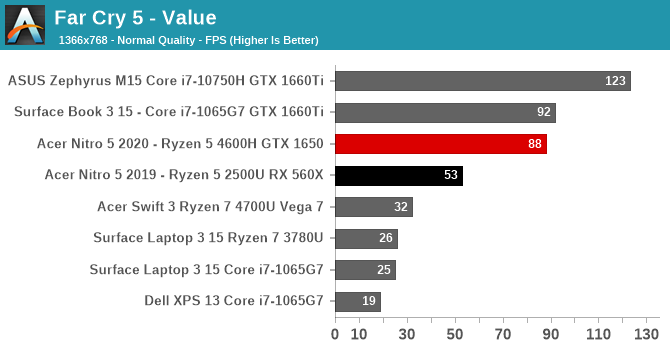 Ubisoft's popular Far Cry series is a game that can tend to be CPU bound, but on the entry-level gaming PC level that is not really the case. Acer's Nitro 5 is easily capable of playing Far Cry, albeit with a few settings dialed back slightly.
Gaming Conclusion: 1080p or Bust
What 2020 has taught us is many things, but on the laptop GPU side, we are at the point where even entry-level gaming systems can do a reasonable job at the 1920x1080 resolution almost all gaming laptops ship at. Acer offers a faster 144 Hz refresh rate on some iterations of the Nitro 5, but the base model ships with a 60 Hz panel, and that seems about right, since the GTX 1650 is not really capable of much more than that on most newer titles at 1920x1080. If you need a bit more grunt, Acer does offer the GTX 1650 Ti, coupled with Ryzen 7, but at a much higher price tag. The sweet spot for 1920x1080 right now is clearly the GTX 1660 Ti, which handled all the games tested without much fuss, but that's a much larger, more expensive, and more power-hungry GPU.