Visual Inspection
The ASUS ROG Crosshair VIII Impact is a mini-DTX motherboard which retails for $430 and represents the high-end small form factor X570 market. What it lacks in size, it makes up for in some very creative and interesting space-saving methods to include some of its core features. Around the sides of the AM4 CPU socket is a stacked PCB with plenty of well-utilized space. This coupled with a sleek all-black design across the rear panel cover, heatsinks, and the PCB make this a very color neutral looking board. There are some integrated RGB LEDs on the right-hand side of the board which isn't as extensive as some other ASUS ROG models of late, but the subtly is actually a strong point in terms of aesthetics.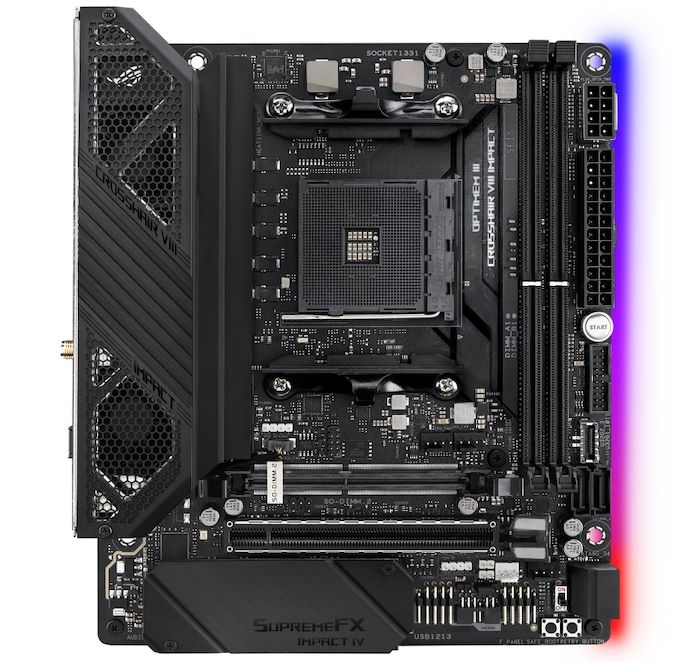 Using the mini-DTX form factor over mini-ITX has allowed ASUS to feature its SO-DIMM.2 slot abouve the main PCIe slot. This allows users to install up to 2 x PCIe 4.0 x4 M.2 drives in a handy compact shell which does incorporate a heatsink for each drive on either side of the card. Further to the M.2 is four SATA ports with two right-angled, and two straight-angled ports which support RAID 0, 1, and 10 arrays. Below the SO-DIMM.2 slot is a full-length PCIe 4.0 x16 slot, with both slots being lathered in a metal coating to reinforce and protect the slots from physical damage. Along the bottom of the PCB are a right-angled USB 2.0 header, a right-angled front panel header, and a small overclockers toolkit which is located in the bottom right-hand corner.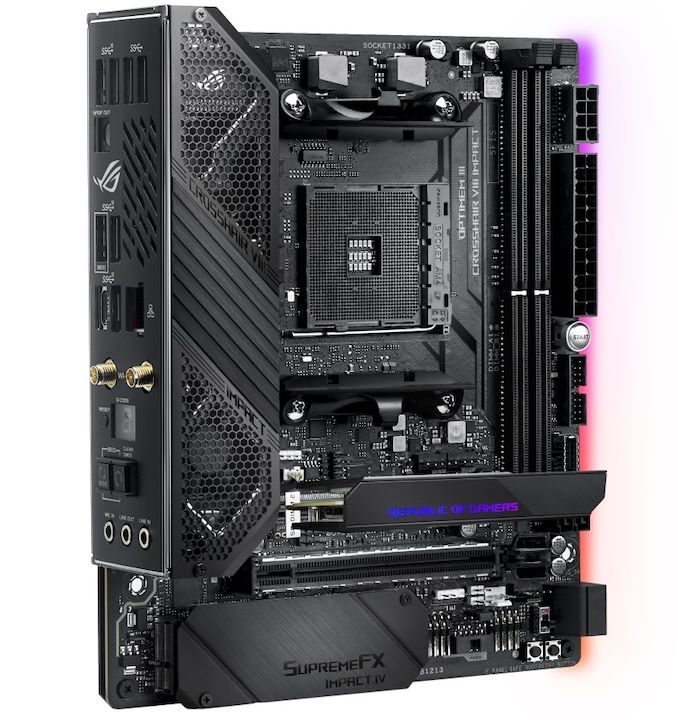 Memory support on the ROG Crosshair VIII Impact is impressive with support for DDR4-4800 out of the box and has support for up to 64 GB across the two available slots. Motherboards with two memory slots are commonly used by overclockers to push memory clock speeds with tighter timings with shorter traces which can enhance memory speeds. This is one of the main reasons extreme overclockers tend to favour models with two memory slots such as the ASUS ROG Maximus X Apex, and previous versions of the Impact series. A total of three 4-pin fan headers are present with one set aside for a CPU fan, one for a water pump, and another for a chassis fan; the ROG SO-DIMM.2 integrates a further two 4-pin fan headers onto it so it does provide more functionality. It also has an addressable RGB header which complements the single addressable RGB header located on the PCB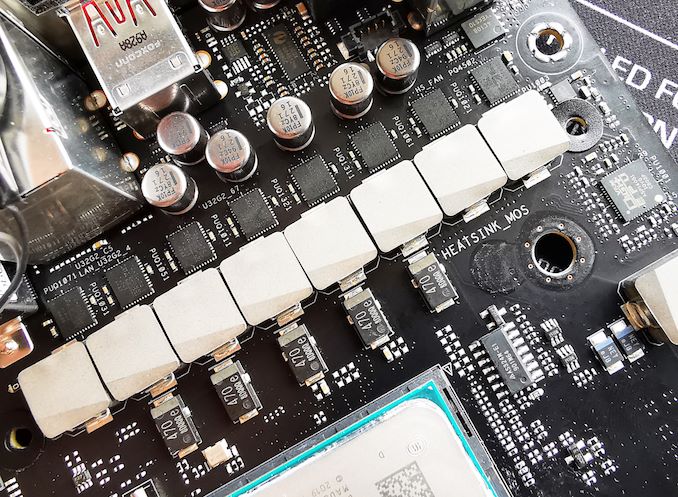 The power delivery on the ASUS ROG Crosshair VIII Impact is using a 10-phase configuration with an ASP1405I which is a rebranded Infineon IR35201 PWM controller. This controller operates in 4+2 mode, which would normally mean we expect to see doublers in play. But for the Impact series, ASUS is doing something very clever - they are able to double the phase count without using additional hardware by teaming the phases. There are tradeoffs with this design, as it requires initial high frequency signal duplication from the controller rather than splitting a signal with a doubler, and ASUS believes if gives them both an operational advantage and a cost advantage. (Note, this is different to just doubling components in series, ASUS does have a true parallel phase design in play).
For power delivery, The CPU section is using eight Infineon TDA21472 70 A power stages which are teamed for better transient response and improved efficiency. Each power stage is accompanied by an inductor and has its own aluminium polymer capacitor on the rear of the board with a further four located on the front side of the PCB.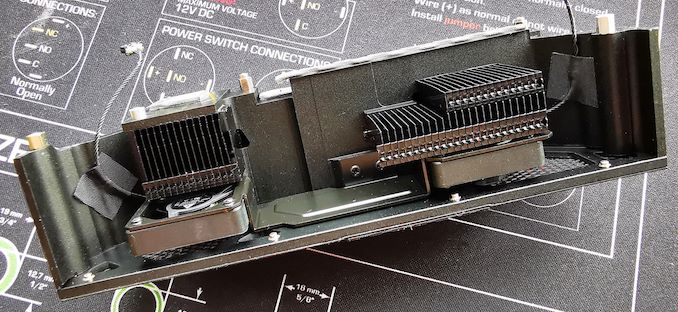 The eight power stages are cooled by a well-built aluminium heatsink which is assisted by a 30 mm fan integrated into the rear panel cover; one 30 mm fan is directly focused onto the power delivery and one on the X570 chipset. This is incorporated into the design of the rear panel cover and comes off the board in a single piece. It's a clever way of maximising the lack of space available.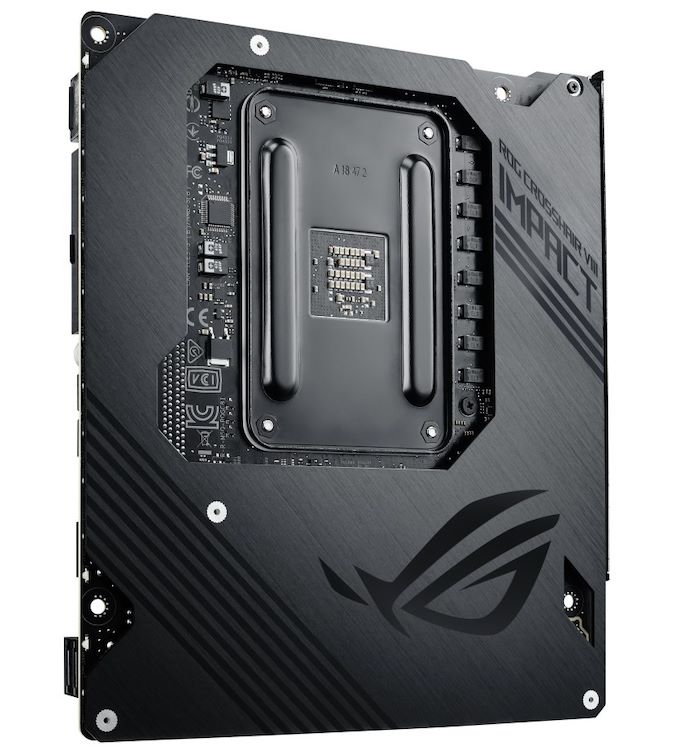 On the rear of the PCB is a metal backplate which incorporates a heatsink which covers the rear-mounted SoC power delivery. In a slight design twist, the SoC section consists of two Infineon TDA21472 70 A power stages are actually located on the rear of the PCB. These are operating individually and makes the Crosshair VIII Impact's power delivery a +2 design. The heat pipe built into the backplate isn't just cooling the SoC section, but it also covers the rear of the 8-phase CPU area for better thermal performance; something a lot of vendors don't cater for on its enthusiast-level models.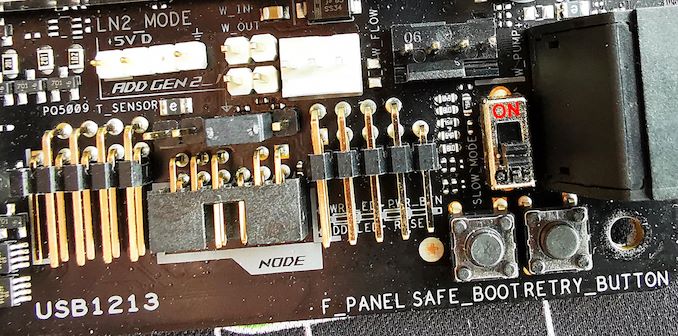 On the side of the board is the 'overclocker's toolkit'. This toolkit is designed for extreme overclockers and enthusiasts looking to push the envelope of the Ryzen 3000 processors with sub-ambient cooling methods such as liquid nitrogen and dry ice. Users looking to bypass certain AMD power and voltage restrictions can use the LN2 mode via the jumper, but this is not recommended unless you are proficient and plan to do some serious overclocking. Misuse of this can severely damage componentry and will instantly void the warranty. A small safe boot switch allows extreme users to automatically force the system to enter into safe mode which can be handy for failed overclocks and helping to resolve POST issues. The OC Retry switch is similar to the safe boot button but instead lets users retry failed overclockers which hang during the POST phase and can be very handy for quicker memory training when doing memory overclocking. Above the switches is a slow mode dip switch which allows users to have an element of control over clock speeds which can allow systems to start off at minimum clock speeds, and then re-apply them when the system has gone through stressful stages of POST which can sometimes crash when clock speeds are too intense for the system to handle.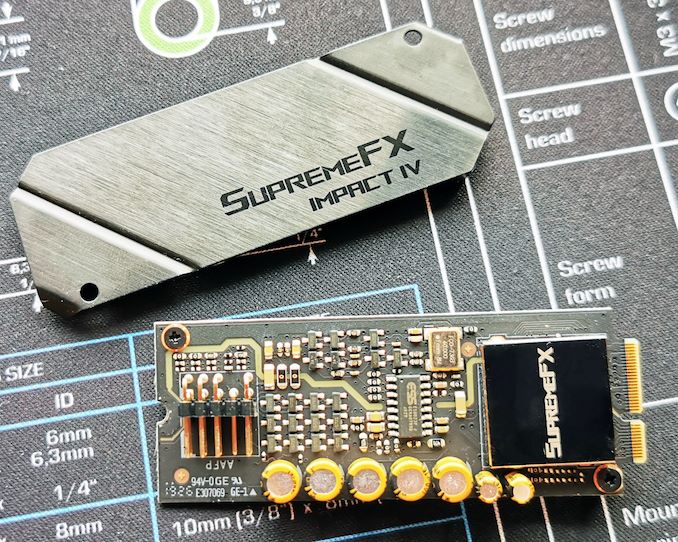 ASUS has decided to opt for a different approach to its implementation of the onboard audio on the ROG Crosshair VIII Impact with its audio componentry on an M.2 card which slots into the only onboard M.2 B-key slot located just below the full-length PCIe 4.0 x16 slot. This add-on card isn't designed to be removed and is an ingenious way of saving some space while isolating the audio PCB from the rest of the board's internal componentry. The M.2 audio card includes a SupremeFX S1220 HD audio codec with an EMI shield, an ESS ES9023P DAC, a front panel audio header, and has seven gold Japanese audio capacitors. It is covered up with a subtle black ROG themed metal fascia so that the audio PCB is hidden from sight, and is one of the most unique ways we've seen to implement onboard audio.

The Impact has one of the most equipped rear panels for USB connectivity compared with other small form factor models on X570 with five USB 3.1 G2 Type-A, a single USB 3.1 G2 Type-C, and two USB 3.1 G1 Type-A ports. There are two antenna ports for the Intel AX200 Wi-Fi 6 802.11ax wireless interface, while the single Ethernet port is controlled by an Intel I211-AT Gigabit controller. Also featured is a reset CMOS switch, a Q-Code LED debug, and a USB BIOS Flashback button. A SupremeFX S1220 HD 8-channel audio codec powers three 3.5 mm audio jacks and S/PDIF optical output is assisted by an ESS ES9023P HD DAC.
What's in the Box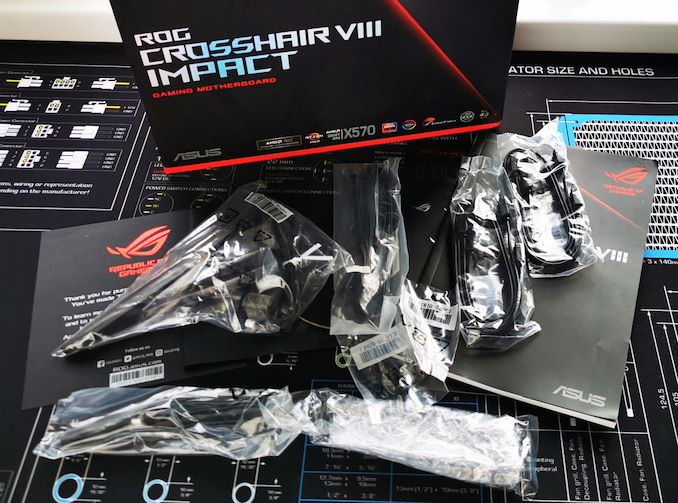 Included in the accessories bundle of the ROG Crosshair VIII Impact are four SATA cables, a user manual, two M.2 screw kits, the ROG SO-DIMM.2, an Intel AX200 wireless antenna, a ROG panel cable, and a chipset driver installation disc. There are also some non-hardware specific items included such as a ROG branded coaster, a ROG thank you card and a large ROG sticker sheet.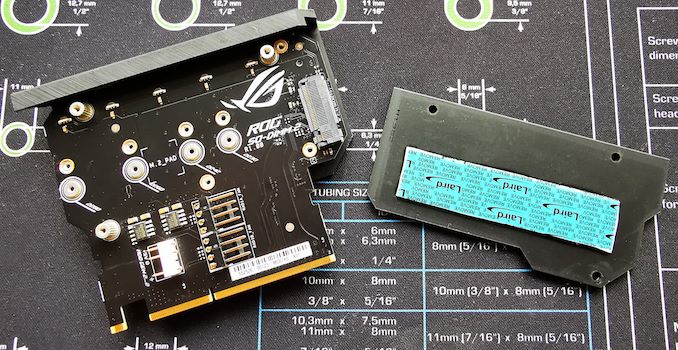 Nestled in the accessories bundle is the ROG SO-DIMM.2 which has slots with support for M.2 2280 PCIe 4.0 x4 and SATA drives; one on either side of the module. Each side has its own individual heatsink. Due to the design and how tall the SO-DIMM.2 is when installed, it should theoretically benefit from chassis with good passive airflow. Also included on the SO-DIMM.2 is two 4-pin fan headers and an extra addressable RGB LED connector. At every turn, ASUS is making use of space where it can.
User manual
Chipset driver support CD
4 x SATA cables
2 x M.2 screw kits
Large ROG sticker sheet
Intel AX200 Wi-Fi antenna
RGB extension cable
ARGB extension cable
ROG panel cable
ROG coaster
ROG thank you card
ROG SO-DIMM.2 module