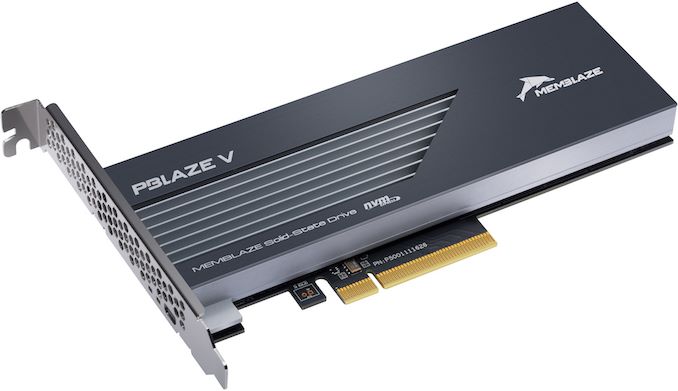 With the annual Flash Memory Summit kicking into high gear this week, Memblaze will be showcasing one of the industry's first ultra-low latency NVMe SSDs based on Toshiba's XL-Flash memory. The drives promise consistent, high performance as well as ultra-low latencies and will compete against Intel's Optane and Samsung's Z-NAND drives for mission critical and performance-demanding applications.
The Memblaze PBlaze X26-series drives are based on Microsemi's Flashtec NVMe2016 controller and are paired with Toshiba's XL-Flash memory. XL-Flash was announced last year, promising to reduce operational latencies by an order of magnitude compared to 3D TLC NAND (i.e., 1/10th of 3D TLC NAND latency). Memblaze claims that prototypes of the PBlaze X26-series SSDs feature a 4K random write latency under 10 μs and a 4K mixed read-write latency as low as 26 μs on average. In fact, the company expects the final drives to offer a latency of below 20 μs. This is still higher when compared to Intel's Optane SSDs, but these SSDs are expected to be cheaper as well.
Here is what Taile Zhang, Memblaze's senior vice president of products, said:
"Based on Memblaze's core flash memory technology, PBlaze5 X26 brings advantages of XL-FLASH's ultra-low latency, high QoS and provides fast, stable performance across the enterprise. Compared to 3D XPoint and other SCM media, XL-FLASH has an obvious price advantage that offers the PBlaze5 X26 series a boost for market acceptance and wide adoption across the industry."
Memblaze is not sharing any further details about the drives at this time, yet it does reveal a product name — the PBlaze5 X26 800 — which could possible indicate an 800 GB capacity.
The manufacturer is currently sampling the drive with select customers and plans to ship commercial products in 2020.

NOTE: Image is for illustration purposes only.
Related Reading:
Source: Memblaze