Design
When you think of gaming laptops, you generally think big and heavy, which makes sense due to the power requirements of top-end gaming components. A bigger laptop offers more thermal mass, and it also offers more room for cooling fans, both of which are a big help in terms of keeping a gaming laptop cool. That being said, the efficiency of modern CPUs and GPUs is at the point where you can now entertain a thin and light gaming laptop. Acer is certainly not the first to do this of course, but picking up the Predator Triton 500 for the first time drives home just how far GPUs have come, and with NVIDIA's Max-Q program, they really can fit the top tier GPU in a thin and light chassis. At just 0.7-inches, or about 18mm thick, the Predator Triton 500 isn't much thicker than an Ultrabook, and at 4.63 lbs, or 2.1 Kg, it is reasonably light as well.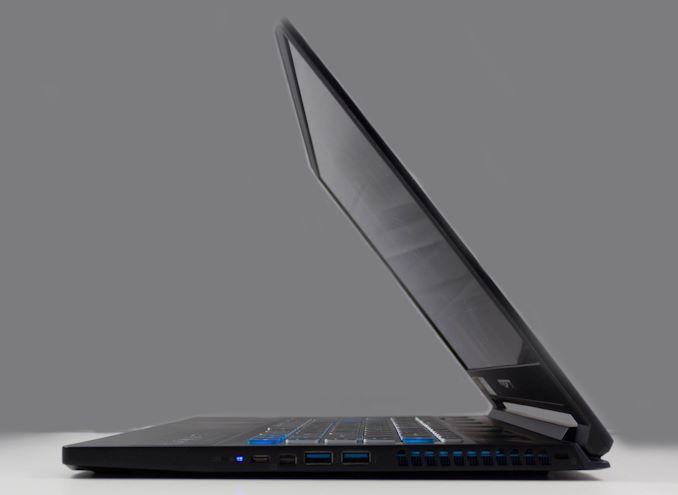 The thin design and light weight start with the chassis, which Acer has crafted out of aluminum. On a premium laptop design, this is expected, and Acer's execution is top-notch. The Predator logo is backlit in blue on the top of the system, but other than that the design is more muted than many gaming systems, which I think a lot of people will appreciate. Acer has also angled the top corners slightly, which is a nice touch. It's a simple, but well-executed design.
Opening the laptop up, Acer has also jumped on another very welcome trend, offering minimal display bezels around the 15.6-inch display. There's a bit of a chin on the bottom, which can't be avoided if you want to fit all of the cooling and circuit boards inside. It's true that a taller aspect ratio would solve this issue, but there is no way Acer could have found a 144 Hz IPS display panel in a 3:2 aspect, so keeping the three bezels to a minimum seems like the right solution. The angled corners at the top also allow Acer to fit the webcam in above the display.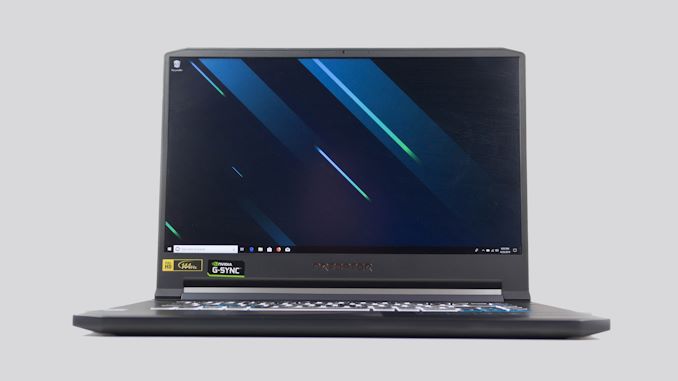 The keyboard layout works well, offering six rows of keys. Some 15.6-inch laptops take the route of offering a number pad, which never really works well due to the narrow keyboard deck, and likely the thin bezel design wouldn't even allow this on the Triton 500, but Acer has fit in a row of media keys, which also offers a Predator key to launch their PredatorSense software, as well as the power button. I generally frown on having the power button be a key on the keyboard, and would prefer a separate key to avoid accidentally hitting it, but since it's slightly removed from the normal keyboard layout, this isn't as big of a con.
The keys themselves offer backlighting, but unlike some of the competition which offers per-key RGB LEDs, Acer only allows you to customize them in three zones. Per-key RGB may seem like a gimmick, but it's actually quite handy to color code one or two keys so you can easily find them. Acer does offer RGB backlighting though, which can be adjusted through their software, so you can pick your color, or choose one of the pre-selected layouts. One other small negative is that the backlighting isn't activated when the trackpad is being used, so you have to be actually typing on the keyboard to activate the lighting, and keep it active. That's not always ideal, and I prefer when backlighting is activated by both the keyboard and track pad.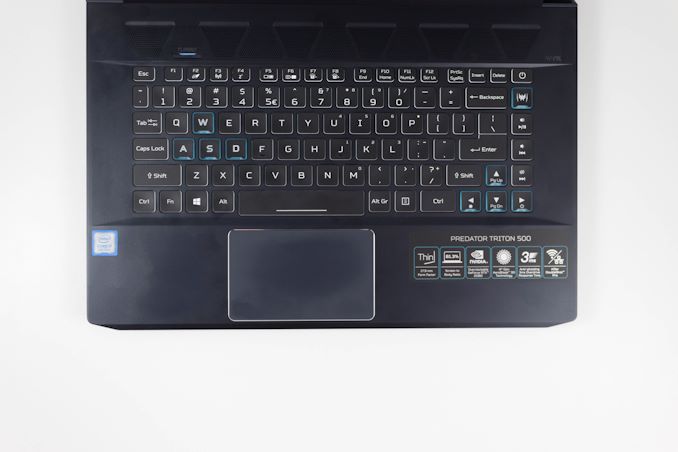 Typing on the keyboard is surprisingly good. The keys are well-spaced and offer enough travel that it's easy to get accustomed to typing on this laptop. The arrow keys are all full sized, although they do shrink the right shift key, that's generally not an issue.
Acer's track pad is also excellent. It is easy to be precise with it, and the trackpad is just the right size. The surface is very smooth, and I never had any issues using multi-touch gestures either. PCs have come a long way here, and it's nice to see the adoption of the precision touchpad across so many laptops.
The left side of the laptop offers power, Ethernet, USB, HDMI, and the two audio jacks. The right side has two more USB ports, the USB Type-C port for Thunderbolt, and a mini DisplayPort output. There's plenty of IO available, but if I was nit-picking, the layout of the cooling vents on the side block where the power cable would normally go, and considering this laptop is meant to be plugged in pretty much all of the time, having the power connector where it is makes for somewhat awkward cable management. Acer has tried to help out here by having a 90° connector, but it still isn't ideal.


But other than that small complaint, Acer hits a lot of good notes on their design and execution of the Predator Triton 500. For a gaming laptop, it strikes a nice balance between usability, design, and functionality. The thin design and light weight make it exceptionally portable. Coupled to that is the modern thin-bezel look. Acer has designed a great looking laptop in the Predator Triton 500.