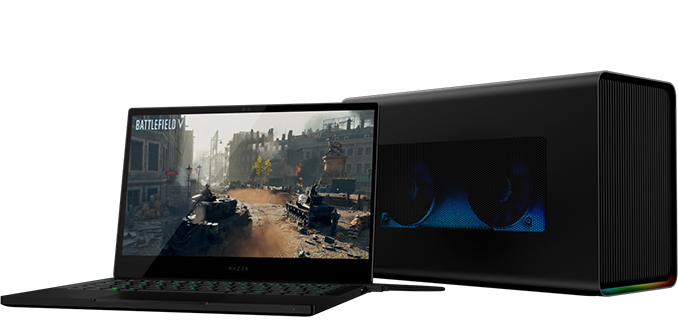 Razer has introduced a new enclosure for external graphics cards. The new Core X Chroma Thunderbolt 3 enclosure is compatible with bulky graphics cards, integrates a high-wattage power supply, and comes with additional USB 3.0 Type-A as well as GbE ports. The new unit also has programmable RGB lighting.
The Razer Core X Chroma uses almost the same aluminum chassis as last year's Core X, but it has two RGB lighting zones that can be customized on Windows systems using Razer Synapse 3 software. Internally, the Core X Chroma can house a triple-wide graphics card that is up to 33 cm/12.99-inches long. Architecturally, this one resembles the Core v2 that has two Thunderbolt 3 controllers.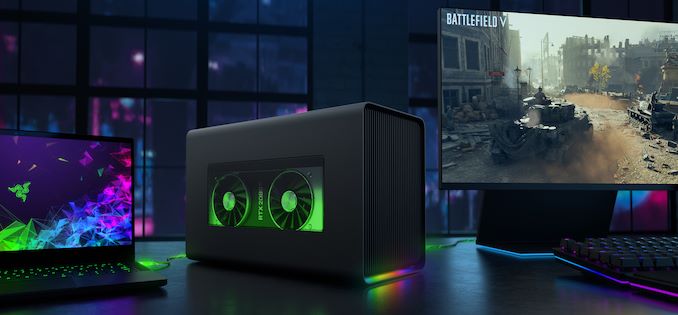 The primary TB3 controller is used to connect the GPU to the host PC using all four PCIe lanes. Whereas the secondary TB3 controller is connected to the primary one using the downstream TB3 port of the primary one (essentially creating an internal daisy chain) and uses its PCIe lanes for the GbE and the USB controllers. In this situation, the GPU always gets a priority and the traffic from the other clients is always routed properly. Unfortunately, Razer does not disclose which TB3 controllers it uses.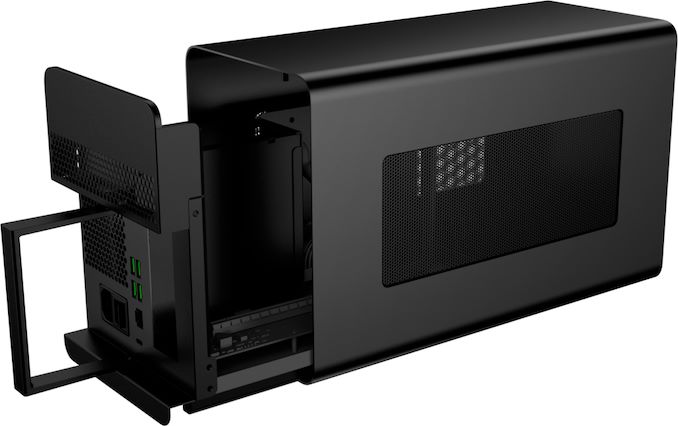 The Razer Core X Chroma comes with a 700 W power supply to feed enough power even to ultra-high-end graphics boards and even deliver up to 100 W of power to the host PC. The enclosure is naturally compatible with all modern graphics cards, including AMD's Radeon VII as well as NVIDIA's GeForce RTX on Windows, whereas Apple's macOS has certain limitations when it comes to eGPU support because of the drivers. Meanwhile, the box has perforated sides and a 120-mm fan to ensure proper cooling of its internals.
Comparison of Razer's Modern eGFX Enclosures
Aspect
Razer Core X Chroma
Razer Core X
Chassis Dimensions
37.4 × 16.8 × 23 cm | 14.72 × 6.61 × 9.06 inches
Max. GPU Dimensions
33 × 6 × 16 cm | 12.99 × 2.36 × 6.29 inches
Max. GPU Power
500W
PSU
700 W
650W ATX
Cooling Fans
1 × 120mm (Chassis)
? (PSU)
Thunderbolt 3
1 × Thunderbolt 3 (to host)
GbE
1 × GbE port
-
USB
4 × USB 3.0 ports
-
RGB Lighting
Razer Chroma
-
Power Delivery
100W
Shipping Date
April 2019
May 2018
Price (in USD, at launch)
$399
$299
Razer already sells its Core X Chroma external graphics enclosure directly and through select retailers in the US and Europe. Pricing is around $399.99 or €429.99, depending on location.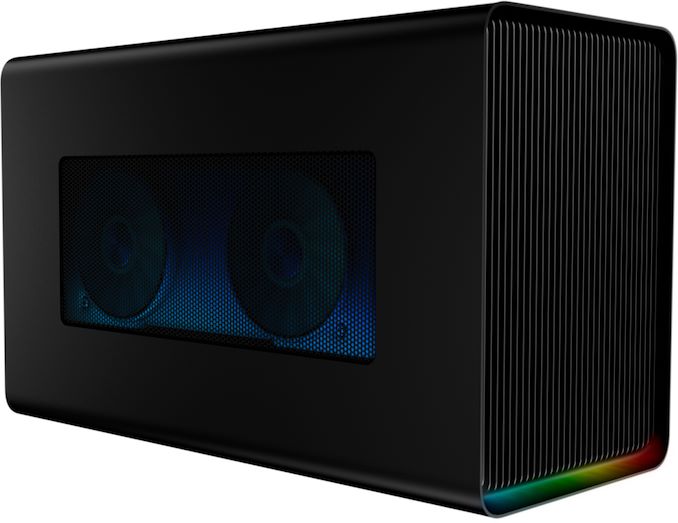 Related Reading
Source: Razer