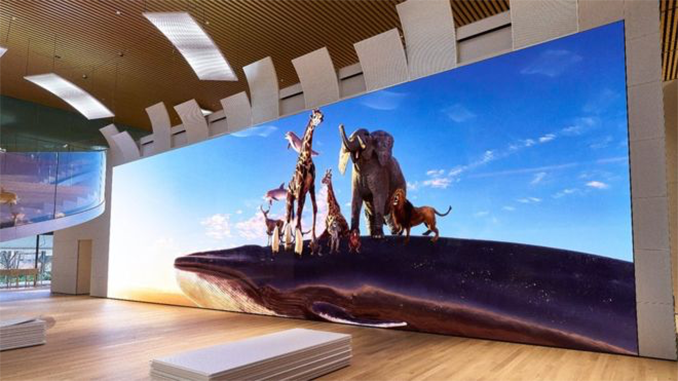 Sony said at the National Association of Broadcasters (NAB) trade show that it had developed a screen featuring a 16K resolution that uses its Crystal LED technology. The display is currently being installed at a new research center of Shiseido, a Japanese cosmetics group.
The screen is 19.2 meters (63 feet) long and 5.4 meters (17 feet) high, it features a diagonal of 783 inches and is generally larger than a bus. Sony does not disclose exact resolution of the display (other than saying that it has around 16,000 horizontal pixels), though judging by the looks of the screen we are dealing with something that has a non-standard resolution and a non-standard aspect ratio.
Sony's 16K 783-inch screen uses the company's Crystal LED technology that uses multiple Micro LED-based modules to build custom displays featuring virtually any size, any resolution, and any aspect ratio. Featuring individually-controlled Micro LEDs, the modules have no bezels and can be attached to each other seamlessly. Sony and Samsung use Micro LED/direct-lit LED-based modules to build custom screens for cinemas, airports, showrooms, and other venues that need large displays.
As 8K content is slow to emerge, it will take the industry quite some time to adopt a 16K resolution for professional and consumer applications. Therefore, such ultra-large ultra-high-definition screens will be limited for the corporate/digital signage world for years to come.
Related Reading
Source: BBC