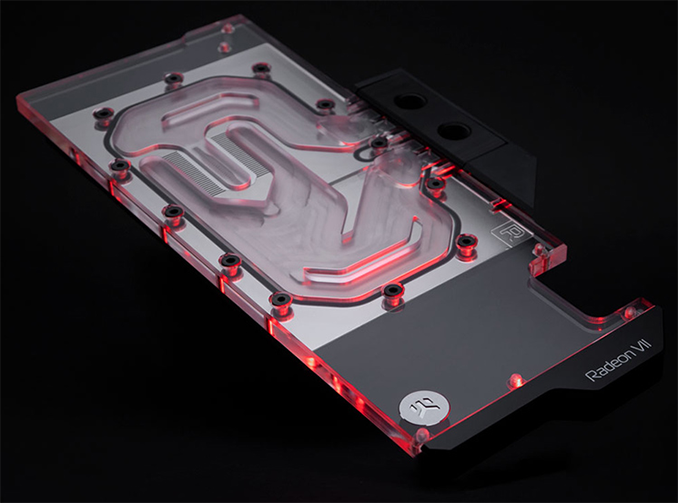 EKWB has introduced its new water blocks designed for AMD's reference design Radeon VII GPUs. The EK-Vector series water blocks for AMD Radeon VII will enable owners to use custom liquid cooling systems and either run cooler, or overclock more.
EKWB's EK-Vector Radeon VII water blocks cover the GPU, the memory, as well as its VRM. The manufacturer claims that its new water blocks feature a larger footprint when compared to the previous-generationm and improves cooling performance to let the GPU to work at higher clocks for longer periods of time, or enabling a higher overclocking potential. Just like other modern EK-Vector water blocks, they feature cold plates with proprietary Open Split-Flow micro-channels.

EKWB will offer four versions of its EK-Vector Radeon VII water blocks. Depending on the variant, the base of the water blocks are made of copper or nickel-plated electrolytic copper, whereas the top is made of high-quality acrylic material or POM Acetal material. They also feature an LED strip on the front corner, which uses a 4-pin 12 V connector and can be controlled by RGB command software from the leading motherboard makers (ASUS, ASRock, GIGABYTE, MSI).
Traditionally, EKWB's water blocks use standard G ¼ inch barbs for tubing and are thus are compatible with a wide range of custom liquid cooling systems. To ensure proper sealing, EKWB's new water blocks use EPDM O-Rings.

The EK-Vector Radeon VII water blocks and backplates are already available directly from EKWB and will be available from the company's partners shortly. The water blocks cost €129.90 - €149.90, whereas the backplates are priced at €36.90 - €43.90.
Related Reading:
Source: EKWB