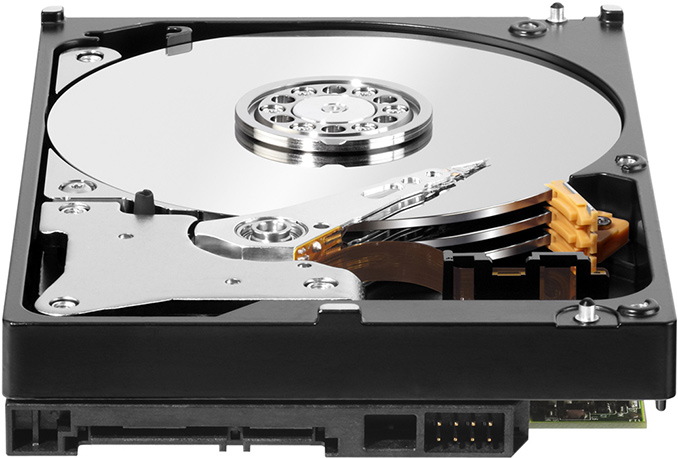 HOYA Corp., an optical glass maker from Japan, announced this week that it had started construction of its new production facility for hard drive platter glass substrates. These substrates could be used to make conventional 2.5-inch HDD platters as well as next-generation platters for hard drives that use energy-assisted magnetic recording technologies (HAMR, MAMR).
The manufacturing facility will cost HOYA around ¥30 billion ($270.5 million) and will start production at the beginning of 2020, according to a media report. Located in the Saysettha Development Zone (SDZ) in Laos, the factory will be HOYA's third plant that produces glass substrates for hard drives. Being the newest one, the facility will use the latest manufacturing equipment and technologies, so it will be ready to make the most advanced substrates that will then be used by makers of platters (e.g., Seagate, Showa Denko, Western Digital) to manufacture next-gen HDD media. HOYA's other substrate manufacturing capacities are located in Thailand, and Vietnam.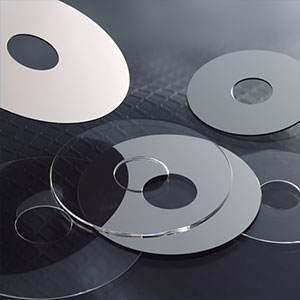 Nowadays glass substrates for HDD platters are mainly used to make media for 2.5-inch hard drives for laptops and datacenters. As sales of 2.5-inch HDDs for notebooks are dropping because of cheaper SSDs, demand for these platters and substrates is decreasing as well. In the meantime, the use of glass substrates and platters in 3.5-inch drives is gaining traction as makers of datacenter HDDs start to use them both for existing and next-gen hard drives that use energy-assisted recording technologies. Glass substrates have a number of advantages when compared to aluminum substrates: they are thinner, lighter, more rigid, they expand less than aluminum when heated, and they may be made flatter. In the end, they are more preferrable for next-gen high-capacity HDDs.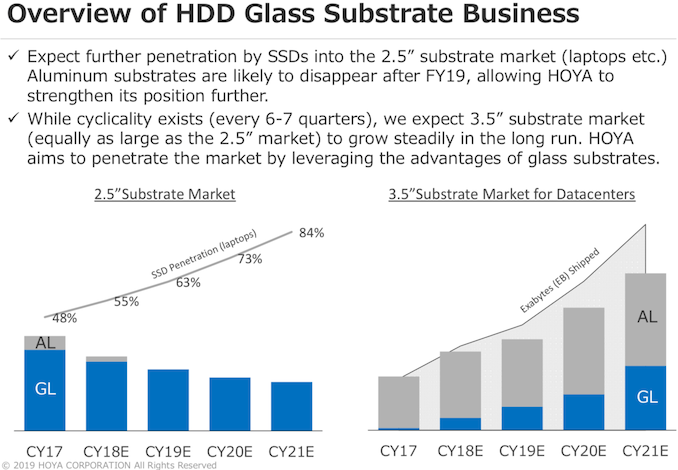 Contemporary hard drives featuring perpendicular magnetic recording (PMR) technology use aluminum or glass media featuring CoCrPt–SiO2 nanogranular magnetic films. Researchers believe that next-gen HDDs that use ultra-high-density energy-assisted recording technologies (such as HAMR or MAMR) will have to switch to new types of media featuring magnetic materials with high magnetocrystalline anisotropy (such as L10–FePt, L10– CoPt, Nd2Fe14B, and SmCo5) particularly because the structure of the new media will have to ensure that grains used to record data are small enough, whereas the media takes into account extreme temperatures and other factors that occur during heat-assisted recording.

Scientists think that since rare earth compounds are susceptible to oxidation and corrosion, they are not suitable for long-term data storage. They consider a combination of a glass substrate and L10–FePt as the most promising one for HAMR-based HDD media at the moment.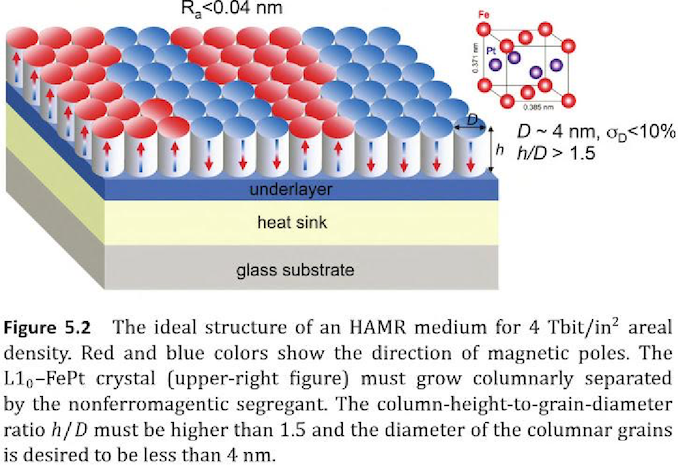 Keeping in mind that sales of high-capacity hard drives for exascale datacenters are increasing, demand for glass substrates (with certain properties) for next-gen HDDs is almost guaranteed, which is why HOYA is investing in the new facility.
*See Ultra-High-Density Magnetic Recording: Storage Materials and Media Designs by Gaspare Varvaro and Francesca Casoli published by CRC Press
Related Reading:
Source: Xinhua
Image Credits: HOYA, Western Digital, Ultra-High-Density Magnetic Recording: Storage Materials and Media Designs by Gaspare Varvaro and Francesca Casoli published by CRC Press