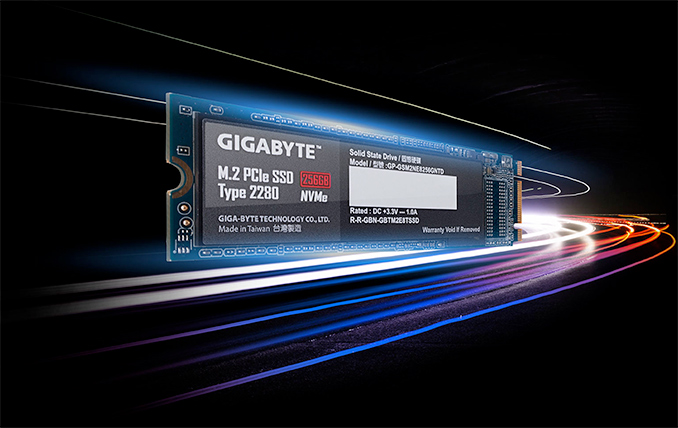 GIGABYTE this week expanded its lineup of SSDs with its new M.2 PCIe drives. The company keeps its cautious approach to the storage market and for now continues to aim at the entry level segment. The new drives are based on Phison's reference design and controller, and the new drives show that GIGABYTE is going to stick to its partnership with this vendor.
GIGABYTE's M.2 PCIe SSDs will be available in 128 GB, 256 GB, and 512 GB configurations, which are popular capacities for entry-level gaming PC-graded SSDs. The drives are based on Phison's PS5008-E8T controller and Micron's or Toshiba's 3D TLC NAND memory. This controller is one of Phison's cheapest PCIe solutions: it supports NVMe 1.2 interface, it has four NAND channels, it does not support a DRAM buffer, and it uses a PCIe 3.0 x2 interface, which means that the new drives clearly outperform low-end SATA SSDs, but are considerably behind higher-end PCIe 3.0 x4 drives.

Speaking of performance, GIGABYTE claims that its M.2 PCIe 256 GB offers up to 1200 MB/s sequential read speed as well as up to 800 MB/s sequential write speed (with pSLC enabled). As for random performance the maker rates the drive for up to 80K/150K read/write IOPS. The lower-capacity M.2 PCIe 128 GB is capable of up to 1100 MB/s sequential read speed, up to 500 MB/s sequential read speed, as well as up to 90K/100K read/write random IOPS. It is noteworthy that sequential performance numbers that GIGABYTE publishes for its M.2 PCIe SSDs are considerably lower when compared to official performance numbers Phison declares for its PS5008-E8T controller. At the same time, its random performance numbers are actually higher than what Phison expects from its chip. Perhaps, GIGABYTE decided to tune its M.2 PCIe SSDs somehow, or maybe use a custom firmware from Phison.

GIGABYTE already lists 128 GB and 256 GB M.2 PCIe SSDs on its website, so expect the drives to show up in retail shortly with 512 GB version following up a bit later. All the drives are rated for a 1.5 million-hour MTBF and are covered by a three-year warranty or the maximum TBW rating (whichever comes first).
GIGABYTE M.2 PCIe SSDs Specifications
Capacity
128 GB
256 GB
512 GB
Model Number
GP-GSM2NE8128GNTD
GP-GSM2NE8128GNTD
GP-GSM2NE8512GNTD
Controller
Phison PS5008-E8T
NAND Flash
Spectek/Micron B17
3D TLC
Spectek/Micron B16
64-layer 3D TLC
or
Toshiba's 256 Gb 64-layer BiCS3 3D TLC
Toshiba's 256 Gb 64-layer BiCS3 3D TLC
Form-Factor, Interface
M.2-2280, PCIe 3.0 x2, NVMe 1.2/NVMe 1.3
Sequential Read
1100 MB/s
1200 MB/s
?
Sequential Write
500 MB/s
800 MB/s
?
Random Read IOPS
90K
80K
?
Random Write IOPS
100 K
150K
?
Pseudo-SLC Caching
Supported
DRAM Buffer
No
TCG Opal Encryption
Unknown
Power Consumption
Idle: 50 mW
Read: 2510 mW
Write: 1850 mW
Idle: 50 mW
Read: 2200 mW
Write: 2100 mW
?
Warranty
3 years
MTBF
1,500,000 hours
TBW
100 TB
200 TB
?
Earlier this year GIGABYTE announced plans to release a lineup of high-end SSDs under its AORUS brand, but did not disclose any details about the products. Having now launched SSDs based on Phison's PS3110-S10 and PS5008-E8 controllers, GIGABYTE demonstrated its commitment to Phison, which may indicate that its high-end drives will be powered by the PS5012-E12 controllers (although this is naturally speculation for now).
Related Reading
Source: GIGABYTE