Since May, one by one, manufacturers have made numerous attempts at producing a motherboard that could tame the AMD K6-2 - a monster without a home. The very first Super7 motherboards, boards which support AGP, the 100MHz Front Side Bus, and Super7 processors (i.e. K6-2), that hit the market were lacking in quite a few areas. While some boards had the quality and layout that has grown to be desired by most users, they often fell behind in compatibility, and in many cases they lacked the common sense behind their design that made the market turn towards Intel's Pentium II.
Why would you purchase a CPU whose performance was simply outstanding when paired with a Voodoo2 accelerator knowing that you would only be able to use the CPU on a motherboard which wouldn't allow for a Voodoo2 to be installed? It is true that this problem only affected an isolated selection of the upgrading population, however situations of this caliber this popped up all over the motherboard world. Boards with only 3 PCI slots became common-place on the manufacturing end, a 4 PCI slot Super7 board slowly became an option, and finally a solution equipped with 5 PCI slots became available. In the year of the Voodoo2, in the year of Cable modems, and in the year of the PCI sound card how is one expected to "upgrade" to a system that barely has any allowance for expansion?
The challenge was issued, the market demanded the Ultimate Super7 Motherboard. Normally, when the market demands something so unanimously, the big names are the first to step up with their own solutions. Unfortunately, this time around, that wasn't the case. ASUS, normally one of the first to release a hot new motherboard was left off of the band wagon, ABIT dropped their plans for a Super7 board long ago, and FIC's PA-2013 is no where to be found.
With the big boys out of the picture, the chance for the former runners-up to meet the challenge, and this they did. Epox was the first, with an excellent design for their MVP3E-M, however now that the boards are out in circulation there have been reports of disappointed users. TMC quickly followed up with the best candidate for the Ultimate Super7 Motherboard title with their TI5VG+...until now.
California Graphics, known for their presence in the Video industry decided that this was their chance to step up to the plate and take a swing at that title. The market threw the pitch, and California Graphics responded with their Photon 100 High Cache Super7 Motherboard. The elusive California Graphics Photon 100 HC is finally here, is it really the Ultimate Super7 Motherboard? Let's find out as AnandTech explores the overlooked west-coast of motherboard manufacturing, California Graphics, with their Photon 100 HC.
---
AnandTech Report Card Rating
97/A+
--

CPU Interface
Socket-7
Chipset
VIA MVP3
L2 Cache
1MB/2MB
Form Factor
ATX
Bus Speeds
60 / 66 / 68 / 75 / 83 / 90 / 100 MHz
Clock Multipliers
1.5x - 5.5x
Voltages Supported
2.0v - 3.5v (0.1v steppings)
Memory Slots
3 168pin DIMM Slots (EDO/SDRAM)
Expansion Slots
1 AGP Slot
5 PCI Slots (5 Full Length)
2 ISA Slots (1 Shared / 2 Full Length)
BIOS
Award BIOS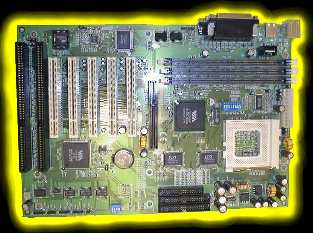 The Photon 100 HC in all of its "glow-ry"
Looking at the specs for the motherboard caught the attention of most users even remotely interested in the K6-2. A motherboard equipped with 5 full-length PCI slots, 2 full-length ISA slots, and bearing the VIA logo on its MVP3 chipset which provides the AGP support, on paper, the Photon 100 HC is the best Super7 motherboard out today provided you don't need more than 2 ISA slots and don't plan on using SIMMs. Being exposed to the computer hardware industry for more than a few minutes should have prepared you well for that last statement since you should definitely know that looks can very well be deceiving, this was a fear present in the minds of those that curiously eyed the Photon 100 HC's evolution from a distance.
Note that the Photon 100 and the Photon 100 HC are two entirely different motherboards, the Photon 100 is available only in a 512KB L2 cache configuration and is nothing more than an OEM version of the TMC TI5VG+ sold under the California Graphics label. The Photon 100 HC (HC standing for High Cache) on the other hand, is an original design from California Graphics and is available with up to 2MB of L2 cache. While the 2MB version is not shipping, it will differ from the 1MB board only in performance and the size of the cacheable memory area of the board. When the MVP3 chipset is paired with 512KB of L2 cache it allows for a 128MB cacheable memory area (127MB in actuality), doubling the cache also doubles the cacheable memory area, meaning a Photon 100 HC with 1MB of cache can cache up to approximately 256MB of RAM. While it is doubtful that any user going with a K6-2 system will need over 256MB of RAM, for those of you that are interested in pushing the limits of your money, the 2MB Photon 100 HC will be able to cache around 508MB of RAM. Reaching most of these limits shouldn't be much of a problem, the Photon 100 HC features a total of 3 DIMM slots. There are no SIMM slots on-board, so those of you looking to re-use your EDO SIMMs are out of luck, if you are really determined on re-using your old SIMMs then you may want to consider the standard Photon 100 or the TMC TI5VG+.
The sacrifice of the 2 SIMM slots that were included in the original TMC design used with the Photon 100 was made going on the theory that such a sacrifice could be made in order to achieve a greater good, in this case, something that has been overlooked in 99% of today's Super7 Motherboard designs: a decent layout. The layout of the Photon 100 HC is utterly beautiful for any motherboard, you'll notice that the PCB size is much larger than any other Super7 motherboard. Without making the board too large for normal cases, California Graphics managed to throw together a spacious layout which could fully accommodate the 5/2/1 PCI/ISA/AGP expansion slot configuration discussed above while leaving room for the 3 DIMM slots, and while keeping the initial setup of the board as easy as possible. Using well spaced dip switches, accompanied by a total of 4 other jumpers that may have to be configured, the Photon 100 HC is one of the most user friendly Super7 boards out today, something that is very rare among boards based on the MVP3 chipset, yet this is proof that such a thing can be achieved. Of those 4 jumpers on the board, there is a particular one that helps control the speed of your memory bus in combination with a dip switch. This feature allows your memory bus to be set pseudo-synchronously courtesy of the MVP3 chipset - making older SDRAM less obsolete and making your system's cost a bit cheaper. By clocking your SDRAM at or around 66MHz (or the speed of the AGP bus) you can make use of older, non-PC100 SDRAM, even when using the 100MHz FSB since your memory is still operating at 66MHz. While this does result in a tiny performance decrease (1 - 2% at most), if you have older SDRAM lying around it is definitely worth it.
With expansion and layout covered, what tests must the Photon 100 HC pass in order to meet the Ultimate Super7 Motherboard requirements? Expanding on the age old adage, behind every good man is a good woman, packaged with every good motherboard is an excellent manual. California Graphics took an interesting approach to the user's manual of the Photon 100 HC, by placing the manual in an 8.5" x 11" folder that is easy to read and flip through you can essentially "upgrade" the manual as revisions/corrections are made. A simple download off of the California Graphics website in the future, will allow you to stick in an updated page to your manual without having to cram everything into a tiny little booklet. The content of the manual is more than enough to justify such an improvement to the packaging style, the writers obviously left no stone unturned, producing written documentation comparable to that of the AOpen, ABIT, and Chaintech manuals.
Although the basic FSB/Clock Multiplier settings are documented and accounted for on the motherboard itself, the User's Manual takes the extra step to document every last setting. On the voltage end of things, the manual mentions the settings for every single core voltage setting from 2.0v - 3.5v in 0.1v increments. All standard FSB speeds are documented, including the overclocked 75/83/90MHz settings. The Photon 100 HC's support for clock multipliers up to 5.5x has become expected of all new motherboards, it is nice to know that all the settings are accounted for in the manual.
Stability? Not a problem with the Photon 100 HC, large and mid-sized capacitors fill in the spaces between toroids and voltage regulators near the Socket-7 IC, designed to maintain a clean and clear electrical signal during operation. The key manufacturing thought here is to treat each motherboard as if it were about to be installed in a server, something that is obvious in the Photon 100 HC's design. The 3 168-pin memory banks are graced by the presence of a dedicated voltage regulator with a standard sized heatsink designed, once again, to improve stability.
It is no surprise that the Photon 100 HC is an overclocker, while it doesn't feature a 112MHz FSB setting, the board had no problem overclocking. The K6-2 can make it as high as 350MHz on the board, provided that you have a newer K6-2, hopefully one that was part of a higher production yield. Pentium MMX advocates can also rake in the benefits of the 100MHz FSB with the Photon 100 HC, the 233MMX that was used in the tests made it up to 250MHz safely and with a bit of tweaking the 300MHz setting shouldn't be too big of a mountain to climb (albeit a risky journey).
Completing the package, California Graphics made the Photon 100 HC a top tier performer, bringing in Winstone 98 scores comparable to the top 3 motherboards in its class. Pushing the competition aside, the Photon 100 HC managed to hold down a solid 22.7 Winstone 98 score when armed with a K6-2 300, which seems to be the sweet spot for high performing Super7 motherboards. Like stability, the performance of the Photon 100 HC isn't an issue, it has already been spoken for, and the words spoken for it: Fast as .... (fill in your own explicative here).
There isn't a person out there wondering what the Photon 100 HC's Achilles' heel is, where are its weaknesses? Sorry to disappoint you, but the only real weaknesses are its lack of SIMM slots for those of you planning to re-use your older EDO SIMMs and the absence of 95, 112, and 124MHz FSB settings...three things which will be present on a Super7 motherboard that has yet to hit the streets.
| | |
| --- | --- |
| One more thing you may want to keep in mind, if you plan on using an i740 based accelerator with the Photon 100 HC or any MVP3 based motherboard for that matter, you may want to wait another month or so as VIA claims that the i740 will only work properly with revision 'CE' of the MVP3 chipset, the current revision being revision 'CD'. Using an i740 based accelerator on a revision 'CD' motherboard may result in random lockups and other such things, just keep that in mind as you make your motherboard/video card purchase. | |
---
Number of Universal Serial Bus Root Ports: 2

USB IRQ Enable/Disable in BIOS: Yes

USB Keyboard Support in BIOS: Yes
---
Photon 100 HC Chipset Features Setup

Item
Settings
66/75/83/100MHz FSB
Safe
Bank 0/1 DRAM Timing:
60 ns/SDRAM 10ns
Normal
Bank 2/3 DRAM Timing:
60 ns/SDRAM 10ns
Normal
Bank 4/5 DRAM Timing:
60 ns/SDRAM 10ns
Normal
SDRAM Cycle Length:
2
3
DRAM Read Pipeline:
Enabled
Disabled
Cache Rd+CPU Wt Pipeline:
Enabled
Enabled
Cache Timing:
Fastest
Fast
Video BIOS Cacheable:
Enabled
Disabled
System BIOS Cacheable:
Enabled
Disabled
Memory Hole At 15Mb Addr.:
Disabled
Disabled
Aperture Size:
64M
8M
OnChip USB:
Disabled
Disabled
USB Keyboard Support:
Disabled
Disabled
Auto Detect DIMM/PCI Clk:
Enabled
Enabled
Note: Be sure to disable Memory Parity/ECC Check under the BIOS Features Setup if you don't have Parity/ECC RAM installed, the BIOS revision AnandTech shipped with this option enabled by default.
---
Recommended SDRAM: Memory Man PC100 SDRAM
SDRAM Tested: 1 x 64MB Memory-Man PC100 SDRAM
Manufacturer: The Memory Man
Purchase Web-Site: http://www.memory-man.com