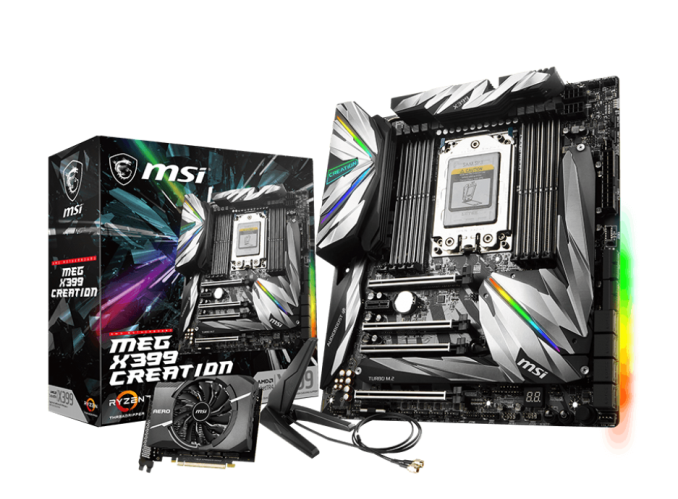 With the highly anticipated launch of AMD's second generation Threadripper processors, it gives motherboard vendors the incentive and justification to release more boards. As there aren't tons of Threadripper 2-validated boards to currently choose from, MSI has released the new MEG X399 Creation with content creators and designers the targeted focus. This review aims to explore what the X399 Creation has to offer and see what all the fuss is about.
Other AnandTech Ryzen Threadripper Coverage
The MSI MEG X399 Creation Motherboard Overview
The MSI MEG X399 Creation is an E-ATX form factor motherboard on AMD's X399 chipset and has a variety of features specifically aimed towards professional users and content creators such as dual Intel Gigabit LAN, integrated 2T2R Wave 2 capable Wi-Fi, and it also has support for Bluetooth 5. The MEG X399 Creation has a very unique design which takes shades of MSI's own X399 SLI Plus and combines it with the silvery overall look seen on their Titanium range. The PCB itself is black with silver colored patterning which mirrors that of the black and silver design of the heatsinks. Integrated into the board at various points including the rear IO cover, the chipset heatsink and underneath the SATA ports is RGB LEDs which can be controlled, customized and synced together with MSI's Mystic Light software.
The new AMD Ryzen Threadripper processors do bring an added number of cores and threads in comparison to the first generation of Threadripper, with the workstation-focused Threadripper 2990WX in particular doubling AMD's core and thread count versus the original Threadripper 1950X processor. While there are core differences as outlined within our Threadripper 2 review, there admittedly isn't anything definitively new with the MEG X399 Creation that last year's launch X399 boards couldn't have included. Instead, MSI has opted to go all-out on features and has gone to extreme measures to fill out as much of the available E-ATX PCB space as they could with the aim to produce one of the most feature packed AMD motherboards physically possible.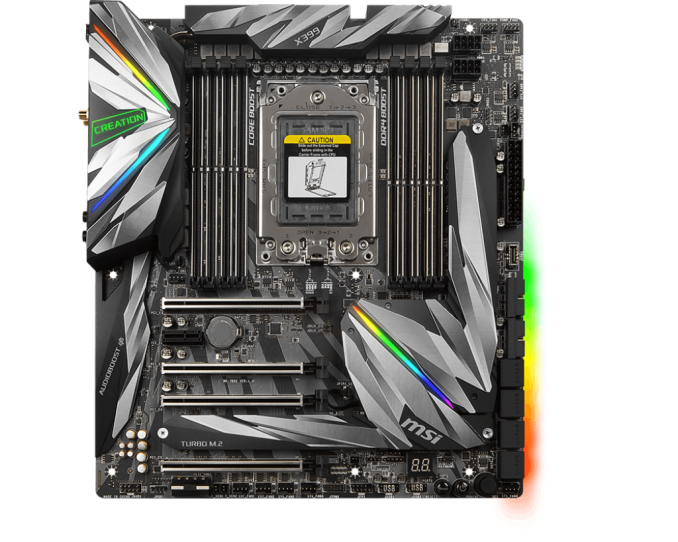 Pricing-wise the MEG X399 Creation comfortably sits as MSI's most expensive X399 motherboard, with a price tag of $500. This is $100 more than MSI's X399 Gaming Pro Carbon AC and around the same mark as the ASUS X399 ROG Zenith Extreme. The pricing is a consequence of MSI piling feature upon feature onto the E-ATX PCB, with things like dual Intel LAN, 2T2R Wave 2 capable Wi-Fi, and what MSI is advertising as a sixteen-phase power delivery system.

Another indication of where the development budget has been spent is on the rear panel, as the MSI MEG X399 has implemented a total of eight USB 3.1 Gen1 Type-A ports, with MSI also including a pair of USB 3.1 Gen2 ports with both a single Type-A and Type-C connector. The latter ports' USB 3.1 Gen2 capability comes thanks to a single ASMedia 3142 USB controller. The two included LAN ports are powered by a pair of Intel I211-AT Gigabit networking controllers, with the 2T2R Wi-Fi and Bluetooth 5 capabilities coming thanks to a single Intel 9620 Wi-Fi card. This enables the onboard Wi-Fi to support connections up to a maximum of 1.73 Gbps of speed. In regards to the onboard audio, the MSI MEG X399 Creation features audio PCB separation, with the single Realtek ALC1220 audio codec being complemented by a total of nine gold dedicated audio capacitors with five larger ones coming from Japanese based Nippon Chemi-con.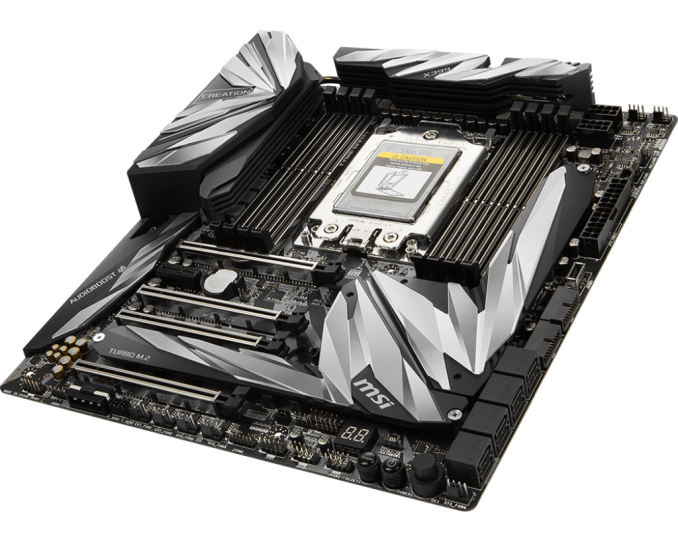 MSI's aim clearly hasn't been to just support content creators, but also enthusiasts, thanks to the plethora of cooling options scattered across the board. The MEG X399 Creation has support for up to ten 4-pin fans with a divide between water cooling support and air cooling. This is apparent as there is a single for AIO CPU coolers/water pumps, a single header for a CPU fan, a total of five system fan headers and room to expand to an additional three fan headers; all the aforementioned headers all feature a 4-pin interface and support PWM capable fans.
Touching on the storage capabilities of the MEG X399 Creation, MSI has included a total of eight SATA ports which are governed by the X399 chipset, with support for RAID 0, 1, and 10 arrays. A trio of M.2 slots is also provided with bandwidth coming specifically from the processor, with all three slots featuring both support for PCIe 3.0 x4 and SATA drives. It should be noted that M2 slot_1 and M2 slot_3 only support drives up to the M.2 2280 form factor, while M.2 slot_2 allows for slightly bigger drives up to M.2 22110. All these M.2 slots benefit from MSI's M.2 Shield Frozr heatsinks to aid in cooling when used with decent passive airflow within a competent chassis.
Memory capability and support comes through eight RAM slots which allow for up to a maximum of 128 GB of DDR4 memory to be installed. Threadripper and Threadripper 2 both support quad channel memory, so users can make use of the extra bandwidth available and specifically with the X399 Creation, there is support for memory up to speeds of DDR4-3600; this is the norm for a top tier TR4 socketed motherboard.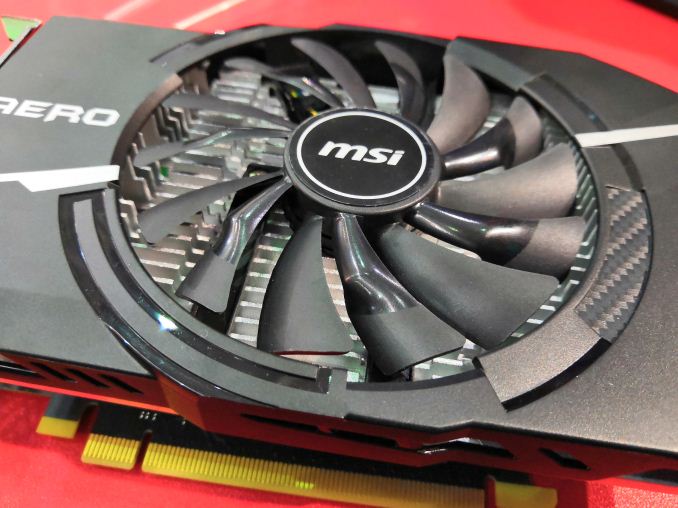 Included within the packaging and bundle is the M.2 Xpander-Aero M.2 PCIe card. This has support for up to four M.2 NVMe drives, with each slot capable of running PCIe 3.0 x4. The crux of the Xpander-Aero from a design point of view is the inclusion of a GPU styled cooling fan. The Aero cooler is more than capable of keeping every installed drive cool with a 6-pin 12V graphics card power connector if more power is required.
While the composition of the test bed between our X399 motherboards varies slightly from previous reviews, the compute performance of the MSI MEG X399 Creation is on par with other X399 motherboards we have previously tested such as the ASUS X399 ROG Zenith Extreme and the GIGABYTE X399 DESIGNARE EX. Power consumption was marginally higher than the rest of the field under load, but this could quite easily be due to the switch in graphics cards from an AMD RX 570 to a beefier NVIDIA GTX 980. The power consumption at full load however did prove slightly more economical than the ASUS X399 ROG Zenith Extreme board by around 10 W at peak.
One very strange anomaly was discovered in POST time in both a default and stripped state. For some unknown reason the time it took to get into Windows in comparison to other boards doubled, and in some cases was even tripled. Meanwhile none of the X399 boards we've tested are optimized for DPC latency, and according the X399 Creation has delivered some of the highest latency numbers we've seen among the five boards tested, but other than that everything seemed to look as it should in regards to performance given versus performance expected.
The overclocking performance of the MSI MEG X399 proved fruitful for the most part with our testbed Ryzen Threadripper 1950X, as our chip managed a stable overclock of 4.0 GHz with the CPU core voltage set to 1.35 V. Usually when it comes to the vendors pre-defined overclockers, they tend to come with modest overclocks with copious amounts of unwanted voltage, which not only increases power draw significantly (especially on a 16-core 32-thread CPU) but it also contributes to extra strain on VRMs, as well as extra heat. We had the opposite problem when it came to running at 4.0 GHz at the MSI Game Boost 10 profile with it undervolting what our 1950X required to be stable. And while this may not seem like a big thing, it's quite welcomed as all the pre-defined settings up to and including the Game Boost 8 setting we're 100% stable with reasonable amounts of voltage.
The MSI MEG X399 Creation is clearly designed to please more than just content creators and professional users, especially given the tools and features included. The sixteen-phase power delivery and dual 8-pin 12 V CPU power inputs are something extreme overclockers and hardcore enthusiasts will be interested in, and the eight SATA ports in addition to the three M.2 PCIe 3.0 x4 slots built-in are something workstation users and video renderers will be keen to take advantage of. Dual LAN is certainly an advantage, although dual Gigabit isn't as advantageous and desirable as 10GigE (especially for $500), it could be quite a hard fact to ignore throughout the review. Despite this, there's plenty to feast into for virtually all users and with lots to consider, users looking to take advantage of AMD's monstrous core-laden Threadripper processors might be looking for this board to deliver more than it's capable of, especially for the hefty $500 cost associated.