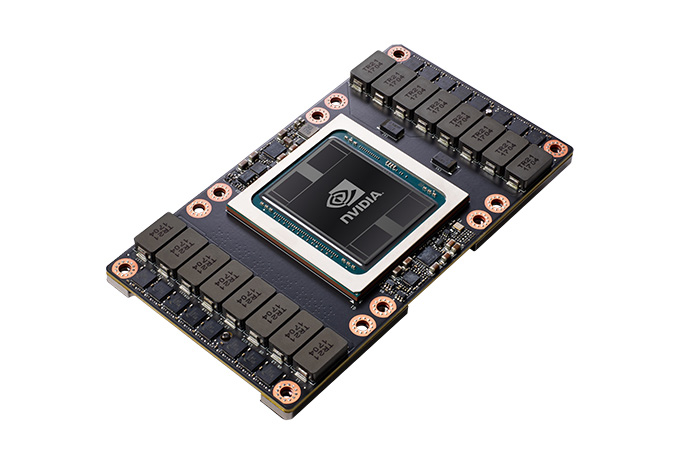 Back in March at their annual GPU Technology Conference, NVIDIA announced the long-anticipated 32GB version of their flagship Tesla V100 accelerator. By using newer 8-Hi HBM2 memory stacks, NVIDIA was able to double the accelerator's previous 16GB of VRAM to a class-leading 32GB. Meanwhile, at the time company representatives told us that the launch of the 32GB model would be a wholesale replacement of the 16GB model, with the smaller version to be phased out and all future cards to go out as the 32GB model.
However, this week NVIDIA has reached out to inform us that this will not the case, and that the 16GB model is being continued after all.
In a somewhat odd exchange, the official line from the company is that the previous statement – made in the heat of a pre-briefing Q&A session – was in error, and that the 16GB model was never being discontinued. Instead, NVIDIA's plan has always been to sell the two models side-by-side. Unfortunately, the company hasn't been able to make it clear why that information wasn't presented at the show instead; though what I do know is that this wasn't caught until customers recently started asking questions.
NVIDIA Tesla/Titan Family Specification Comparison
Tesla V100
(SXM2)
Tesla V100
(PCIe)
Titan V
(PCIe)
Tesla P100
(SXM2)
CUDA Cores
5120
5120
5120
3584
Tensor Cores
640
640
640
N/A
Core Clock
?
?
1200MHz
1328MHz
Boost Clock
1455MHz
1370MHz
1455MHz
1480MHz
Memory Clock
1.75Gbps HBM2
1.75Gbps HBM2
1.7Gbps HBM2
1.4Gbps HBM2
Memory Bus Width
4096-bit
4096-bit
3072-bit
4096-bit
Memory Bandwidth
900GB/sec
900GB/sec
653GB/sec
720GB/sec
VRAM
16GB
32GB
16GB
32GB
12GB
16GB
L2 Cache
6MB
6MB
4.5MB
4MB
Half Precision
30 TFLOPS
28 TFLOPS
27.6 TFLOPS
21.2 TFLOPS
Single Precision
15 TFLOPS
14 TFLOPS
13.8 TFLOPS
10.6 TFLOPS
Double Precision
7.5 TFLOPS
7 TFLOPS
6.9 TFLOPS
5.3 TFLOPS
Tensor Performance
(Deep Learning)
120 TFLOPS
112 TFLOPS
110 TFLOPS
N/A
GPU
GV100
GV100
GV100
GP100
Transistor Count
21B
21B
21.1B
15.3B
TDP
300W
250W
250W
300W
Form Factor
Mezzanine (SXM2)
PCIe
PCIe
Mezzanine (SXM2)
Cooling
Passive
Passive
Active
Passive
Manufacturing Process
TSMC 12nm FFN
TSMC 12nm FFN
TSMC 12nm FFN
TSMC 16nm FinFET
Architecture
Volta
Volta
Volta
Pascal
But whatever the internal rationale and timetable on NVIDIA's part, the end result is that at least for the foreseeable future, NVIDIA is going to be offering multiple V100 capacities across its lineup, including both the SXM2 and PCIe form factors. For NVIDIA's customers then, they now have a choice to make on capacity. The larger version is clocked identically to its 16GB counterpart, so it doesn't have an immediate performance advantage outside of memory capacity. However in cases where a dataset that doesn't fit in the 16GB model fits in the 32GB model, the performance differences can be very significant due to the large impact of memory thrashing; NVIDIA is advertising a 50% performance boost in some memory-limited HPC applications thanks to the larger RAM pool.
Finally, the company also confirmed that these cards will be priced differently. However they aren't sharing the list prices for the parts, so it's not clear whether the new pricing structure gives the 16GB model a price cut, or if the 32GB model is being offered at a price premium.
Source: NVIDIA