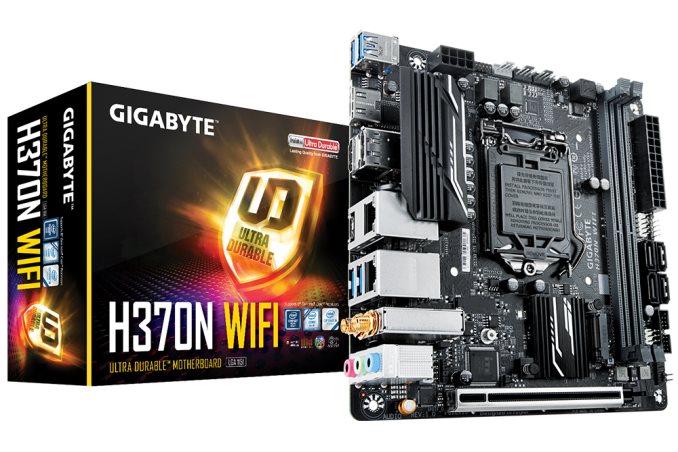 GIGABYTE has released a version of their most popular mini-ITX motherboards on the market with the H370N WiFi - a small form factor board designed to offer users a less expensive pathway into the latest Intel processors. The H370N WIFI includes most features of the Z370 chipset and a few extra bonus parts worth looking into.
AnandTech's Coffee Lake and 300-Series Mini-ITX Motherboard Coverage
The GIGABYTE H370N WIFI Overview
The Mini-ITX space has just become a bit more crowded with the release of H370, B360, and H310 chipsets. It feels like every board partner has released another range of motherboards in all shapes and sizes, including in the Small Form Factor (SFF) space. Users looking at any of these non-Z series of motherboards are normally focused on using a locked processor (as the platform does not overclock) to maximise performance per dollar but also these chips are rated at 65W TDP or below, so power consumption or noise is usually on the mind. Users who want a less costly way into the latest Intel platform can find it in these new H and B series boards.
With that in mind, we have had an opportunity to look at the GIGABYTE H370N WIFI Mini-ITX motherboard. The SFF board gives users nearly all the connectivity wanted in a 6.7" x 6.7" package. The H370N includes dual M.2 slots for high-speed storage, four SATA ports for HDDs/SSDs, an 802.11ac Wave2 Wi-Fi module with 1.73 Gbps bandwidth, and a USB Type-C port on the back panel. For those looking for RGB LED illumination, it has that as well in the bottom left-hand corner on the back side of the board. The H370N WIFI looks like an ready to go motherboard, but also with a HDMI 2.0 port for good measure. Users looking for multiple Intel network ports are also sorted, as GIGABYTE installed two on this board - one I219-V, and one I211-AT.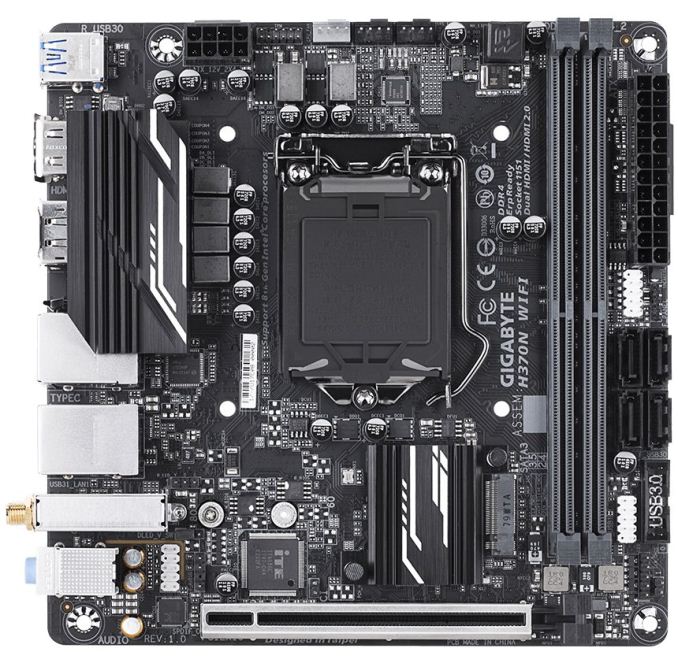 From our analysis, the performance on the small board was about on par with the other 300-series motherboard datasets, sitting on the lower part of the bell curve throughout. In most of the results, it was within a run variance away from being on the top. Where the H370N WIFI shined was in the power consumption testing where on load it used around 20W less than its competitors at the same clock speeds. Idle power use was also quite low making this a good option for those who are looking to save a few pennies on the electric bill compared to other higher-end chipset offerings.
The SFF board has two M.2 slots, one located on the front, the other on the back, both able to support PCIe modules and one able to support both PCIe and SATA devices. On such a small board, having two M.2 slots is a luxury. In addition to the M.2 slots, there are four SATA3 ports located just to the right of the two DRAM slots which support RAID 0, 1, 5, and 10. Between the two different ports, there is plenty of storage capabilities for game or movie/music libraries.

The back panel IO gives us a total of five USB 3.0 ports (4 x Type-A and 1 x Type-C), although more USB 3.0 can be enabled through the internal header. We can see the Intel CNVi based Wi-Fi module as well as a three-jack audio stack from the Realtek ALC1220 . For display outputs, the H370N has a single full-size DisplayPort and two HDMI ports. The unique feature here is one of the HDMI ports is HDMI 2.0. The 2.0 protocol allows for full-resolution 4K 3D along with higher framerate 2D content (up to 60 FPS). This is made possible due to the integrated Megachips MCDP2800 controller found on the motherboard. A cursory glance at the other H370 boards on the market shows this is the only H370 Mini-ITX board with this support. If you are in need of 60 FPS 4K through integrated graphics, the H370N WIFI has what is needed.
Pricing on the GIGABYTE H370N WIFI is $128.65 at Newegg. There are two other Mini-ITX H370 boards there as well, one from ASRock (H370M-ITX/ac - $107.87) and ASUS (ROG Strix H370iI Gaming - $138.55). The ASRock at ~$108 is the least well-appointed of the group with one M.2 slot, an older audio chipset, as well as notably slower Wi-FI capabilities, though it does offer six SATA ports - two more than the other boards. Outside of that, the ASUS and GIGABYTE boards are going to come down to price and aesthetics and whether or not one needs 4K60 from the board itself.
GIGABYTE H370 Strategy
GIGABYTE has released a few boards using the H370 chipset. The "H" 370 series boards come in all shapes and sizes including Mini-ITX, MicroATX, and ATX form factors offering the users a variety of sizes and features. The H370 chipset brings Intel CNVi Wi-Fi support with speeds up to 1.73 Gbps, as well as many of the features we have seen in the Z370 chipset. The H/B chipsets for Coffee Lake offer users a more affordable cost to move into the latest Intel CPUs and do so in part by locking overclocking on these chipsets to which many users will drop in a locked processor anyway.
GIGABYTE's H370 Motherboard Lineup
AnandTech
Review
Amazon
Newegg
H370 AORUS Gaming 3 WIFI
$140
$139

H370 AORUS Gaming 3

-
-
H370 HD3
$99
$97
H370M D3H
$95
$95

H370M DS3H

$90
$90
H370N WIFI
[this review]
$129
$129
Information on Intel's Coffee-Lake CPU Desktop Processors
One important piece of information to note: technically these processors use the LGA1151 socket, also used by 6th and 7th Generation processors using the Z170 and Z270 chipsets. But due to several (albeit minor) difference in the pin-layout of these two sets of processors, the 8th Generation Coffee Lake will only work in Z370 boards and are not cross compatible. Back in October 2017, Ian Cutress reviewed a couple of processors (i7-8700K and i7-8400) in the Coffee Lake lineup - details on the rest of the product stack are listed below.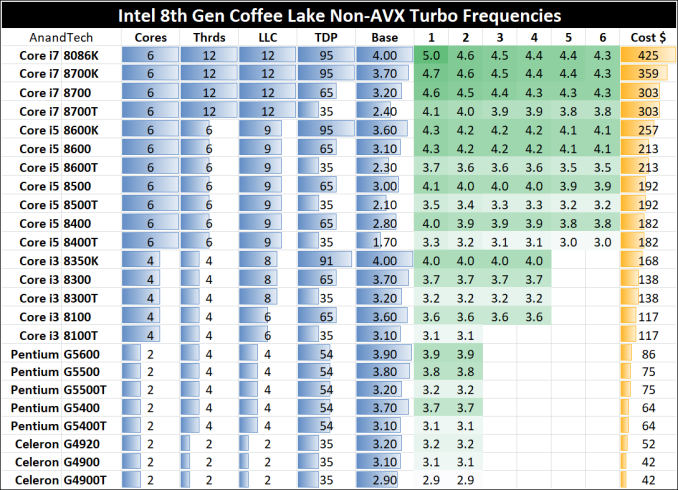 Sections In This Review
This review has the following pages:
Overview
Visual Inspection
BIOS and Software
Board Features
Benchmark Overview
System Performance
CPU Performance
Gaming Performance
Conclusions