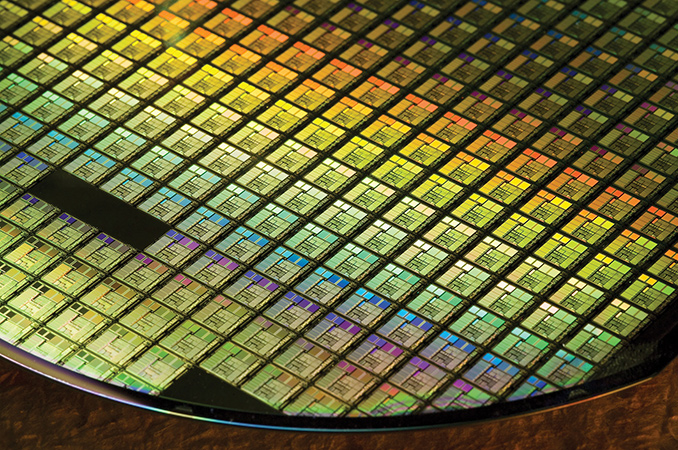 TSMC last week held a groundbreaking ceremony for its Fab 18 phase 1 production facility. The fab will produce chips using TSMC's 5 nm process starting from early 2020. When all three phases of the manufacturing facility are completed, its wafer starts capacity will exceed one million 300-mm wafers per year, comparable with other three GigaFabs operated by TSMC.
TSMC's Fab 18 will be located in Tainan (in the Southern Taiwan Science Park), and will be built in three phases. The construction of the first phase or segment of the building will be completed in about a year from now, after which TSMC will move in equipment sometime in early 2019. In about two years from now, the company expects to start volume production of chips using its 5 nm process technology at the Fab 18/phase 1. Construction of the second and the third phases will commence in Q3 2018 and Q3 2019. The two phases will start volume production in 2020 and 2021, respectively.
TSMC's Fab 18: Milestones
Phase 1
Phase 2
Phase 3
Construction Start
Early 2018
Q3 2018
Q3 2019
Equipment Move-In
Early 2019
?
?
High-Volume Manufacturing Start
Early 2020
2020
2021
The Fab 18 will have a total floor area of 950,000 square meters and its cleanroom area will exceed 160,000 square meters, the contract maker of semiconductors said. TSMC estimates that the combined production capacity of all three phases of the Fab 18 will exceed one million 300-mm wafer starts per year, which is comparable to the capacities of the other GigaFabs that TSMC operates — Fab 12, Fab 14, and Fab 15. It is noteworthy that the planned floor area and cleanroom space of the Fab 18 will be significantly larger than the initially planned floor and cleanroom area of the Fab 15, which emphasizes increasing complexity of IC manufacturing these days as well as increasing orders from TSMC's clients. In total, the Fab 18 will cost TSMC NT$500 billion ($17.08 billion), making it one of the most expensive chip manufacturing facilities in the world.
Brief Comparison of TSMC's Fab 15 and Fab 18
Fab 15
Fab 18
Total Area of Site
18.4 hectares
?
Building Area
430,000 m²
950,000 m²
Clean Room Space*
104,000 m²
160,000 m²
Initially Expected Investment**
NT$300 billion
~$9.375 billion
NT$500 billion
~$17.08 billion
Groundbreaking
July 2010
January 2018
Notes
*Fabs are usually upgraded over time, today's cleanroom space of the Fab 15 may be larger than initially projected.
**Initially expected investments tend to change over time.
Besides its dimensions and cost, there is another reason why Fab 18 is important for the semiconductor industry: it will be one of the world's first facilities to produce chips using a 5-nm production tech. TSMC yet has to detail its 5 nm manufacturing technology, but from the announcements that the company has made so far it is evident that this fabrication process will rely significantly on EUV lithography. TSMC did not mention EUV at all in its press release, which is a bit strange. Meanwhile, over the course of last year the semiconductor manufacturer did mention that the 5 nm fabrication technology would be its second-gen EUV process, which means usage of EUV for more more layers when compared to the CLN7FF+ (its advanced 7 nm tech). Furthermore, TSMC already has functional SRAM cells made using its CLN5FF technology and the yields were satisfactory in mid-2017. Therefore, the 5 nm development process seems to be going on relatively well.
The extended usage of EUV for 5-nm chip production means that the company will need to install more EUV tools into the Fab 18, which is one of the reasons why it needed to expand the fab's cleanroom space. The fact that TSMC has begun to build Fab 18 indicates that the contract maker of chips is confident in its 5 nm technology as well as EUV equipment, including ASML's TWINSCAN NXE scanners, Cymer's EUV light sources and other tools. This confidence is further underscored by their intention to start high-volume manufacturing of 5-nm devices in Fab 18 in early 2020.
Advertised PPA Improvements of TSMC's CLN7FF Nodes
Data announced by TSMC during conference calls, press briefings and in press releases
7FF
vs
16FF+
7FF
vs
10FF
7FF EUV
vs
7FF
5FF EUV
vs
7FF EUV
Power
60%
<40%
10%
lower
Performance
30%
?
lower
higher
Area Reduction
70%
>37%
~10%
tangible
HVM Start
~Q2 2018
-
~H2 2019
H1 2020
Related Reading: