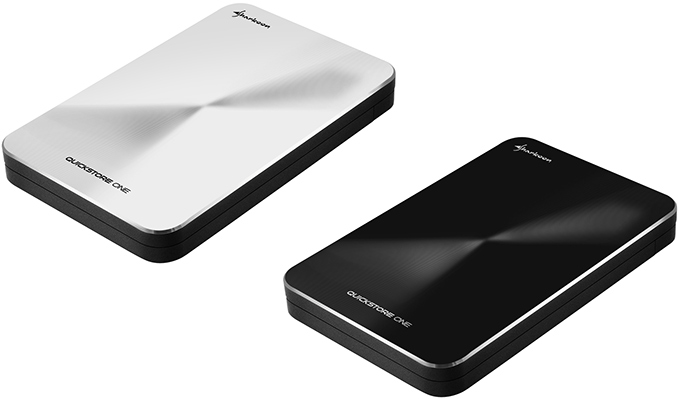 Sharkoon this week introduced a new DIY kit that lets users build their own external storage device featuring a USB 3.1 Gen 2 interface with a USB Type-C connector. The new Quickstore One kit is based on ASMedia's latest USB 3.1 Gen 2 controller that can offer up to 10 Gbps of bandwidth. With that said, however, the enclosure is designed for SATA drives, so its external interface is considerably faster than its internal one.
The Sharkoon Quickstore One is the company's third-generation USB 3.1 enclosure for external HDDs and SSDs. The chassis is made of brushed aluminum and plastic, it measures 130×83×16 mm and weighs 92.5 grams when not populated with a drive (once equipped, its weight will increase to 180 – 240 grams, depending on the storage device used). The Quickstore One can accommodate any 2.5" HDD or SSD that is up to 9.5 mm thick. In today's realities, this means a hard drive with a capacity of up to 2 TB (note that such HDDs may be SMR-based and offer a rather low performance), or an SSD of up to 4 TB. A pre-formatted drive can be installed into the enclosure without using any tools.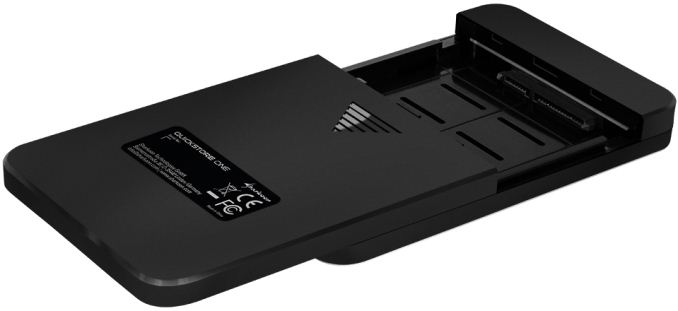 The Quickstore One uses ASMedia's ASM1542 USB 3.1 Gen 2 controller that supports up to 10 Gb/s data transfer rate (up from 8 Gbps on the ASM1142). However, the installed drives interface with the ASM1542 using ASMedia's ASM1351 USB 3.1-to-SATA bridge, which limits the raw bandwidth to 6 Gbps and reduces it further due to the overhead introduced by SATA's 8b/10b encoding. This is still notably faster when compared to external storage solutions that rely on a USB 3.0 5 Gbps interface – the USB interface is no longer the bottleneck – but lower when compared to typical Thunderbolt 3 storage devices.

With a higher-end SATA SSD installed into Sharkoon's Quickstore One enclosure, it is reasonable to expect 535 – 550 MB/s sequential read speeds, in line with internal SATA drives. Hard drives are considerably slower, their media to host transfer rate is 160 ~ 200 MB/s (on outer tracks), so their performance is not going to be capped anyhow by the interface.
The Sharkoon Quickstore One enclosures for 2.5" HDDs/SSDs with a USB 3.1 Gen 2 Type-C interface is available from select retailers in Europe for the recommended retail price of €24.99. While the device cannot take advantage of contemporary PCIe-based SSDs, if you happen to have a 2.5" SATA HDD or SSD that you would like to use with a new laptop that only has USB-C connectors, Sharkoon's Quickstore One is a relatively cheap an easy way to do it.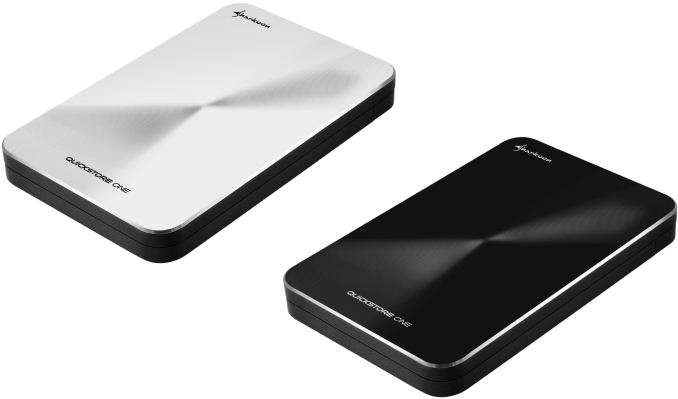 Related Reading:
Source: Sharkoon