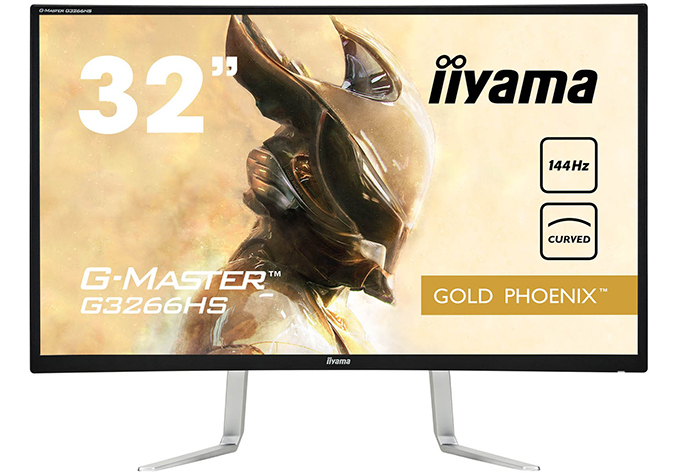 Iiyama has announced the G-Master G3266HS-B1, its first curved monitor for gamers. The new display belongs to entry-level class and offers an FHD resolution along with dynamic refresh rate of up to 144 Hz enabled by AMD's FreeSync technology. Pricing of the LCD looks rather competitive in Europe, but the U.S. MSRP remains to be seen.
The Iiyama G-Master G3266HS-B1 monitor is based on a 31.5" VA panel with a 1920×1080 resolution, a 144 Hz refresh rate, a 3 ms response time as well as a 1800R curvature. Brightness, contrast and viewing angles offered by the monitor are typical for modern inexpensive VA panels: 400 nits, 3000:1, and 178°/178°, nothing unexpected. The display supports AMD's FreeSync technology, but Iiyama does not disclose its ranges. The manufacturer says that the G-Master G3266HS-B1 can display 16.7 million colors, but remains tightlipped about supported color spaces. Since the monitor is aimed at gamers, it is safe to say that it will be used with Windows-based PCs, which is why it has to support sRGB.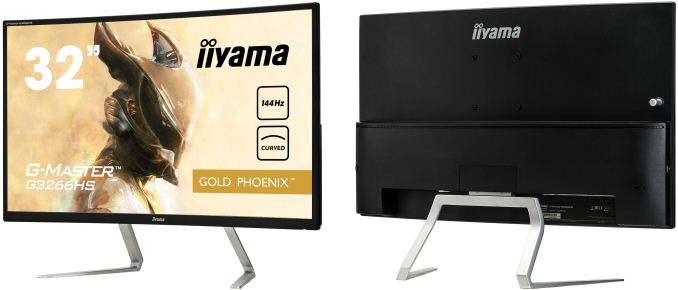 When it comes to connectivity, the monitor features everything an inexpensive LCD has to: a D-Sub and a DVI-D for legacy systems, as well as DisplayPort 1.2 and HDMI for modern computers. In addition, the monitor has 3.5-mm audio-in/out connectors, and two integrated speakers. As for ergonomics, the G-Master G3266HS-B1 has a fixed stand and cannot regulate its height, tilt, swivel, but can be attached to a VESA wall mounting that supports appropriate adjustments.
Iiama G-Master 31.5" Curved Gaming Monitor
G-Master G3266HS-B1
Panel
31.5" VA
Native Resolution
1920 × 1080
Refresh Rate Range
144 Hz
Dynamic Refresh Rate
AMD FreeSync
G-Sync Range
unknown
Response Time
3 ms (gray-to-gray?)
Brightness
300 cd/m²
Contrast
3000:1
Pixel Pitch
0.3632 × 0.3632 mm²
Pixel Density
69.93 PPI
Viewing Angles
178°/178°
Curvature
1800R
Inputs
HDMI 1.4
DisplayPort 1.2
D-Sub
DVI-D
Audio
3.5 mm audio in/out jacks
Stereo speakers
Detailed Information
Link
The G-Master G3266HS-B1 is listed on Iiyama's website, but is not yet available for sale or pre-order anywhere in the U.S. Meanwhile, a number of stores in Austria and Germany offer the monitor for €390 - €400 ($461 - $473), which is lower compared €485 that Acer charges for its XZ321Q (with similar specs) in Germany. We are not sure about the MSRP of the G3266HS-B1 in the USA, where it has not been officially announced yet, but it is logical to expect Iiyama to maintain a similar pricing policy as in Europe.

Iiyama is a bit late to the curved displays party that began in 2014 – 2015, but it definitely needed to get there to stay relevant on the market of gaming monitors. The G-Master G3266HS-B1 seems like as good start as any to see whether its clients bite a curved gaming display. The company went with rather moderate specs, and judging by the price of the product in Europe, it wanted to make its monitor competitive in terms of affordability.
Related Reading:
Source: Iiyama