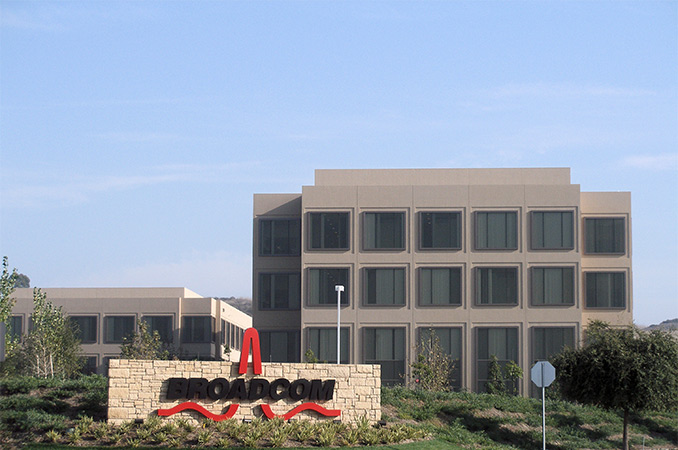 Broadcom on Monday said that it had proposed to acquire all of the outstanding shares of Qualcomm for $105 billion in total for cash and stock. If the buyout proceeds as planned, it will be the largest ever transaction in the semiconductor industry and will create the third largest supplier of chips after Intel and Samsung. The new company will offer products for hundreds of applications and will be among the largest suppliers of chips for the telecommunication market. In the meantime, Broadcom will have to get raise of billions of dollars from various investors to complete the deal.
Under the terms of the Broadcom proposal, shareholders of Qualcomm will get $60 in cash and $10 in Broadcom stock per share. Broadcom's offer represents a 28% premium over the price of a Qualcomm share on November 2, 2017, which is in line with historical premiums offered in other acquisitions. It is noteworthy that Broadcom will bid for Qualcomm regardless of the pending acquisition of NXP Semiconductors by the U.S.-based company. Broadcom is particularly interested telco products by Qualcomm, which include SoCs for mobile devices as well as solutions for Gigabit LTE and 5G networks.
"This complementary transaction will position the combined company as a global communications leader with an impressive portfolio of technologies and products," said Hock Tan, president and chief executive officer of Broadcom. "We would not make this offer if we were not confident that our common global customers would embrace the proposed combination. With greater scale and broader product diversification, the combined company will be positioned to deliver more advanced semiconductor solutions for our global customers and drive enhanced stockholder value."
Avago Technologies (the current owner of the Broadcom brand) has been on an acquisition spree for years, trying to get access to various technologies, buy patents, gain new clients, and become a more powerful semiconductor firm in general. Since 2013, Avago has completed five major acquisitions, so the company is an experienced buyer. Qualcomm however poses some unique circumstances for Avago/Broadcom, simply due to the company's massive value.
Market capitalization of Qualcomm is $92.16 billion, it has $20.86 billion in the U.S. banks, is sitting on $21.9 billion in debt, has 33,800 employees, and earns $23 billion a fiscal year. Broadcom is also a huge company, but its valuation only recently surpassed Qualcomm's, never mind the fact that it's considerably smaller than the combination of Qualcomm and NXP is expected to be. It has a market capitalization of $119.38 billion, it has $5.45 billion in cash, its total debt is $13.57 billion, its headcount is 15,700, and it earned $16.93 billion its most recent fiscal year.
One of the reasons why Broadcom is pursuing Qualcomm is because the latter's stock has been on a decline for several quarters now, whereas shares of Broadcom have been growing (so, inverstors may want to sell their Qualcomm shares). An important reason why Broadcom needs Qualcomm are cellular technologies of the latter. Broadcom clearly understands the importance of 5G and other current endeavors of Qualcomm, including server CPUs, SoCs for AR/VR, IoT and so on. Therefore, purchasing Qualcomm is a way to ensure a long term growth and relevance for Broadcom.
In a bid to get Qualcomm, Broadcom will need financing from the outside because it does not have enough money. Silver Lake Partners has already agreed to provide the company $5 billion in convertible debt financing, whereas BofA Merrill Lynch, Citi, Deutsche Bank, J.P. Morgan and Morgan Stanley said they were confident that they would "be able to arrange the necessary debt financing for the proposed transaction".
Related Reading:
Image Source: Wikipedia
Source: Broadcom