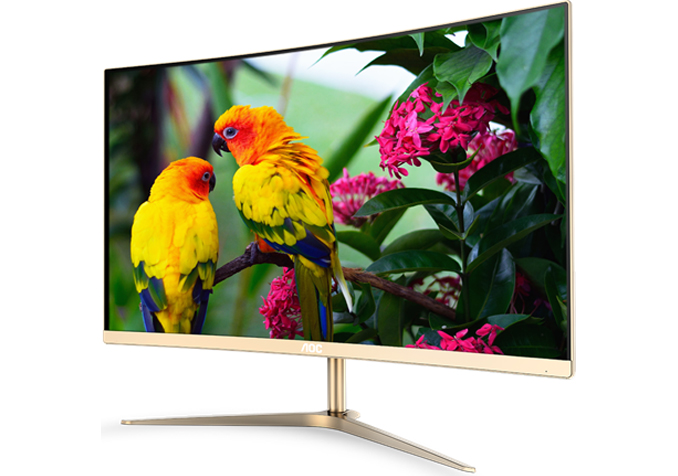 AOC has introduced its new curved display specifically aimed at the entry-level market. The new C2789FH8 monitor is one the industry's first curved LCDs that comes in yellow gold chassis with gold-and-white mosaic on the back. From performance point of view, the display seems rather basic for 2017, but among its advantages are extended color gamut, AMD's FreeSync adaptive refresh rate technology, and a very affordable price.
The AOC C2789FH8 is based on a VA panel with FHD (1920×1080) resolution and 1800R curvature. The panel has a 250 nits brightness, a 3000:1 contrast ratio, a 4 ms GtG response time, as well as a 60 Hz maximum refresh. When it comes to color gamut, AOC says that the display covers 90% of the NTSC color space, which means that its capabilities exceed those required to display 100% of the sRGB color space. For some reason, AOC does not disclose anything about the sRGB support, but it is logical to expect a mass-market monitor to support the primary color space used by Microsoft's Windows.
Two other important features of the display are support of AMD's FreeSync technology (the range is unknown, but typically it is between 30 and 60 Hz on basic models) and very thin bezels. AOC suggests that its thin bezels will enable owners to build dual or triple display configurations for gaming or productivity. In fact, AOC considers gaming as one of the important selling points of the C2789FH8. Apart from FreeSync, the manufacturer equipped the monitor with two proprietary features: Game Modes that optimize brightness, contrast and other things for different game genres (FPS, RTS, Racing) and Shadow Control that adjusts brightness in dark scenes. Besides, the manufacturer mentioned that the monitor also features the AOC's Clear Vision video engine to upscale SD content to HD quality.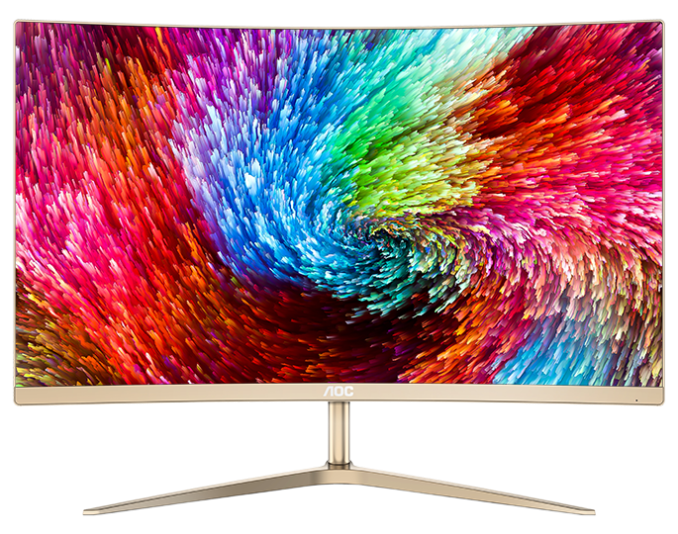 As for connectivity, the C2789FH8 has an HDMI and a VGA D-Sub input as well as features a 3.5-mm audio jack for headphones. D-Sub does not support HDCP or FreeSync, so it is not going to be used by gamers. A key reason why AOC decided to install a D-Sub port into a new monitor is probably because it wanted to address the market of older PCs that are still in use as well as very cheap new PCs with its inexpensive curved LCD.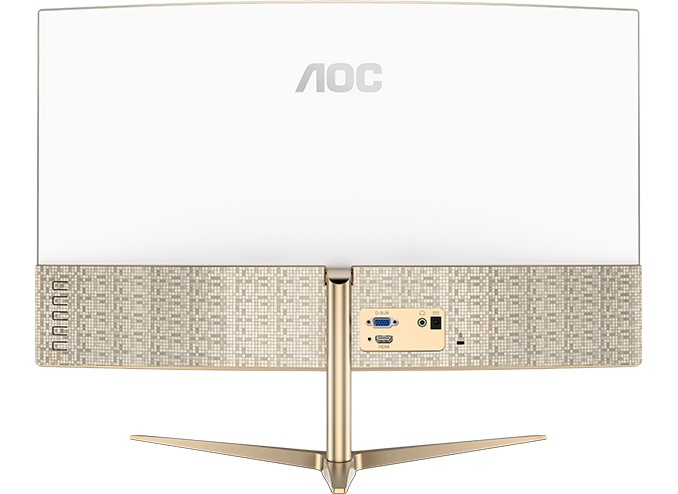 Over the past nine months AOC has released several displays aimed at people who value style above everything else. First, the company launched its Q2781PS monitor with rose gold stand and Swarovski crystals in February. Then, it released the PDS-series LCDs co-developed with Porsche Design. The C2789FH8 is a yet another stylish display that comes in yellow gold chassis and inherits some pros and cons from the aforementioned models, but also introduces some new features. On the bright side of things, the screen itself is rather thin (its thickness is 7 mm) and it has very narrow bezels. To make it even more attractive for a potential buyer, it is curved and supports various features aimed at gamers (FreeSync, game modes, etc.). On the other hand, the resolution and brightness of the new SKU are lower than these of typical 27" monitors, something we have seen this with the AOC PDS-series already. Moreover, the unorthodox yellow-gold die-cast metal stand of the C2789FH8 does not allow any kind of adjustments (e.g., height, tilt, etc.), a tradeoff between style and price.
Specifications of AOC's Golden Curved Display
C2789FH8
Panel
27" VA
Native Resolution
1920 × 1080
Maximum Refresh Rate
60 Hz
Dynamic Refresh Tech
AMD FreeSync
Response Time
4 ms (gray-to-gray)
Brightness
250 cd/m²
Contrast
3000:1
Viewing Angles
178°/178° horizontal/vertical
Curvature
1800R
Pixel Pitch
0.3113 × 0.3113 mm
PPI
81
Color Gamut
90% NTSC
100% sRGB (?)
Inputs
1 × HDMI
1 × D-Sub
Audio
3.5-mm headphone jack
Color
Yellow Gold
Bling?
Bling Bling
Power Consumption
Standby
< 0.5 W
Maximum
30 W
While the AOC C2789FH8 has a very flashy look, its price is not too high. AOC's MSRP for the product is $249.99, but it is already available from Amazon for $199.99. The manufacturer says that the "golden" curved display will also be available from Newegg shortly.
Considering the price point, the AOC C2789FH8 is indeed a nice candidate for gaming multi-display configurations: for less than $600 one can get an circa-80" curved display system with a 5760×1080 resolution.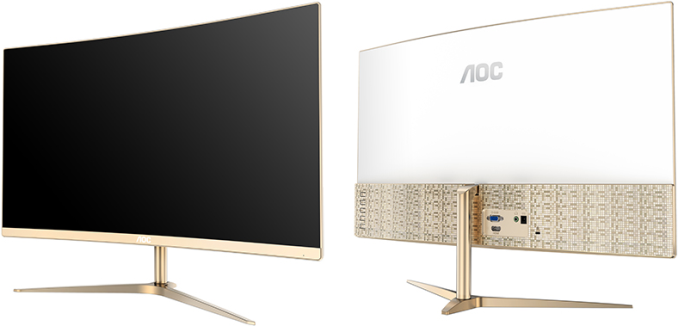 Related Reading:
Source: AOC