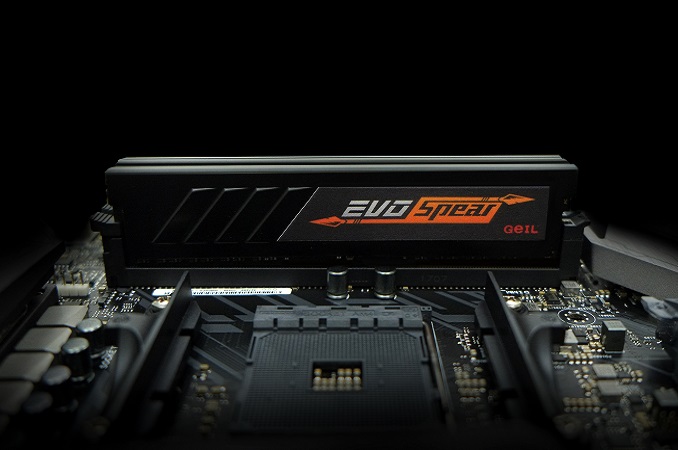 Geil recently announced the availability of its new EVO Spear series of memory, with kits labeled specifically for either Intel and AMD Ryzen based systems. Geil states the EVO Spear series is intended for gamers, enthusiasts, and case modders looking for a cost-effective upgrade. The two flavors give one for Intel and the other for AMD Ryzen with capacities up to 64GB and speeds reaching 3600 MT/s (although not at the same time).
Geil says the EVO Spear series of RAM is optimized for Intel Core X, i7, and i5 Processors which includes the Z200 and X299 series chipsets. They go on to say the AMD Edition sticks are fully compatible with Ryzen 7, Ryzen 5 Processors, and AM4 motherboards, and we suspect that Ryzen 3 and Threadripper will be supported eventually as well. The only differences between the two versions are the QVL and compatibility testing - while most kits should work in most boards, the AMD kits are officially certified in various AM4 boards and Intel kits for 200-series boards. The maximum speed on the AMD Edition kits top out a bit lower as well.
From Ryzen's release day, board partners have been working with AMD to further increase compatibility with AGESA updates via new BIOS, and the market is seeing more and more AMD compatible RAM at faster speeds as time goes on, so the updates are working. The AMD Edition sticks have an AMD Ryzen logo found on the packaging and modules, while the Intel sticks are nondescript.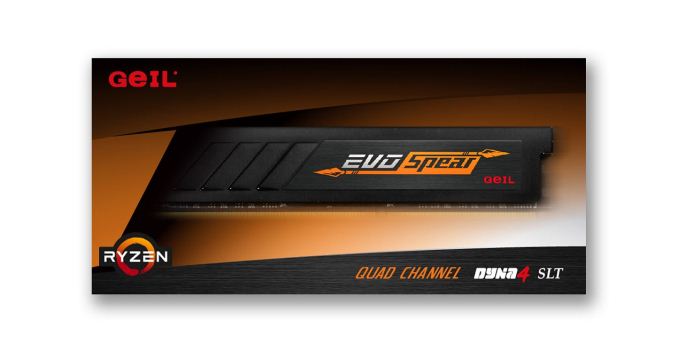 Capacities range from 16GB up to 64GB in both dual and quad channel kits. The operating frequency for the Intel sets is up to 3466 MHz, while the AMD Edition peaks at 3200 MHz. CAS ratings will vary by SKU but range from CL15 to CL17m and Geil offers a limited lifetime warranty on the EVO Spear Gaming Memory.
The DIMMs use standard height heat sinks ensuring "zero mechanical interference" from the sticks. They are available only in a stealth black heat colored spreader with the EVO Spear name on the side. The heat spreader covers a black PCB, and in an effort to remain cost effective, RGB LEDs are not on the EVO Spear line.
Geil EVO Spear DRAM
Latency
Voltage
Max Size
Intel SKU
AMD
SKU
DDR4-2133
15-15-15-36
1.2 V
4x 16GB
GSB464GB2133C15QC
DDR4-2400
15-15-15-36
1.2 V
4x 16GB
GSB464GB2400C15QC
16-16-16-36
GSB464GB2400C16QC
17-17-17-39
GSB464GB2400C17QC
DDR4-2666
16-18-18-36
1.35 V
4x 16 GB
GSB464GB2666C16AQC
DDR4-2800
16-16-16-36
4x 16 GB
GSB464GB2800C16QC
DDR4-3000
16-18-18-36
4x 16 GB
GSB464GB3000C16AQC
DDR4-3200
16-18-18-36
4x 8 GB
GSB432GB3200C16AQC
DDR4-3466
16-18-18-38
4x 8 GB
GSB432GB3466C16QC
-
In total there are over 50 different kits coming to market, divided by capacity (2x4 GB, 2x8 GB, 2x16 GB, 4x4GB, 4x8GB, 4x16GB) - the Geil website has the details. Pricing was not listed, however, a couple of dual channel kits are already available on newegg.com. A 2x8GB DDR4-2400 CL16-16-16-36 AMD Edition kit sells for $130.99 and a 2x8GB DDR4-2800 CL16-16-16-36 kit is asking $135.99.
Related Reading:
Source: Geil