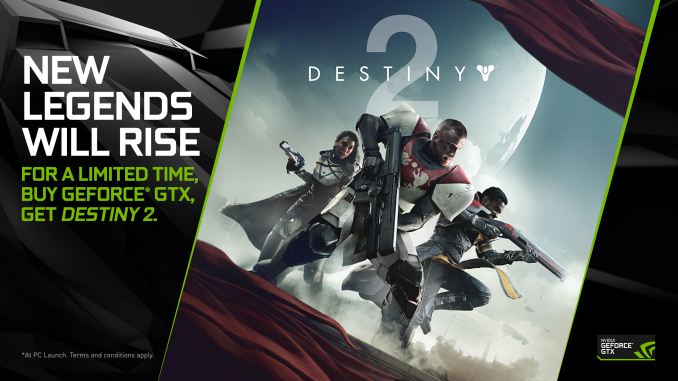 NVIDIA has announced yet another game bundle, this time pairing Bungie's much-anticipated Destiny 2 with NVIDIA's highly performant GeForce GTX 1080 and 1080 Ti. Systems (including NVIDIA's own GeForce GTX Battlebox) and laptops containing these cards will also qualify for the bundle. The bundle includes both Destiny 2 and early PC beta access, which is tentatively scheduled for late August.
Unlike its predecessor, Destiny 2 will be available for PCs, and will launch on October 24th for PCs and September 6th for consoles. NVIDIA has already released Destiny 2 PC gameplay video at 4K and 60 FPS, hinting at how higher-end graphics cards can take advantage of what Destiny 2 graphically has to offer. In more concrete terms, Destiny 2 on PC will offer up to 4K resolution and uncapped framerate, as well as adjustable field-of-view and support for ultra-wide/special monitor configurations. As a massively multiplayer online sci-fi first-person shooter, which Bungie previously described as a "shared world shooter", the PC version of the game will only be available via Blizzard App/Battle.net.
With the Rocket League bundle still in play until July 31st, NVIDIA nicely covers the GeForce GTX 10-series line-up from the humble GTX 1050 up to the GTX 1080 Ti, with the sole exception of the GTX 1070.
NVIDIA Current Game Bundles
Video Card
(incl. systems and laptops)
Bundle
GeForce GTX 1080Ti/1080
Destiny 2 Bundle w/ Early Beta Access
GeForce GTX 1070
None
GeForce GTX 1060/1050Ti/1050
Rocket League Bundle
Overall this will be a very short lived bundle. NVIDIA is only running it for the next two weeks – from today through June 27th – presumbly as an E3 tie-in. Once redeemed, Destiny 2 Early Beta Access codes can only be used through the life of the beta, whereas "Destiny 2 game codes may only be redeemed until 30 days after PC launch date."
Codes must be redeemed through GeForce Experience. Be sure to verify the participation of any vendors purchased from as NVIDIA likely will not give codes for purchases made from sellers that are not participating.
Source: NVIDIA