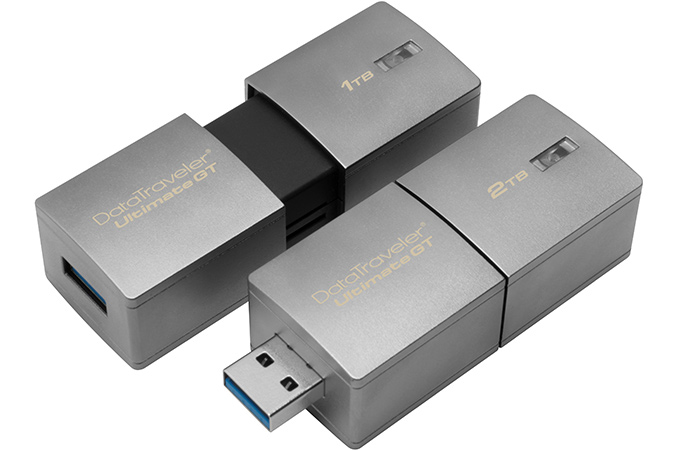 Kingston this week introduced its new DataTraveler Ultimate GT USB flash drive with a re-freshed design and up to 2 TB capacity. The new devices are designed for those who need to store large collections of multimedia files.
The new Kingston DataTraveler Ultimate GT family of flash drives consists of 1 TB and 2 TB models with a USB 3.0 Type-A connector. The drives come in zinc-alloy metal enclosures to protect from physical damage and are relatively compact for their capacities (at least, more compact than external HDDs or SSDs). The new storage devices feature exactly two times higher capacity than their predecessors, the Kingston DataTraveler HyperX Predator 3.0 (512 GB and 1 TB) drives, introduced four years ago at CES 2013. What is unclear is whether they beat their ancestors in terms of performance (up to 240 MB/s read and 160 MB/s write), but keep in mind that the real-world transfer rate of the USB 3.0 interface is around 400 MB/s at best.
Kingston DataTraveler Ultimate GT Family of Flash Drives
DTUGT/1TB
DTUGT/2TB
Capacity
1 TB
2 TB
Type of NAND
Unknown
Maximum Transfer Rate
5 Gbps
Dimensions
72mm × 26.94mm × 21mm
Operating Temperature
-25°C to 60°C
Storage Temperature
-40°C to 85°C
Warranty
Five Years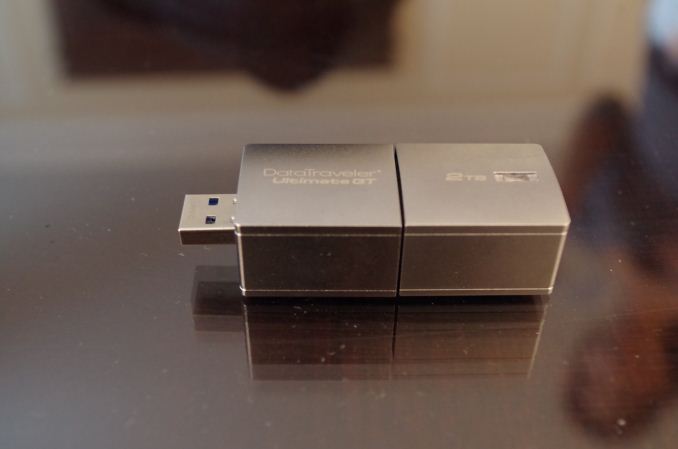 The DataTraveler Ultimate GT USB flash drives will be primarily useful for people who need to carry large amounts of data, but not necessarily edit it. For example, photographers, construction workers or scientists may offload images/videos/documents from their notebooks to such drives just for backup reasons. In fact, keeping in mind that many of such folks may work in harsh environments, the DataTraveler Ultimate GT drives are rated to support extended storage and operating temperature ranges: they can be stored at -40°C and operate at -25°C (-20°C and 0°C for typical USB drives).
Kingston will start to ship the new DataTraveler Ultimate GT USB flash drives in February and the storage devices will be covered with the company's five-year warranty. The drives will work with any modern Microsoft Windows OS that supports such flash drives (Windows 7 SP1 and later), Apple MacOS (10.9.x and later), Linux (2.6.x and later) as well as Google's Chrome OS. As for pricing the DataTraveler Ultimate GT USB flash drives are expected to have a price premium given their positioning. For example, the DataTraveler HyperX Predator 1 TB still costs well over $1000 at retailers like Amazon and Newegg.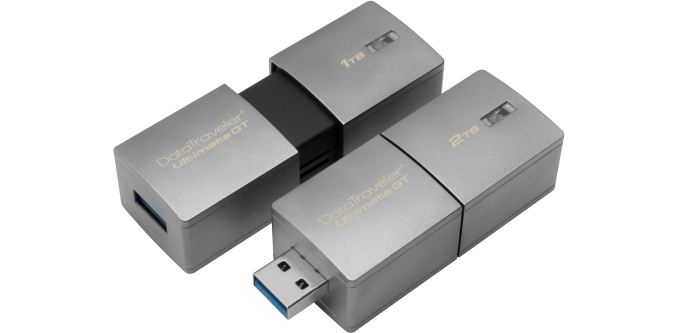 It will also come with a carry pouch and a USB cable to alleviate issues where it interferes with other ports: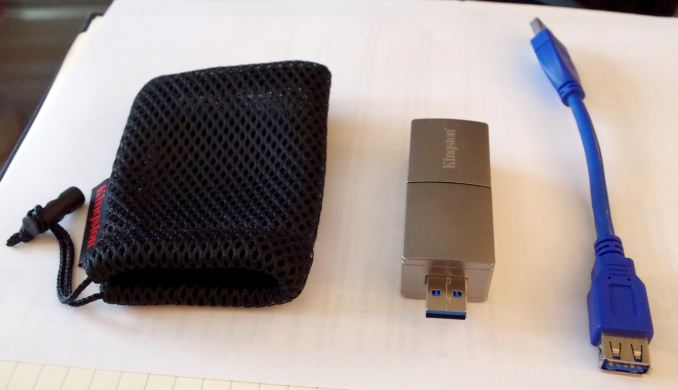 Source: Kingston