The NexXxoS XP3 Light Block
Except from the block itself, the necessary hardware for the mounting of the block – including a universal backplate and retention brackets for Intel and AMD platforms – can be found inside the packaging of the block. There is also a small syringe with unbranded silver thermal material and instruction manuals.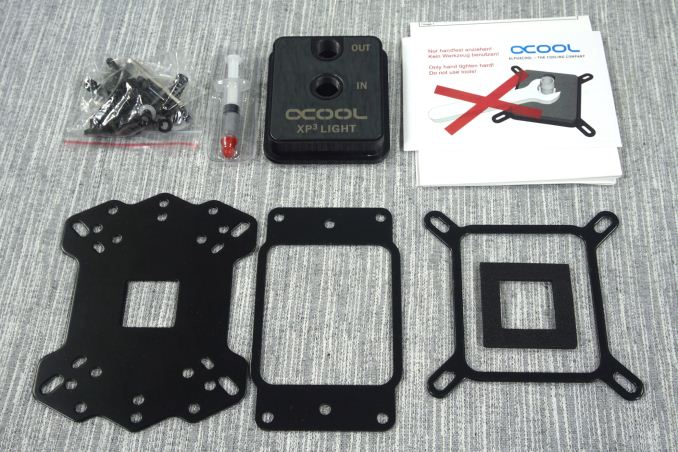 Alphacool has designed the NexXxoS XP3 Light to be compact and easily adaptable for future platforms. It is very small and lightweight, hardly larger than the CPU socket itself. Two openings for the compression fittings can be seen at the top of the block. The user has to make sure that the flow goes in from the center of the block and out from the edge, otherwise there will be a great loss of performance. Alphacool also includes a very clear notice that no tools should be used for the tightening of the compression fittings, as that can easily damage the plastic threads. Tightening the compression fittings by hand is more than enough.
The base of the NexXxoS XP3 Light is obviously copper. It is well-machined and smooth enough, but Alphacool did not bother polishing it down to a mirror finish. The company likely expects that the experts who would buy such a kit already know that a perfect mirror finish would not actually benefit performance by a measurable amount. Alphacool is also using copper screws in order to prevent chemical oxidation.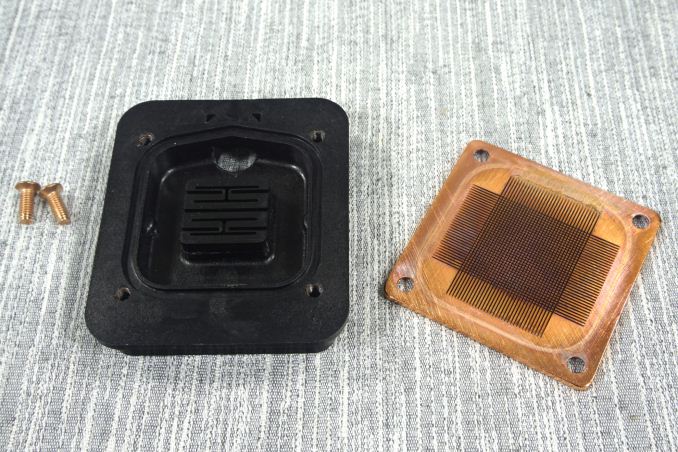 The interior of the NexXxoS XP3 Light is relatively simple, yet it is more complex than what an untrained eye might realize. The plastic part forms two H shaped jets that forcefully direct liquid flow towards the copper base. The copper base is practically a thin sheet of copper that has many small traces engraved into it, forming about a thousand mini rectangular pylons. The pressure generated by the jets forces the liquid to move in-between these mini pylons, enhancing heat transfer.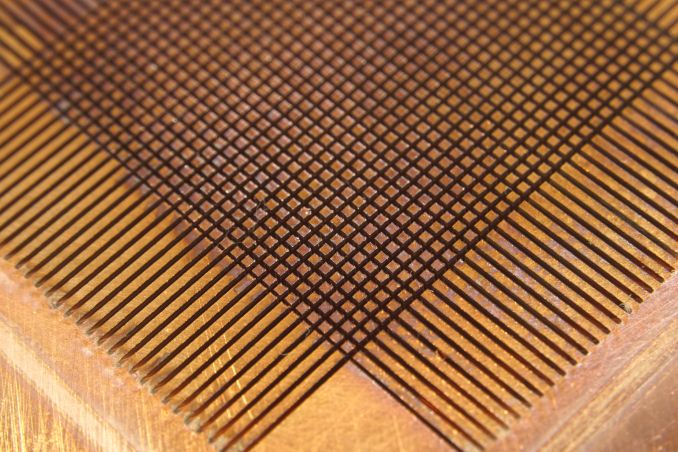 The NexXxoS XT45 Radiator
Perhaps the most important part of the system is the massive NexXxoS XT45 radiator. Alphacool supplies it along with mounting and fan screws, as well as with four plugs.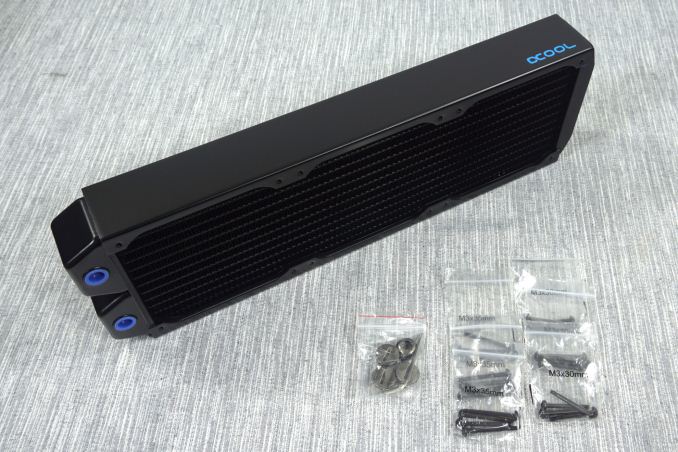 The 360 mm-class XT45 is a massive heat exchanger that measures 400 mm long and 46 mm thick. Its exterior frame is steel, while the chambers and the fins are copper, resulting to a massive weight of 1.4 kg without any parts/fans attached. The paint job of the steel frame is excellent, but it is only superficial on the radiator itself, covering just a bit of the copper chambers. Close inspection reveals that the fins are bare copper.
Alphacool placed not two but six openings for compression fittings, which is why they also supply four plugs alongside with the radiator. The user can select two of the fittings with the most suitable orientation, or even connect more than one loop/system to a single radiator.