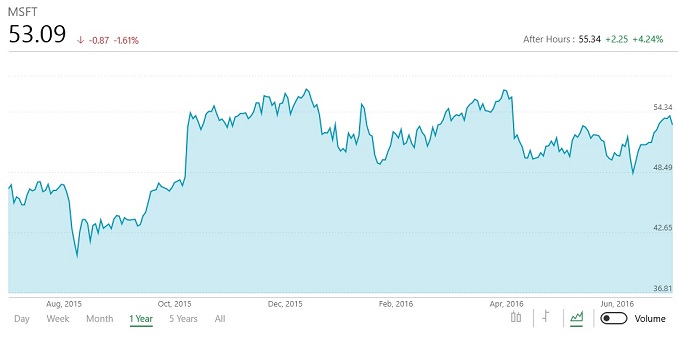 Microsoft announced their fourth quarter results for their fiscal year 2016. For the quarter, Microsoft had revenues of $20.6 billion, which is a 7% decline compared to Q4 2015. Gross margin came in at 61.2%, down from over 66% a year ago. In their Q4 2015, Microsoft wrote down the majority of their Nokia acquisition, so take that into consideration against the rest of their results. Operating income for the quarter was $3.08 billion, as compared to an operating loss of $2.053 billion a year ago. Net income was $3.122 billion for the quarter, compared against a $3.195 billion net loss due to the write down at the same time last year. Earnings per share were $0.39, compared to a $0.40 loss per share last year.
Microsoft Q4 2016 Financial Results (GAAP)
Q4'2016
Q3'2016
Q4'2015
Revenue (in Billions USD)
$20.614
$20.531
$22.180
Operating Income (in Billions USD)
$3.080
$5.283
-$2.053
Gross Margin (in Billions USD)
$12.635
$12.809
$14.712
Margins
61.3%
62.4%
66.3%
Net Income (in Billions USD)
$3.122
$3.759
-$3.195
Basic Earnings per Share (in USD)
$0.39
$0.48
-$0.40
For the full fiscal year, Microsoft had revenues of $85.32 billion, an operating income of $20.182 billion, and net income of $16.798 billion.
Microsoft also released Non-GAAP results, which account for deferrals of Windows 10 revenue which is now deferred over the life of a device, as well as removing the restructuring charges, and other expenses. On a Non-GAAP basis, revenue was $22.6 billion for the quarter, up 2% year-over-year, and 5% in constant currency (CC). Operating income was $6.2 billion, which is down 3% year-over-year, or up 6% CC. Net income was $5.5 billion, up 8%, or 23% CC, and earnings per share were up 11% to $0.69, or up 27% CC.
Microsoft breaks the company into three segments. Productivity and Business Processes includes Office, which includes both Office commercial and home, as well as Office 365 commercial and home. In addition, this segment includes Dynamics. The second segment is Intelligent Cloud, which includes Server, Azure, Enterprise Mobility, and Enterprise Services. The final segment is More Personal Computing, which includes Windows, devices, gaming, and search.
Productivity and Business Processes grew revenue by 5% (8% CC) to $6.97 billion. Gross margin for this segment was $3.00 billion, down 5%. Breaking this down a bit further, Office commercial revenue was up 5% (9% CC), and Office 365 commercial seats were up 45% year-over-year. Office 365 commercial continues to have strong growth, at the expense of its traditional buy and use client. Office 365 revenue grew 54% (59% CC), while the non-cloud offering declined 12% (9% CC). The home side is also seeing good growth, with Office consumer growing revenue by 19% (18% CC) year-over-year. Office 365 consumer now has 23.1 million subscribers. The final piece of this segment is Dynamics, which saw a 6% (7% CC) gain in revenue compared to last year. The cloud offering here is also going strong, with CRM Online doubling in seats. Microsoft stated that they now have almost 10 million monthly paid seats for Dynamics, and four out of five new CRM customers choose the cloud version.
Intelligent Cloud had revenues grow 7% (10% CC) to $6.71 billion for the quarter. Operating income was down 17% though, to $2.19 billion with higher operating expenses and acquisitions. Server and cloud services had revenue up 5% (8% CC), but it was Azure that saw the big gain again. Azure revenue grew 102% (108% CC) while the traditional server products stayed flat. In addition, Microsoft continues to see strong growth in their Azure premium services, with "triple digit" growth for the eight quarter in a row. Enterprise Mobility customers also nearly doubled to 33,000. Enterprise services was also up 12% (14% CC) with growth in their Premier Support Services.
Finally, the More Personal Computing segment, which is still the largest segment by revenue, had revenues decline 4% (-2% CC) to $8.9 billion. Operating income in this segment was up significantly to $0.96 billion, which is a 59% gain compared to last year. Breaking down this segment, Windows OEM revenue for non-Pro grew by 27% year-over-year, which outpaced the consumer PC market. Microsoft attributes this to more premium devices being sold, which they get more revenue from than, for instance, a $199 HP Stream where Windows is no-cost. Windows OEM Pro grew 2%, which is attributed to a stabilization of the commercial PC market and more business devices sold with Pro. Windows volume licensing was up 3% (9% CC), and IP licensing revenue declined. Although not stated, I would attribute this to Microsoft making different deals with Android OEMs to install Microsoft services, rather than just a per-device charge.
On the devices side, revenue was down 35%, but this is almost exclusively the phone unit which is now written off. Phone revenue was down 71% year-over-year. Surface revenue was up 9% driven by sales of Surface Pro 4 and Surface Book. Gaming revenue declined 9% (8% CC) with the discounted price of the Xbox One, and lower console sales. Xbox live monthly active users grew 33% to 49 million.
The final piece of More Personal Computing is Search, which grew revenue 16% (17% CC) thanks to higher revenue per search, and higher search volume. Microsoft stated that over 40% of the search revenue in June was by devices running Windows 10, which helps explain their motivation to offer Windows 10 as a free upgrade for the past year.
Microsoft Q4 2016 Financial Results (GAAP)
Productivity and Business Processes
Intelligent Cloud
More Personal Computing
Revenue (in Billions USD)
$6.97
$6.10
$8.90
Operating Income (in Billions USD)
$3.00
$6.71
$0.96
Revenue Change YoY
+5%, +8% CC
+7%, +10% CC
-4%, -2% CC
Operating Income Change YoY
-5%
-17%
+59%
So there's a lot of data here, and not all of it will interest everyone, but Microsoft has continued to see strong growth by their cloud segments, and have transitioned well from a traditional software company to one that also offers the services that people want and expect. The cloud revenues continue to grow at a strong pace, and generally at the detriment of their traditional segments. Surface growth of 9% is decent as well, but let's not forget that a year ago the Surface Pro 4 and Surface Book didn't even exist, but a 9% gain when the overall PC market is down being a good outcome. With the loss of the Lumia phone business, the negative revenue is still impacting the results, but should not for much longer.
Windows 10 adoption has been strong, with over 350 million devices now running Windows 10. The first big update is coming about a year after the initial release, and we should have more coverage on that soon.
Source: Microsoft Investor Relations