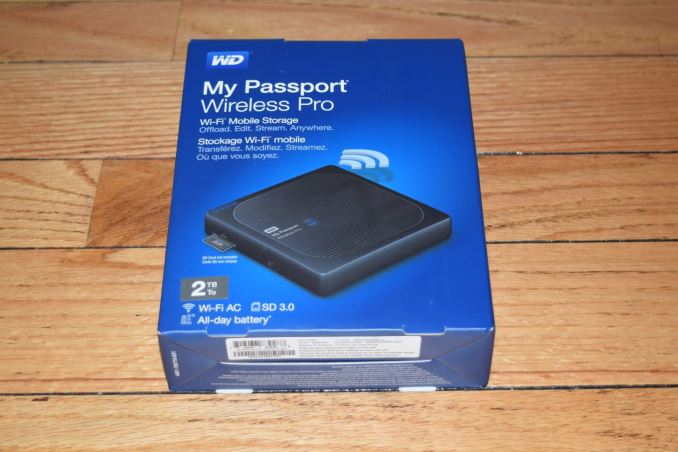 Wireless storage peripherals have traditionally targeted users of mobile devices (where internal storage space is at a premium). As multimedia capture devices (both consumer and professional) become more connected, it makes sense for these storage peripherals to evolve and cater to a professional audience with premium features. Today, Western Digital is launching a suite of Pro products targeting the professional image/video capture market. This includes the My Passport Wireless Pro portable Wi-Fi hard drive, a follow-on to the My Passport Wireless introduced in late 2014.
Introduction
The Western Digital My Passport Wireless Pro is a Wi-Fi mobile storage device. It essentially acts as a battery-operated wireless NAS (network-attached storage) / USB 3.0 DAS (direct-attached storage) / access point. The unit includes a capacious 2.5" hard drive (2TB or 3TB), a 6400 mAh battery for wire-free operation and a simultaneous dual-band Wi-Fi radio enabling it to act as an access point or a wireless NAS / hot-spot mode. Like the previous generation My Passport Wireless, the new unit also sports a SD card slot. In addition, we also have a USB 2.0 host port.
Compared to other wireless mobile storage peripherals, the differentiating aspects / professional features include:
SD 3.0 card reader (up to 65 MBps reads and 40 MBps writes, depending on the rating of the SD card itself)
802.11ac (5 GHz) and 802.11n (2.4 GHz) simultaneous support (1x1)
High-capacity (6400 mAh) Li-Po battery - provision for up to 10 hours of battery life while streaming HD video (as per WD's claims), and ability to double up as a battery bank for phones and other media capture devices connected to its USB 2.0 host port (up to 5V @ 1.5A).
Plex app, allowing WD to claim the unit to be the world's first portable Plex media server (no transcoding capabilities, though)
Native exFAT support for external storage media handling
In terms of software features, Western Digital has retained the FTP server capabilities (which allows advanced digital cameras to directly upload photographs to the unit in the field). In addition, the mobile app (WD My Cloud) has also been updated to support the new My Passport Wireless Pro as well as the Pro NAS units being launched today.
Hardware and Platform Analysis
The My Passport Wireless Pro unit comes with a 12.24W adapter (5.1V @ 2.4A). The output is a standard A-type USB 3.0 receptacle. Bundled with the unit is a 2 ft. USB 3.0 cable (Male-A to Micro-B). The USB 3.0 cable is also used to connect to the PC for usage as a DAS (direct-attached storage) unit as well as charging the internal battery. Other than the main unit and the USB cable / charger, we have a quick start guide.
In order to get more insight into the internals, we dug up the FCC filings for the My Passport Wireless Pro. Selected teardown pictures are provided in the gallery below.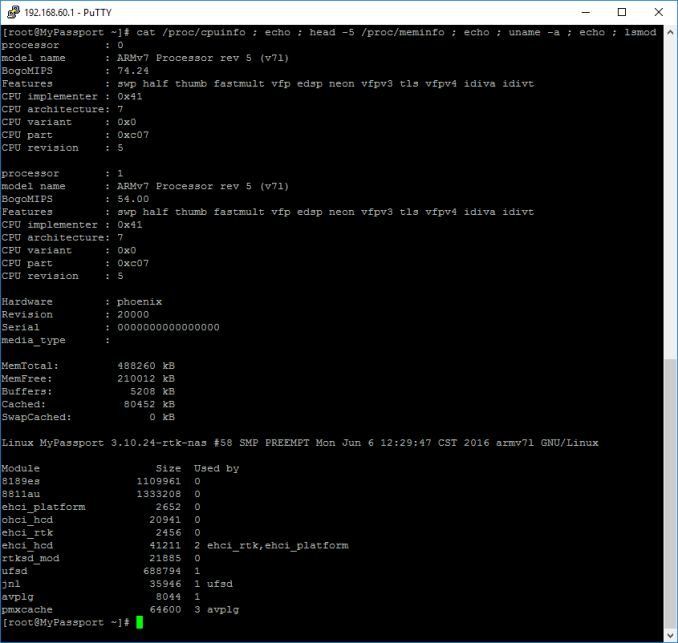 In conjunction with the information gleaned via SSH access to the unit, we can arrive at the following important internal components for the 2TB My Passport Wireless Pro unit:
Realtek RTD1195 Dual Cortex-A7 SoC
Realtek RTL871X Wi-Fi SoC
Realtek 8189ES 802.11n 1x1 2.4 GHz WLAN radio
Realtek 8811AU 802.11ac 1x1 5 GHz WLAN radio
WD Blue 2TB 2.5" HDD
6400 mAh 3.7V Li-Po battery
The Realtek platform (originally meant for media players) is an interesting choice for the wireless NAS market. However, given that vendors such as QNAP have also used similar SoCs for the TAS-x68 lineup, it is not that much of a surprise. In any case, it is the additional components and the software infrastructure that make the product unique. Coming to the hard drive itself, we get confirmation after running CrystalDiskInfo with the My Passport Wireless Pro connected as a DAS unit over USB 3.0.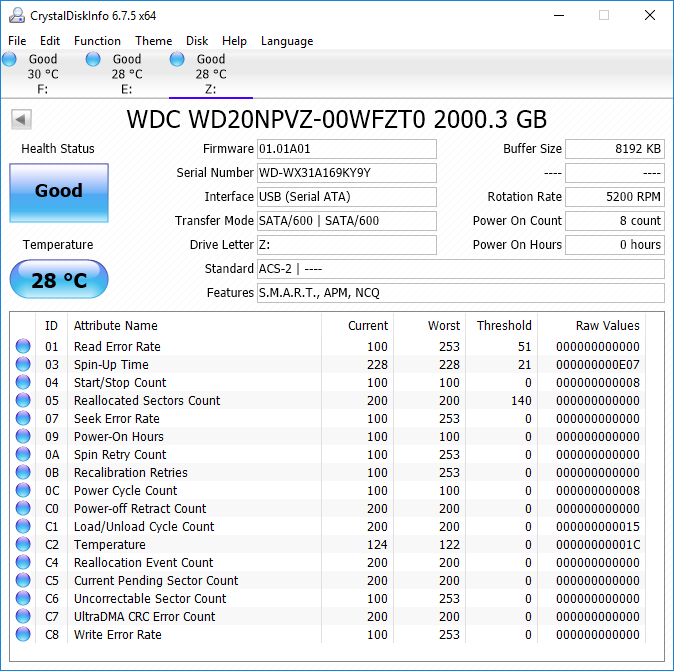 The WD20NPVZ is indeed the 2TB WD Blue drive. Looking at the datasheet (PDF), we find that the drive consumes, on an average, only 1.7W for read/write operations. At idle, it drops down to 0.8W and sleep/standby moves it down to 0.2W. This makes it perfect for a USB 3.0 bus-powered drive (since the maximum power that can be delivered over USB 3.0 as per specifications is only 4.5W). These power numbers are essentially the same as the WD Green drive used in the My Passport Wireless.
Setup Process
The setup process is very similar to that of the My Passport Wireless. Powering up the unit (after the suggested full charging routine) creates two SSIDs - 'MyPassport 2.4 GHz' and 'MyPassport 5 GHz'. Both of them are secured with the same key (available in a sticker attached to the main unit). Consumers can choose either a mobile device (with the WD My Cloud app installed) or a computer to connect to the SSID and proceed with the setup. On a mobile device, the app automatically recognizes the My Passport Wireless device responsible for the SSID and provides a way to configure it (in terms of operation mode, access password and other details). We decided to go the PC route.
The dashboard presents all the important details such as remaining hard drive space, remaining battery charge, firmware version, system time etc. The remaining pages (navigable via easy to identify icons in the top bar of the UI) allow for further configuration including setting up of additional Wi-Fi networks, administrator settings, turning on/off SSH and FTP access, diagnostics, media server (Plex / Twonky) and SD card / USB device import settings etc.
On the whole, the setup and usage was quite user-friendly. Western Digital also has excellent documentation which makes product usage simple for all types of consumers. The new features are well-integrated into what is essentially the same UI as that of the My Passport Wireless from 2014.