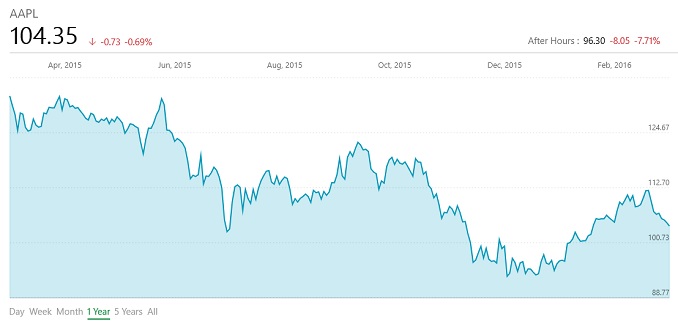 This afternoon, Apple released their Q2 earnings for fiscal year 2016, which ended on March 26. The company saw revenues decline for the first time since Q1 2003, according to CNN. The results today did not meet expectations, but that was quite a run to go over 13 years without a year-over-year decline in revenue. Revenue for the quarter was $50.56 billion, which is 10% lower than the $58.01 billion announced a year ago. Gross margin was $19.9 billion, or 39.4%, which was down from the 40.8% gross margin in Q2 2015. Net income was down 22.5% as well, coming in at $10.5 billion for the quarter. This resulted in earnings per share of $1.90, down from $2.33 a year ago.
Apple Q2 2016 Financial Results (GAAP)
Q2'2016
Q1'2015
Q2'2015
Revenue (in Billions USD)
$50.557
$75.872
$58.010
Gross Margin (in Billions USD)
$19.921
$30.423
$23.656
Operating Income (in Billions USD)
$13.987
$24.171
$18.278
Net Income (in Billions USD)
$10.516
$18.361
$13.569
Margins
39.4%
40.1%
40.8%
Earnings per Share (in USD)
$1.90
$3.30
$2.33
iPhone sales have certainly slowed, but Apple was almost destined to falter after reporting such strong quarters a year ago. The launch of the larger iPhone 6 and 6 Plus triggered year-over-year growth in iPhone sales of 40% a year ago, and 46% growth the quarter before that. Strong growth in China helped fuel a lot of that gain, since it was practically an untapped market for Apple, but revenue from China fell 26% from a year ago. With Apple being a company that has struggled to expand it's market outside of iPhone, when the one segment falters it can make a big impact on the results, which is exactly what happened here.
Pretty much every earnings report, sales of the iPhone dominate the discussion, and today is not really any different. Apple sold 51.2 million iPhones this quarter, which is a drop of 16% year-over-year. That brought in revenue of $32.86 billion for the quarter, which is a drop of 18% year-over-year. A larger revenue drop than unit sales means that of the iPhones it is selling, the average selling price is also down. Apple still gets 65% of its revenue from the iPhone, even on a down quarter, but the other segments are not pulling up the slack.
iPad sales continue their downward trajectory, with sales of 10.251 million units this quarter, which is down 19% from a year ago. Revenue for the iPad was $4.4 billion, also down 19%. This has been a common trend with the iPad over the last year or two, and what originally looked to be another strong growth segment for Apple has quickly become a market where sales keep declining. Eventually they will bottom, but even with the solid new entries in the iPad Pro, the smaller iPad Pro 9.7, and even the new iPad Mini, the Apple tablet market has quickly reached a point where people are not upgrading as quickly as the iPhone market does, and you have to start to wonder when sales of the iPad are going to bottom out.
The PC market is certainly declining, but the Mac has soldiered on, generally outperforming the PC market even in the down times. That trend also stopped this quarter, with Mac sales down 12% year-over-year, to 4.0 million devices. Revenue for the Mac was $5.1 billion, which is down 9% compared to last year, so the average selling price has increased a bit while sales have fallen. We've not seen Apple refresh the Mac for some time though, with only the MacBook getting Skylake, so sales may be affected by this as well.
Services, which include internet services, AppleCare, Apple Pay, and others, are now the second largest revenue source for Apple, with revenues up this quarter 20% over last year, for a total of just a hair under $6 billion for the quarter. Even compared to the holiday quarter, which was Q1, sales were pretty much flat, and all of the other segments dropped significantly (and expectedly) compared to last quarter. You likely don't think of Apple as a services company, but iTunes sales, Apple Music, and their other services are now the number two product at Apple, and that's pretty surprising. It may not be number two next quarter, but with Apple having over a billion people using their services now, sales here should stay strong.
The final segment from Apple is "Other Products" which includes Apple Watch, Apple TV, iPod, Beats, and accessories. This segment also grew significantly year-over-year, to $2.2 billion, which is up 30%. Although Apple doesn't break down the products inside here, the addition of Apple Watch likely makes up a good portion of this, since it wasn't part of the category a year ago.
Apple Q2 2016 Device Sales (thousands)
Q2'2016
Q1'2016
Q2'2015
Seq Change
Year/Year Change
iPhone
51,193
74,779
61,170
-32%
-16%
iPad
10,251
16,122
12,623
-36%
-19%
Mac
4,034
5,312
4,563
-24%
-12%
Apple announced they were going to be adding an additional $50 billion to their capital return program, bringing the program up to $250 billion in cash returned to shareholders by the end of March 2018. The dividend will be increased to $0.57 per share, and they will buy back $175 billion in shares, up from the original goal of $140 billion in shares.
They also announced guidance for the next quarter, where they expect revenue between $41 and $43 billion (Q3 2015 revenue was $49.6 billion) and gross margin is expected to drop again to between 37.5 and 38%. With this guidance, next quarter may be very similar to this one.
Apple Q2 2016 Revenue by Product (billions)
Q2'2016
Q1'2016
Q2'2015
Revenue for current quarter
iPhone
$32.857
$51.635
$40.282
65.0%
iPad
$4.413
$7.084
$5.428
8.7%
Mac
$5.107
$6.746
$5.615
10.1%
iTunes/Software/Services
$5.991
$6.056
$4.996
11.8%
Other Products
$2.189
$4.351
$1.689
4.3%
I don't think we have to worry about Apple going bankrupt just yet, but today's earnings are a big change in what we've gotten used to in the last 13 years or so. All things must come to an end, and today it was Apple's amazing track record over the last decade or more. They are certainly not alone in having their struggles this quarter, but the drop is pretty significant nonetheless.
Source: Apple Investor Relations