Hot Test Results
Moving on to our hot test results, as the following tables show, the power quality of the RM1000i/RM1000x is significantly upgraded in comparison with the original RM1000. The maximum voltage ripple on the 12V line is now 28 mV, less than half that of the previous model and four times below the 120 mV design limit. Similar performance improvements can be seen on the minor voltage rails as well, with the maximum ripple of the 3.3V and 5V lines being 10 mV and 20 mV respectively. Voltage regulation is greatly improved too, as the RM1000i/RM1000x maintain all of their voltage lines within about 1% across the entire nominal load range. In comparison, the voltage regulation of the RM1000 was between 2% and 3%.
Main Output
Load (Watts)
202.31 W
503.64 W
752.79 W
1000.53 W
Load (Percent)
20.23%
50.36%
75.28%
100.05%
Amperes
Volts
Amperes
Volts
Amperes
Volts
Amperes
Volts
3.3 V
2.27
3.37
5.66
3.36
8.5
3.34
11.33
3.33
5 V
2.27
5.13
5.66
5.12
8.5
5.09
11.33
5.08
12 V
15.1
12.12
37.75
12.07
56.62
12.03
75.5
11.99
Line
Regulation
(20% to 100% load)
Voltage Ripple (mV)
20% Load
50% Load
75% Load
100% Load
CL1
12V
CL2
3.3V + 5V
3.3V
0.95%
6
6
8
10
8
16
5V
0.8%
8
12
16
20
12
22
12V
1.05%
12
16
22
28
26
14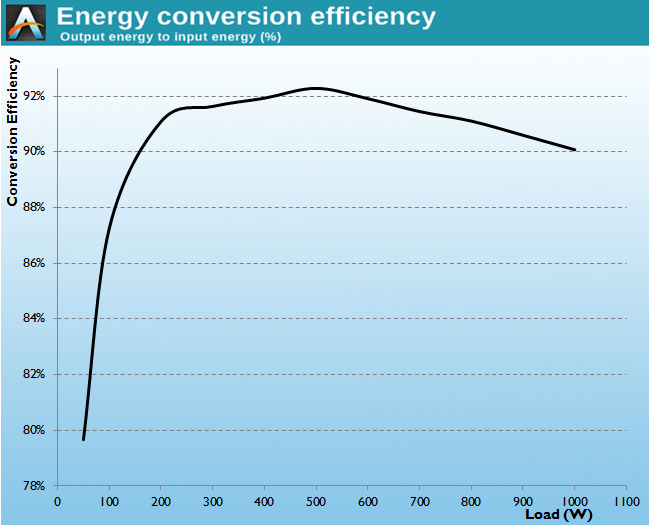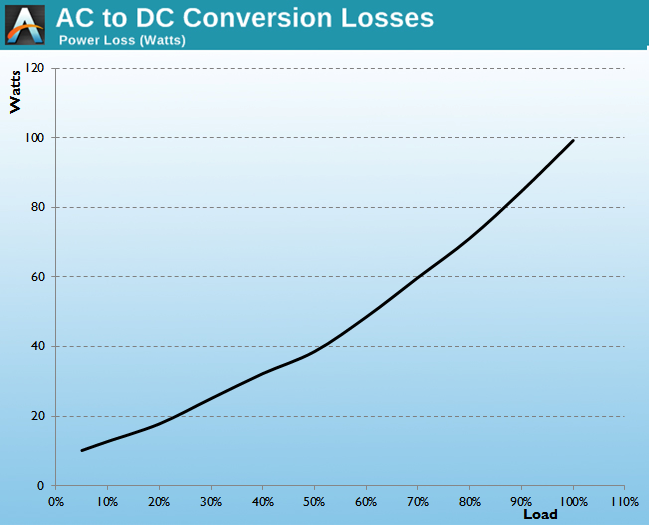 The electrical performance of the RM1000i/RM1000x seems largely unaffected by the high ambient temperature. This is not unexpected from PSUs rated at 50°C and designed capable to operate without a fan. The average efficiency drop across the entire load range is 0.5%, evenly distributed across it. Technically, the RM1000i/RM1000x meet the 80Plus Gold certification limits even with ambient temperatures greater than 45°C.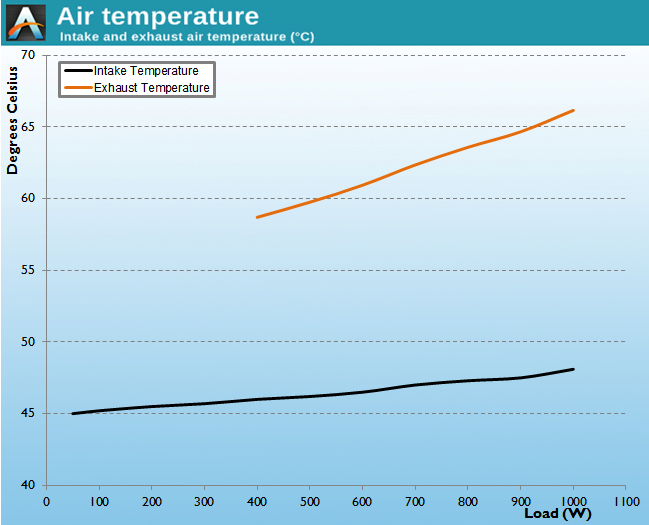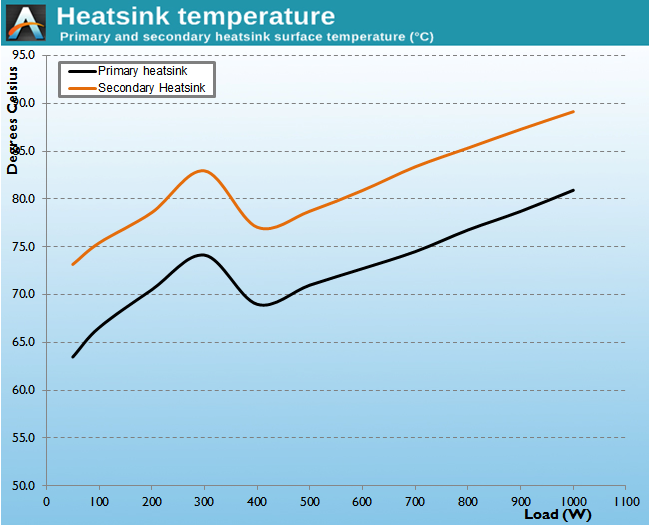 Inside our hotbox, the fan began spinning as soon as the load reached 400 Watts. Still, the fan did not further speed up until the load exceeded 700 Watts, and beyond that the maximum speed did not go much higher than what we saw in our our room temperature testing, maintaining very low sound pressure levels. The internal temperatures remain relatively low, considering the high ambient temperatures, and are noticeably lower than the original RM1000 as well. However, we should mention that the original RM1000 had slightly lower noise figures under maximum load, indicating that the cooling profile of the newer RM1000i/RM1000x units is a little more aggressive.