Professional Performance: Windows
Agisoft Photoscan – 2D to 3D Image Manipulation: link
Agisoft Photoscan creates 3D models from 2D images, a process which is very computationally expensive. The algorithm is split into four distinct phases, and different phases of the model reconstruction require either fast memory, fast IPC, more cores, or even OpenCL compute devices to hand. Agisoft supplied us with a special version of the software to script the process, where we take 50 images of a stately home and convert it into a medium quality model. This benchmark typically takes around 15-20 minutes on a high end PC on the CPU alone, with GPUs reducing the time.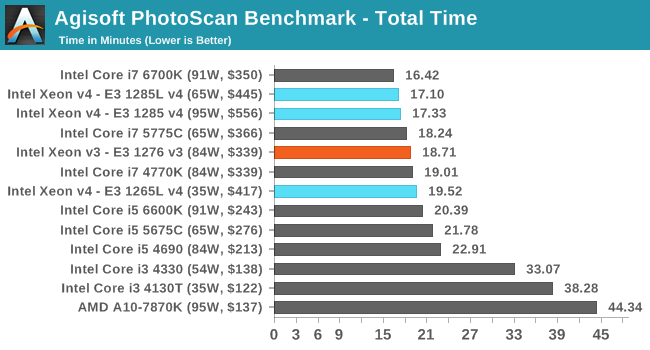 The benefits of the eDRAM here afford nearly two minutes over the v3.
Cinebench R15
Cinebench is a benchmark based around Cinema 4D, and is fairly well known among enthusiasts for stressing the CPU for a provided workload. Results are given as a score, where higher is better.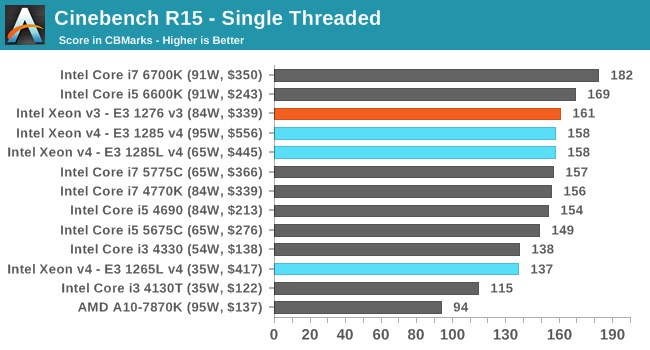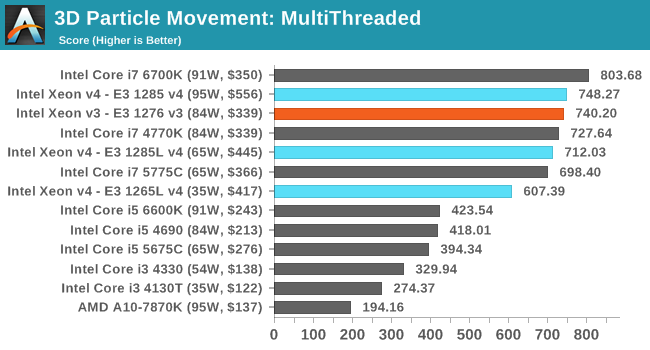 We've seen that Broadwell can organise threads slightly better than Haswell, along with its IPC increases and ability to manage more data in its buffers. As a result, while single thread is pretty much par for the course between the v3 and v4, the multithreaded result puts the v4 ahead of the v3.
HandBrake v0.9.9: link
For HandBrake, we take two videos (a 2h20 640x266 DVD rip and a 10min double UHD 3840x4320 animation short) and convert them to x264 format in an MP4 container. Results are given in terms of the frames per second processed, and HandBrake uses as many threads as possible.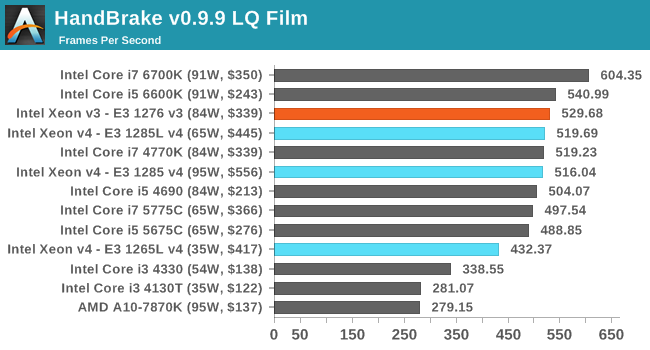 With our HandBrake tests, historically low quality encodes with small frames require a purely faster processor, whereas large high quality frames need more memory accesses. This is why the E3 v3 at 84W and E3 v4 at 35W come out near similar - the eDRAM of the v4 helps push a little ahead here. That being said, the improvements in Skylake show what perhaps the future v5 Xeons might be capable of.
Hybrid x265
Hybrid is a new benchmark, where we take a 4K 1500 frame video and convert it into an x265 format without audio. Results are given in frames per second.