Next week is the annual Computex trade show and we have a substantial number of meetings booked, but as part of the regular pre-show ritual, companies are coming at us with the start of their press release mêlée. One of the first to officially release their embargo is ASRock, showing off some impressive equipment ready for media to gawk at when we hit the booth on the show floor.
First up is a tantalising teaser of what is to come. Anyone interested in the PC space is talking about upcoming Broadwell and the iteration after that called Skylake. Skylake for desktops will require a new chipset and new motherboard, which we at least know that Z170 is part of it (H, B and Q series motherboards are likely in the scheme as well). A big part of Computex in recent years has been showing off these designs regardless of the launch window, and ASRock's PR today mentions two such Z170 motherboards: the Z170 Gaming K6 and the Z170 Extreme7.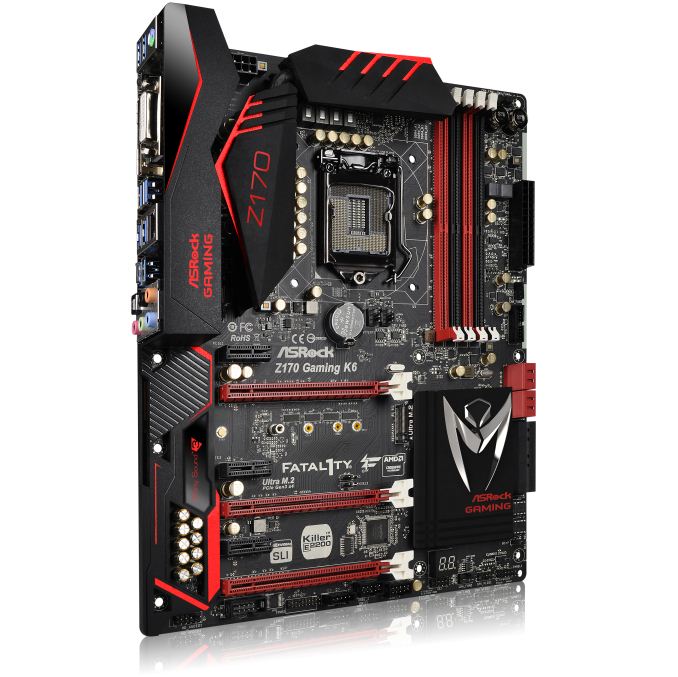 The Z170 Gaming K6 throws up some interesting talking points. We have an ASRock gaming logo on the chipset, which is supposed to be akin to a praying mantis and will most likely supplant the Fatal1ty branding on the gaming range. The new socket looks similar to the one used for Z87 and Z97. The PCIe slots are split electrically x16/x8/x4 with an Ultra M.2 in the middle suggesting a PCIe 3.0 x4 M.2 slot. Killer networking returns on this platform, and it would seem that SATA Express is also along this line. In the top left, you'll notice the DRAM slots are listed as DDR4_A1, DDR4_A2 and so on, with single sided latches supporting the DDR4 modules.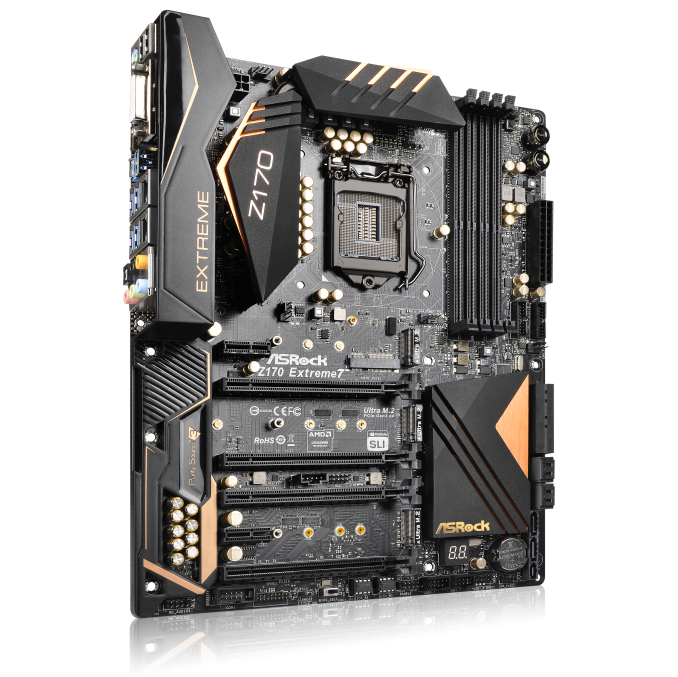 The Z170 Extreme7 images are more exciting, showing off three M.2 slots between the PCIe slots. These are all listed as Ultra M.2, which means PCIe 3.0 x4 bandwidth each for 12 lanes. At this point details of the Z170 platform have not been released, but having access to three M.2 x4 slots either means that some can only be used when integrated graphics is in play, the CPU has more than 16 lanes, or some of these are running off the chipset, none of which can be confirmed. Both the Extreme7 and the Gaming K6 would seem to have Purity Sound 3, the next iteration of the upgraded motherboard audio. This should be the Realtek ALC1150 still, however that is not confirmed as of yet.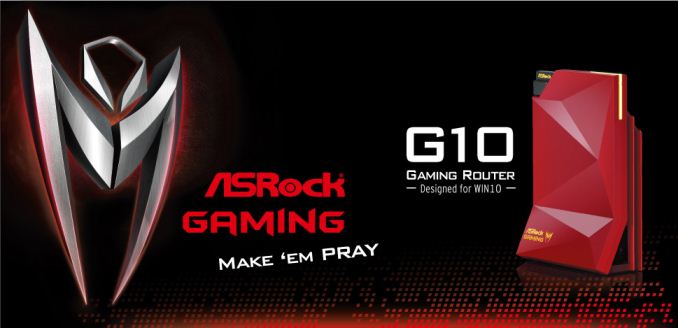 Another surprising element to the press release was the announcement that ASRock's Gaming brand is expanding beyond motherboards. Similar to other gaming brands from motherboard companies, ASRock will also provide mice and mousepads (no mention of keyboards or headsets), but in an interesting twist they will also provide a router. The G10 is meant to be a similarly themed (with the logo and the angled edges) device but offers 4T4R connectivity on 802.11ac. This means up to 1733 Mbps connectivity over a single WiFi application. The only critical point here is that no-one sells a 4T4R WiFi card for a PC – the most we've seen so far is 3T3R in commercial applications. It will be interesting to see if that leads down a certain path of better WiFi bandwidth opportunities.
We have plans to meet with ASRock during Computex where we hope to get some hands-on time with this stuff. Release dates and pricing are not being announced as of yet.