Clevo P750ZM: Overclocking Power Requirements
Increasing performance though overclocking will always increase power draw (all other variables being the same), which is part of the concern with overclocking notebooks. On a desktop where you can easily upgrade the power supply and cooling, there are ways to deal with the higher power requirements and increased heat. With a notebook, you'll want something with a good amount of headroom just to be safe. Thankfully, the P750ZM provides just what we need.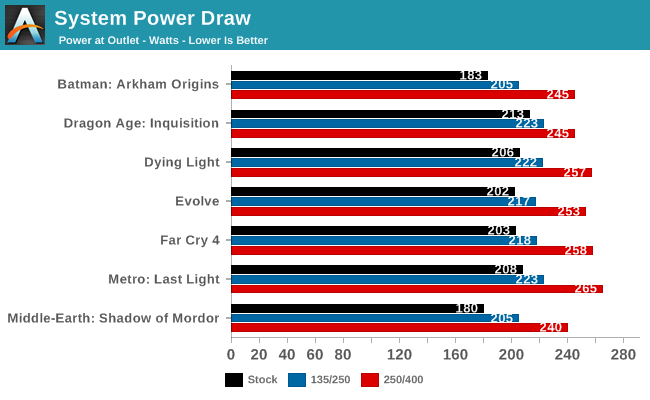 Typically when overclocking components, there's a point where the power (voltage) requirements start to increase rapidly for increasingly small performance improvements. Our two overclocking targets represent about a 10% and 20% overclock of the GPU core, and both increase the power requirements. However, the aggressive overclock uses almost 20% more power than the moderate overclock on average, which in turn uses a bit less than 10% more power than the stock clocks. Overall, we're increasing the power draw by nearly 30% for a 20% increase in performance.
Keep in mind that the higher power draw when overclocked isn't just coming from the GPU – the CPU will end up working harder to feed the faster GPU, so many of the components in the system will use more power. Still, the majority of the power is almost certainly being funneled into the GTX 980M.
The scaling of performance vs. power with our aggressive overclock is actually not too shabby, but it does raise a concern. When it comes to power, this is going to be one of the limiting factors with overclocking certain notebooks. The P750ZM we received from Eurocom includes the beefier 330W AC adapter, so it's not a problem, but assuming 85% efficiency on the power bricks the 230W AC adapter would be very close to 100% load. Other laptops (e.g. the Gigabyte P35W v3) come with 180W adapters, which we could easily surpass – never mind the difficulty of cooling an overclocked 980M in a slim chassis.
There's also the question of temperatures, both internal and external, which is what we'll look at next.