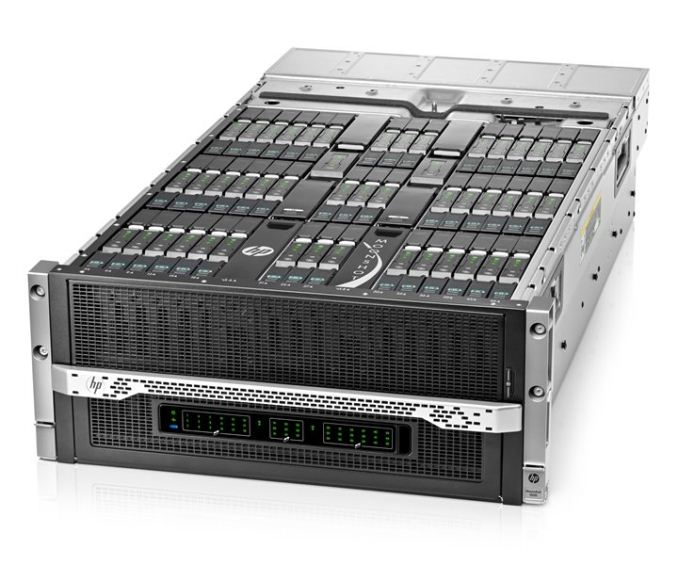 Yesterday HP announced retail availability of two ARM based servers, the ProLiant m400 and m800. Each are offered in a server cartridge as part of the Moonshot System. A single 4.3U Moonshot chassis can hold 45 server cartridges. Usually higher numbers mean better, but in this case the m400 and m800 are so significantly different I wouldn't consider them competitors. The m800 is focused on parallel compute and DSP, while the m400 is focused on compute, memory bandwidth, IO bandwidth and features the first 64-bit ARM processor to reach retail server availability.
HP ProLiant ARM Servers
m400
m800
Processors
1
4
Processor
AppliedMicro X-Gene
Custom 64-bit ARMv8
TI KeyStone II 66AK2H
Cortex-A15 ARMv7A + DSP
Compute cores per processor

8 CPU

4 CPU
8 DSP
Clock Speed
2.4 GHz
1.0 GHz
Cache Memory
Each core: 32KB L1 D$ and I$
Each pair: 256KB L2
All cores: 8MB L3
Each DSP core: 1MB L2
Memory
Quad Channel
8 SODIMM Slots
DDR3-1600 Low Voltage
Max: 64GB (8x8GB)
Single Channel
4 SODIMM Slots
DDR3-1600 Low Voltage
Max: 32GB (4x8GB)
Network Controller
Dual 10GbE
Dual 1GbE
Storage
M.2 2280
M.2 2242
PCIe
3.0
2.0
Starting with the m400, HP designed in a single AppliedMicro X-Gene SoC at 2.4 GHz. AppliedMicro has been discussing the X-Gene processor for several years now, and with this announcement becomes the first vendor to achieve retail availability of a 64-bit ARMv8 SoC other than Apple. Considering Apple doesn't sell their processors stand-alone, this is a significant milestone. AppliedMicro has significantly beaten AMD's A1100 processor to market, as AMD has not yet entered production. Marquee features of the X-Gene SoC include 8 custom 64-bit ARM cores, which at quad-issue should be higher performance than A57, quad channel DDR3 memory, and integrated PCIe 3.0 and dual 10GbE interfaces. Look out for a deep dive on the X-Gene SoC in a future article.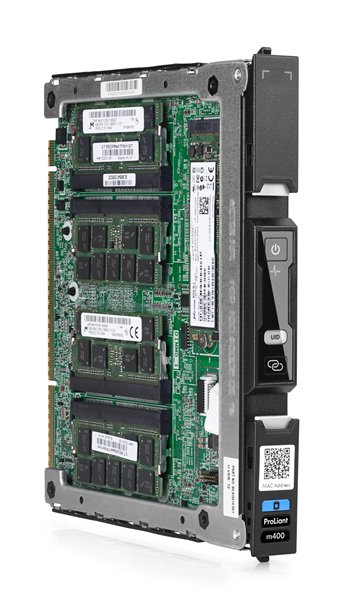 The m800 is a 32-bit ARM server containing four Texas Instruments KeyStone II 66AK2H SoCs at 1.0 GHz. Each KeyStone II SoC contains four A15 CPU cores alongside eight TI C66x DSP cores and single channel DDR3 memory, for a total of 16 CPU and 32 DSP cores. IO steps back to dual GbE and PCIe 2.0 interfaces. It is clear from the differences in these servers that m400 and m800 target different markets. There isn't yet a best-of-both-worlds server combining the core count and memory + IO interfaces of the m400 and m800 together.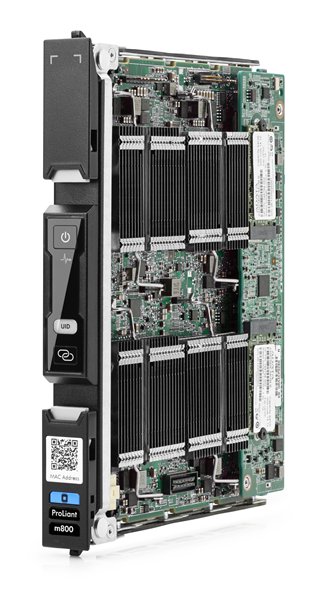 Each server is available with Ubuntu and IBM Informix database preinstalled, and will be demonstrated at ARM TechCon October 1-3 in Santa Clara, California.
Source: HP