Battery onboard mobile devices remains one of the biggest concerns for shoppers, and even in a mass market device like the Moto G it's an important axis. Although Moto G has a removable back door, the battery isn't designed to be user accessible and is sealed inside, there's a sticker which pretty much explains the situation.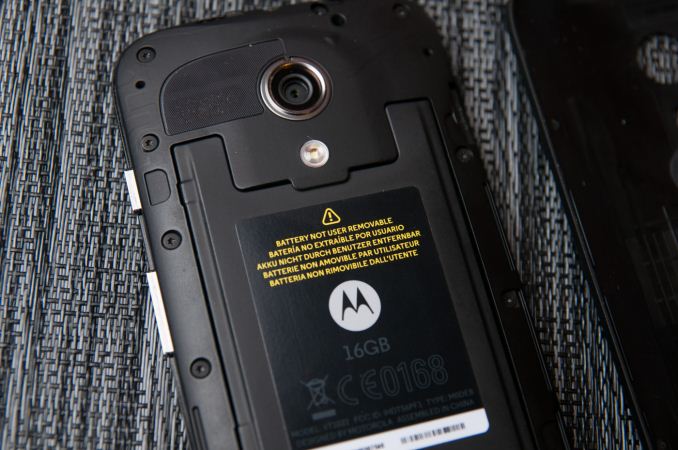 Inside, the Moto G has a 2070 mAh, 3.8V battery for a capacity of 7.9 watt hours. It loses the stacked 3D structure that was a highlight feature of the Moto X, but still is a relatively large battery for a device with a 4.5 inch LCD display.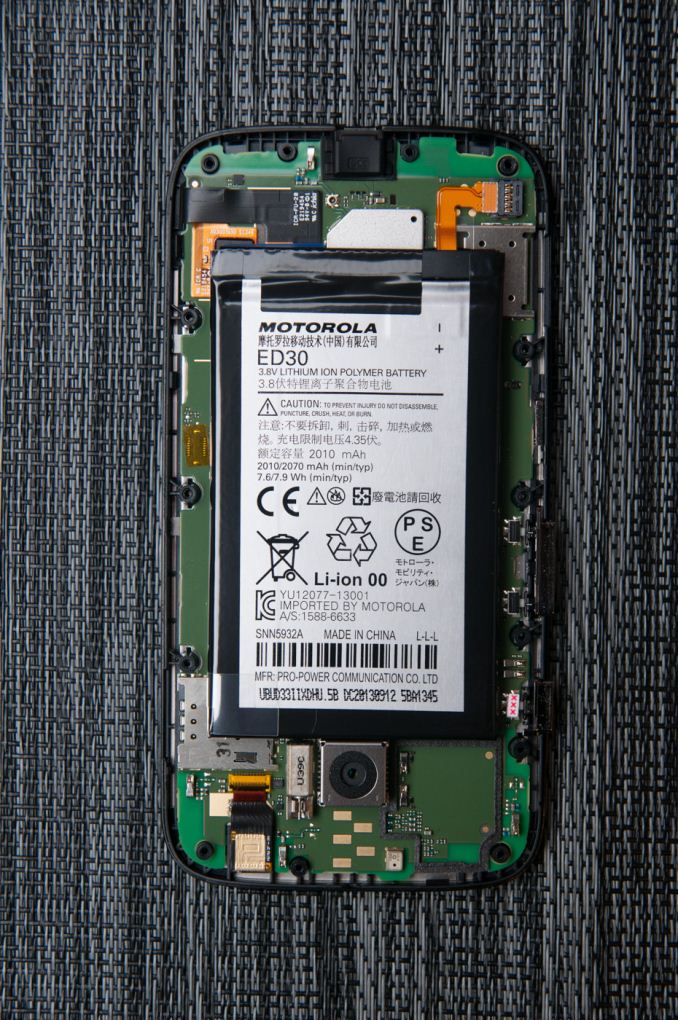 To evaluate battery life we turn to our battery life testing suite, which we run over WiFi and all the cellular interfaces appropriate for the device. Here we see a good combination of regular spikes in CPU usage with idle time, hopefully simulating constant, reasonably paced usage. As always the display is set to exactly 200 nits and configured the same way we always configure devices for maximum consistency.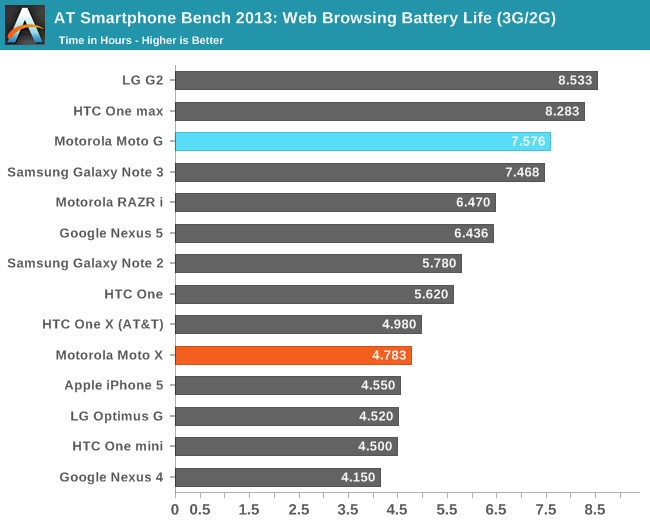 The Moto G starts out with an impressive result on 3G. There's no LTE on the Moto G so we're only looking at the subset of devices that I've tested on 3G with the new battery life test. Still it's impressive that the Moto G can crank out just over 7.5 hours on here, considerably more than Moto X forced onto 3G.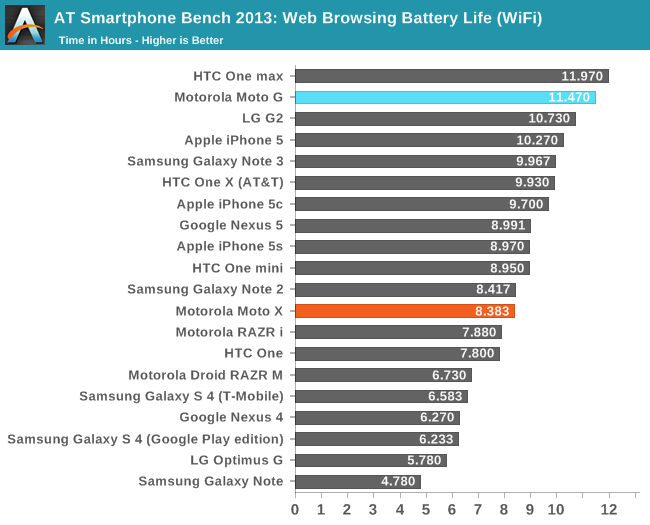 The WiFi test opens up considerable more comparison points, and here I'm really impressed by what the Moto G is able to crank out.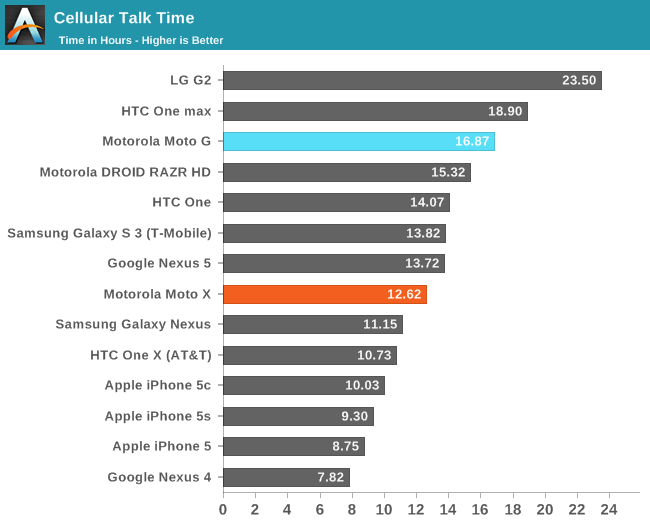 Cellular talk time is self explanatory, and again the Moto G winds up with an impressive result. I remember when Motorola seemed to somehow always be able to dominate the call test, Moto G definitely reminds me of those days.
Compared to the Moto X, the WiFi and 3G battery life tests really wind up being a story of the power consumption tradeoffs between LCD and AMOLED that remain to this day. The display size to battery capacity ratio is pretty big with the Moto G, and of course there are further improvements to overall efficiency with the latest Qualcomm silicon and modem block inside.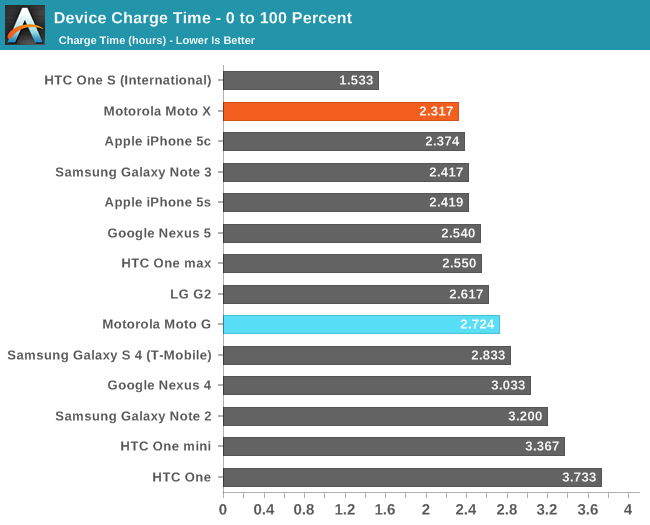 I mentioned that the Moto G doesn't come with a charger in the box, a choice which cuts down on cost and is starting to make a lot of sense give the ubiquity of cheap USB chargers.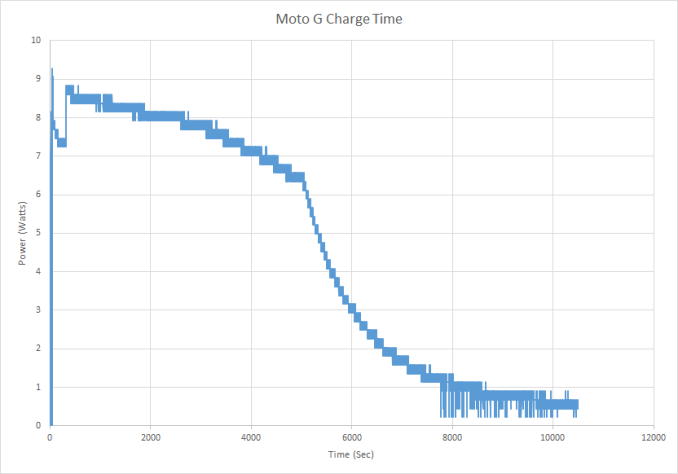 Thankfully Moto G seems to be good about its charge signaling, as it can pull up to 2 amps on appropriate chargers. The Moto G seems to be compliant with BC 1.2, and seems well behaved with drawing whatever is appropriate from other chargers as well.