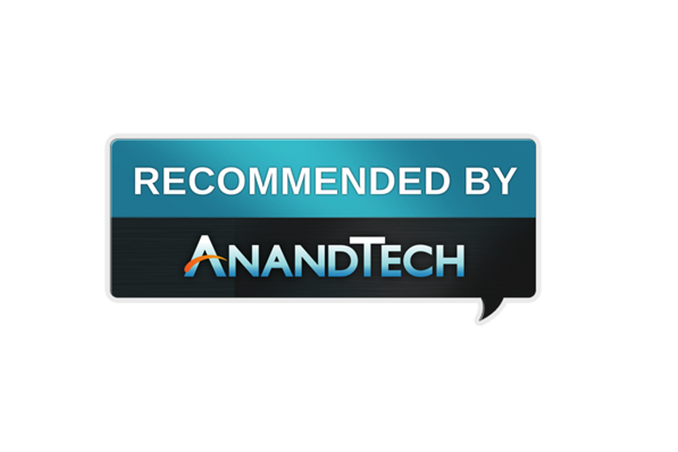 As part of a stream on holiday buying guides (Black Friday and jolly Noël around the corner), here is my take on the season's mini-ITX offerings, covering both AMD and Intel. Ultimately mini-ITX is a small form factor that has a few manufacturers in competition for your money, and far fewer products than the ATX or micro-ATX mêlée that usually follows a platform launch. 17cm square is actually rather small to fit in all the goodies, but here are our picks both from reviews and other products we wish to review.
Intel and Z87 / Haswell
Having recently played with a handful of Z87 mini-ITX motherboards, and another couple in to review, there does seem to be developing a dichotomy within the pricing structure. These motherboards are either below the $150 margin to cover the cheaper builds, or ~$200 and up, designed to offer as much as possible in a small form factor.
Sub $150, ASRock Z87E-ITX: (Newegg, website)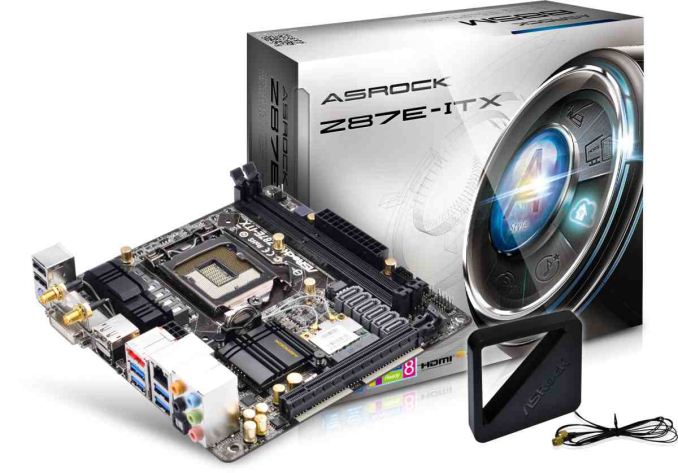 For $140, ASRock gives a motherboard with dual band 802.11ac WiFi and six SATA 6 Gbps. In terms of our performance numbers in the review, we were impressed by both the audio codec performance and the overclocking performance, being able to squeeze 4.7 GHz from our i7-4770K without too much difficulty. ASRock are continually building a BIOS and software ecosystem around their product which is getting easier to use as well as being nice to look at. A few niggles (8-pin placement, only two fan headers) but a nice buy at $140.
Over $200, ASUS ROG Maximus Impact (Newegg, website)
The ASUS Maximus VI Impact comes in at $225, and at this price bracket there are only a couple of contenders but based on our reviews and past experience, arrows point towards the Impact.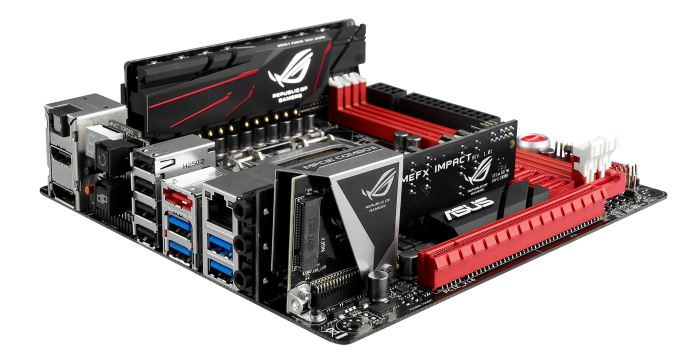 For the extra green over the Z87E-ITX, there are four daughterboards: power delivery, Impact Control, SupremeFX audio and the mPCIe Combo II. This provides extra space on the PCB for all the ROG specific ICs and four 4-pin fan headers, as well as dual band 802.11ac, NGFF (M.2) support, appropriate power connectors and regular ROG features like ROG Connect, USB BIOS Flashback, MemOK!, DirectKey and the ROG_EXT header for the OC Panel. This builds on top of ASUS' extensive BIOS options and software bundle, including Sonic Radar and RAMDisk, the new additions to the package.
Other Intel boards to consider ~$200: ASUS Z87I-Deluxe and MSI Z87I Gaming
Two motherboards on my plate to review over the next couple of months are going for the productivity and gaming crowds respectively. ASUS offer the Z87I Deluxe at $190 as the ROG alternative: similar in layout but using an onboard audio, no NGFF but 802.11ac, the same sort of power delivery and power connector locations but with six SATA 6 Gbps. It comes with the regular software/BIOS stack (SSD Secure Erase and RAMDisk are ROG Features) but still others like USB BIOS Flashback and ROG Connect are still there.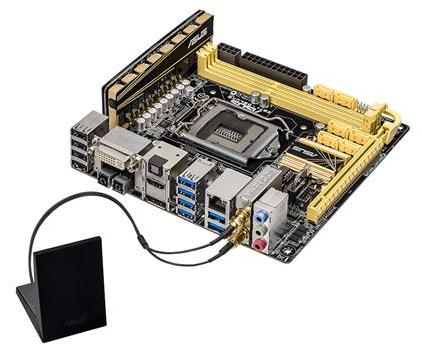 The other one on my to-review list has not been released yet, and while I will have one in for testing, we cannot publish any numbers yet. The MSI Z87I Gaming follows MSI Gaming line down the order to mini-ITX, with the focus going on audio and Killer network connectivity, along with the Dragon styling that has adorned their Gaming range up to this point.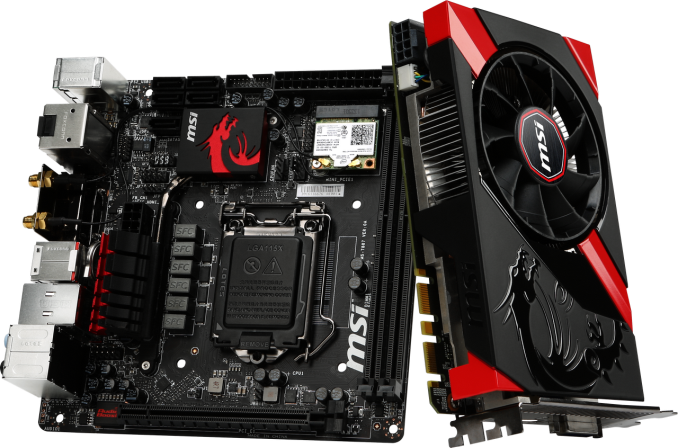 We can see from the board that there are 5 SATA ports, a USB 3.0 port, and WiFi, which I am told is definitely a dual band 802.11ac solution. The audio is also showing the 'Audio Boost' logo, so I want to assume that there is a Realtek ALC1150 powering the sound. MSI are aiming for a $200 launch price, but December the 4th will reveal all.
AMD Motherboards: FM2+ <3 APU
With A88X based FM2+ motherboards here with us more or less, Kaveri processors are absent. When they around the corner, does it make sense to recommend any FM2 motherboards at this point? The truth of the matter is, AMD announced that the APUs will be in the hands of retailers on January 14th, just after for the Las Vegas Consumer Electronics Show, so if you want a mini-ITX AMD system today, FM2+ might have something you need which you can upgrade later. Two motherboards have caught my eye over the year.
ASRock FM2A88X-ITX+ (Newegg, website), $100
The A88X model from ASRock is the one up from the A85X model earlier in the year that caught my eye but I unfortunately did not have time to review. Using a rather unconventional orientation due to the size of the AMD socket, there is a set of six SATA ports, HDMI-In, dual band Atheros AR8171 802.11n, Realtek ALC1150 audio and the regular usual ports for A88X. Due to the orientation, the 24-pin ATX power connector is in a decent place, but the 4-pin might be tricky with larger GPUs. At this point in time I am a fan of ASRock's BIOS and software ecosystem, which is always a plus.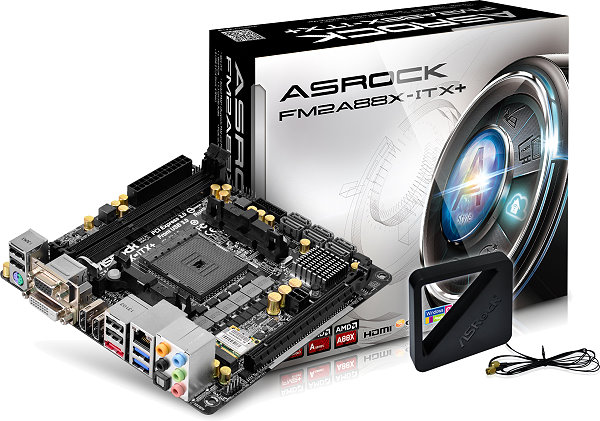 Gigabyte F2A88XN-WiFi (Newegg, website), $110
For Gigabyte's A88X motherboard, they have used a regular orientation for the CPU, and on the hardware front compared to the ASRock have fitted the motherboard with dual band 802.11ac in exchange for a couple of SATA 6 Gbps ports and using a Realtek ALC892 over an ALC1150. Gigabyte's solution has a dual HDMI output and their dual BIOS system which features across the range.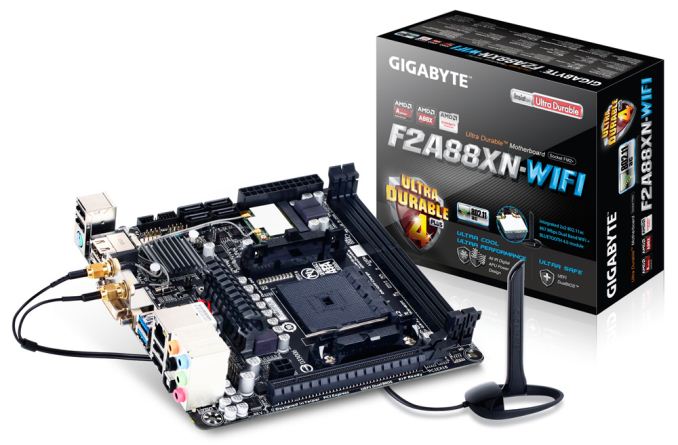 Picking the Right Mini-ITX for the Holidays
Reviewing mini-ITX motherboards could be a full-time occupation in itself. In this small guide, I unfortunately have not had time to touch on and H87, B85 or H81 offerings, all of which offer something simple to plug and play, or perhaps a specific feature (parallel port, serial port) that might be relevant to your workload. There are a few holes in the market that a company could pick up (AMD mini-ITX gaming), but I am glad that the march to better wireless connectivity on these smaller form factor system. Happy holidays!