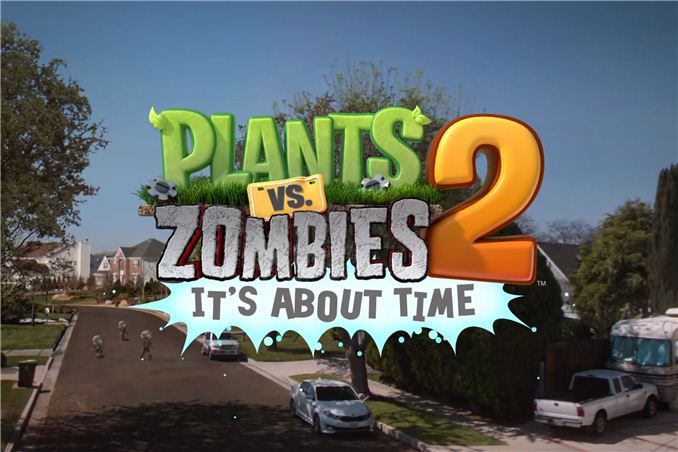 Over the past several years, I've wasted invested more time than I care to admit to the slaying of zombie hordes with the help of my plant minions. (Truth be told, PopCap has managed to suck down far more hours of my life than is healthy, what with Bejeweled, Chuzzle, Zuma, Peggle, and other diversions.) I've also dabbled in Plants vs. Zombies Adventures on Facebook, but I have to say that the Farmville aspects and general social/free to play features make that far less appealing than the original – I just want to play the game, as much as I want, without having to farm/mine in order to advance; is that so wrong!?
Thankfully, the answer is a resounding "No!", and PopCap has given fans of the original what they've wanted: more Plants vs. Zombies entertainment, more Crazy Dave, and less social/Facebook shenanigans. You can snag the new Plants vs. Zombies 2: It's About Time on the iTunes App Store, and even better: it's free. And by "free" we mean it's free to play, with optional micro transactions, and being an iOS exclusive almost certainly involved some money changing hands somewhere. Still, I've played a fair amount now and can confirm that purchases will not be required in order to advance – and there's no farming/waiting required.
If you want to blast through the entire game in one sitting, you're welcome to do so – PopCap estimates it will take most people around 15 hours to finish the game, which is probably twice as long as the original (or maybe I just don't want to recall exactly how much time I've spent beating and then rebeating the original). The microtransactions come in several varieties: you can buy useful plants, sometimes earlier than you would otherwise get them (I think); you can buy additional coins, which can be used for Plant Food – a one-time power-up you can use on any plant – and other items; or you can unlock additional features like starting with 25 extra sun, another slot for plants, etc.
Reading the reviews, a ton of people are complaining about the cost of in-app purchases, but so far I haven't encountered a single level where you'll need more than what you get for free. If you really want to have Snow Pea, yes, it will set you back $3.99 (hello, extortion!), but with plenty of new plants to keep you busy – not to mention the plant food power ups – you only need to spend money if you want a specific plant/feature or if you just want to support PopCap. Of course, maybe I'll hit a wall at some point and feel the need to spend money to progress, but so far that hasn't been the case.
The bad news is that currently the game is only available for iOS devices, but presumably Android and Windows (and Facebook) versions are planned for the future. Hopefully this time we won't get a version on Android that's limited to select devices and/or requires that you go through the Amazon Store app to purchase and play it. As for me, I'm playing it on a 4th Gen iPod Touch, since that's the only Apple device I own. It runs well for the most part, but the initial load time can be a bit painful – around 28 seconds to get to the main menu, and 4-5 second delays between many screens. There are also slowdowns on this aging device when you have most locations filled with plants and dozens of zombies on the screen, but it remains playable. Other than the tiny screen and iOS exclusivity, I have no complaints.
You can find more videos and information on the official Plants vs. Zombies 2 page. Now I just need to put the iPod down so I can finish that Acer V7 review….
Source: Plants vs. Zombies 2 Site