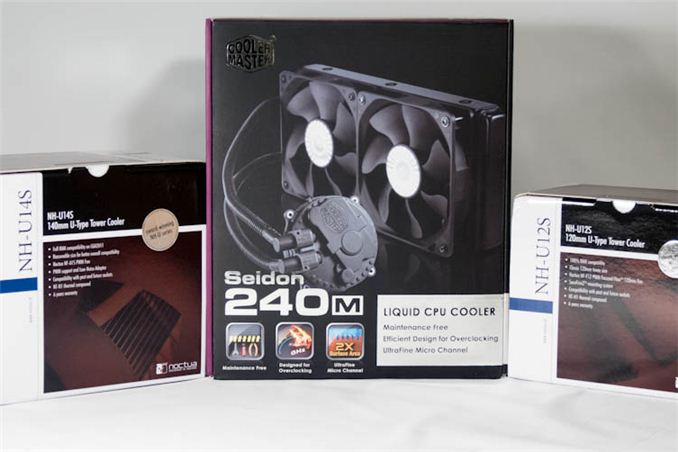 Cooler Testing Revisited
Until recently we haven't been very aggressive in testing CPU cooling methods. I'd been busy with notebooks, desktops, cases, and peripherals, but good and consistent writers are hard to come by in this industry, and eventually I couldn't say no. Tentatively, I gave it the old college try, starting with two radiator fan roundups and then doing multiple liquid cooling roundups. Interestingly, it was when more conventional air cooling popped up on my radar that things got complicated.
The cooling testbed was and is solid. We use a 200mm BitFenix Spectre Pro that's throttled to 5V as an intake, and that's in the front of a BitFenix Shinobi XL enclosure, a case which is almost perfect for our needs. The low speed on the Spectre Pro allows for intake of cool air without negatively affecting noise testing, and for closed loop liquid cooling, this is fine. Where things get more dicey is when you introduce an air cooler into the testbed, because as a couple of you rightfully pointed out, without an exhaust fan to direct air, air coolers suffer tremendously performance wise. To be certain I took our original testbed, added a 140mm Noctua fan with a low noise adaptor, and mounted it to the rear exhaust of the Shinobi XL. Even with a minimally powered exhaust fan, the differences in performance were pronounced. Since this is the situation air coolers will typically find themselves in, I'm now using that exhaust fan for testing air coolers. Closed loop coolers continue to do without.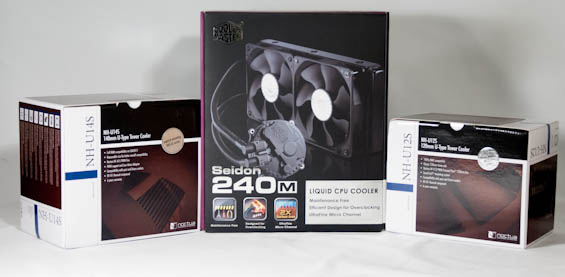 There was one other wrinkle with the existing testbed: our motherboard just wasn't especially stable, and if it crashed, it was difficult to get it to post again. Recently, this became easy to remedy: the micro-ATX board I was originally using for case testing was retired in favor of a full ATX board. Switching over to the Gigabyte GA-Z68MX-UD2H-B3 meant having a more reliable and more fearsome overclock on the Intel Core i7-2700K. Now the chip runs hotter, the socket lines up correctly with the hole in the case's motherboard tray, and it's more stable overall.
Of course all of these changes mean one important thing: a lot of coolers needed to be retested under these more stressful (but also sometimes more ideal) conditions. To be sure, the previous roundups are still useful for comparing products in their individual categories, but now liquid coolers aren't the juggernauts they used to be. Out of the coolers we've already tested, I selected ten to be revisited: five air coolers and five closed loop liquid coolers.
Coinciding with these revisions is our evaluation of Cooler Master's Seidon 240M closed loop cooler along with two new tower coolers from Noctua, the NH-U12S and NH-U14S, both of which were designed to create clearance for memory modules with tall heatsinks. The Seidon 240M is noteworthy because it's not directly sourced from Asetek or CoolIT Systems as many of these products are, and uses a proprietary waterblock design that theoretically improves overall cooling performance.