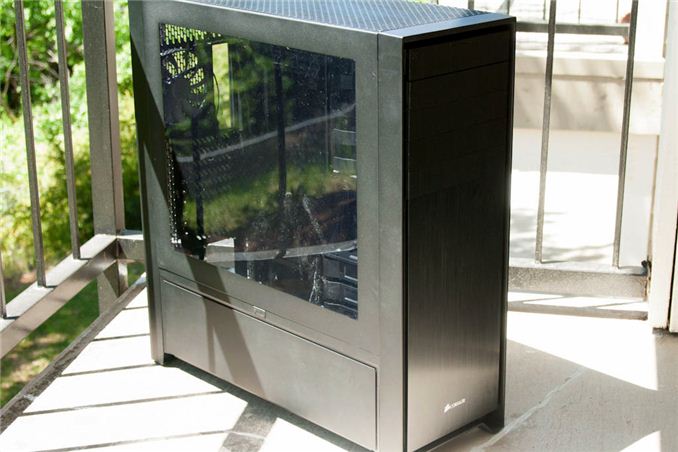 An enclosure built from the ground up for custom liquid cooling loops is actually a fairly rarefied thing. Why wouldn't it be? Building a custom loop is expensive and time consuming, which would make that type of enclosure the very definition of niche. Yet Corsair has come forward with the Obsidian 900D for one big reason: to fill that niche.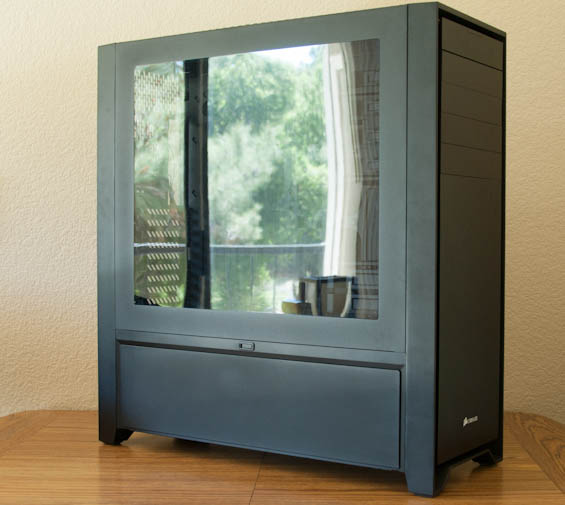 And "big" is definitely the operative word. Riding high on their liquid cooling legacy with the popular Obsidian 800D, Corsair has developed a positively massive enclosure that's designed essentially to hold the most powerful desktop machine you can conceive of while providing ample space to mount radiators and all the accoutrements of liquid cooling.
Before we get too much further into this review, I want to be absolutely clear about how the Obsidian 900D is being evaluated, because it's a very different beast from most cases. It superficially looks and is built like an overgrown ATX case, but at an MSRP of $349 it's about as premium as it gets. When you see the way Corsair designed it, you'll be able to tell like I did that it's destined for much more than a garden variety build.
What that also means is that while I have to put it through our conventional testing, that conventional testing is going to be primarily academic. Unfortunately it's much harder to tell how good an enclosure will be at its job when that job will vary from person to person in much more significant ways than just choosing which air cooler and graphics cards to use. What you're going to want to pay attention to are the feature set, ease of assembly, and overall design, and how they're going to suit your purposes. That's assuming you're in the market for a specialized case like this, and a lot of you won't be.
Corsair Obsidian 900D Specifications
Motherboard Form Factor
Mini-ITX, Micro-ATX, ATX, E-ATX, XL-ATX, HPTX
Drive Bays
External
4x 5.25"
Internal
9x 3.5"/2.5" (support for two additional cages for up to 15x 3.5"/2.5")
Cooling
Front
3x 120mm intake fans (1x additional internal 120mm fan mount behind drive cage)
Rear
1x 140mm exhaust fan
Top
4x 120mm fan mounts (supports 3x 140mm)
Side
8x 120mm internal fan mounts (four per side, PSU blocks two of your choice)
Bottom
-
Expansion Slots
10
I/O Port
4x USB 2.0, 2x USB 3.0, 1x Headphone, 1x Mic
Power Supply Size
ATX
Clearances
HSF
170mm
PSU
280mm
GPU
500mm
Dimensions
25.6" x 9.9" x 27.2"
649.6mm x 252mm x 691.6mm
Weight
41 lbs. / 18.6 kg
Special Features
USB 3.0 via internal header
Multiple removable drive cages
Secondary power supply bay
Removable filters on all fan intakes
Price
$349
Corsair's press materials highlight the fact that the case is designed for liquid cooling, but you've probably figured that out given how much I've repeated it. What you're going to want to know now are the radiator clearances, and they're a doozy.
The top fan mounts have a 110mm clearance from the roof of the case to the top of the motherboard and you can intrude on the top 5.25" bay. Unfortunately in the front of the case, there's a slight spacing between the topmost 120mm fan and the two bottom ones, so that essentially means you can only install a single 240mm radiator; there does appear to be space to install a single 140mm radiator and fan instead if you're so inclined. The back of the case supports a single 140mm radiator in the exhaust fan slot. Corsair keeps the other bulk of radiator potential in the bottom of the enclosure, where you can theoretically install a 480mm radiator on one side and a 240mm radiator on the other, with 110mm of radiator clearance to the PSU. Note that installing a radiator in the bottom chamber does mean sacrificing those drive cages.