The HTC Windows Phone 8X
Brian already gave the HTC Windows Phone 8X a good once over here; today I'm fortunate to offer a slightly more detailed analysis beyond the existing performance metrics. The WP8X is essentially competing with the Nokia Lumia 920 as the flagship phone for Windows Phone 8, and while the Lumia 920 has benefited from a combination of Nokia's close relationship with Microsoft and Nokia's own remarkably useful app suite, it's tempting to give the slight edge to the HTC.
On paper the Lumia 920 is the more robust device, offering greater storage capacity (32GB instead of the WP8X's 16GB), better camera quality, and a slightly higher resolution IPS display. I've copied Brian's chart from his preview below to give you a better idea of specifications, adding information about the Lumia 920 in place of the Samsung Galaxy Note 2.
Physical Comparison
Apple iPhone 5
Samsung Galaxy S 3 (USA)
Nokia Lumia 920
HTC 8X (International)
Height
123.8 mm (4.87")
136.6 mm (5.38" )
130.3 mm (5.13")
132.35 mm (5.21")
Width
58.6 mm (2.31")
70.6 mm (2.78")
70.8 mm (2.79")
66.2 mm (2.61")
Depth
7.6 mm (0.30")
8.6 mm (0.34")
10.7 mm (0.42")
10.12 mm (0.4")
Weight
112 g (3.95 oz)
133 g (4.7 oz)
185 g (6.53 oz)
130 g (4.59 oz)
CPU
1.3 GHz Apple A6 (Dual Core Apple Swift)
1.5 GHz MSM8960 (Dual Core Krait)
1.5 GHz Qualcomm MSM8960 (Dual Core Krait)
1.5 GHz Qualcomm MSM8260A (Dual Core Krait)
GPU
PowerVR SGX 543MP3
Adreno 225
Adreno 225
Adreno 225
RAM
1 GB LPDDR2
2 GB LPDDR2
1 GB LPDDR2
1 GB LPDDR2
NAND
16, 32, or 64 GB integrated
16/32 GB NAND with up to 64 GB microSDXC
32 GB NAND
16 GB NAND
Camera
8 MP with LED Flash + 1.2MP front facing
8 MP with LED Flash + 1.9 MP front facing
8.7 MP with dual LED Flash + 1.3 MP front facing
8 MP with ImageChip, LED Flash + 2.1 MP front facing
Screen
4" 1136 x 960 LED backlit LCD
4.8" 1280x720 HD SAMOLED
4.5" 1280 x 768 IPS
4.3" 1280 x 720 SLCD2
Battery
Internal 5.45 Whr
Removable 7.98 Whr
Removable 7.4 Whr
Internal 6.8 Whr
The Lumia 920 has a lot going for it, but it's also a bigger, heavier phone with a slightly reduced pixel density compared to the 8X's. Internally these employ basically the same silicon; the MSM8960 and MSM8260A are the same chip with different basebands available. I will say I would have appreciated the additional storage space of the Lumia 920; 16GB is rough to live on when twenty bucks and a pair of tweezers could turn the Dell Venue Pro into a 32GB smartphone. It does bear mentioning that the 8X hasn't had the rocky launch that the Lumia 920 had.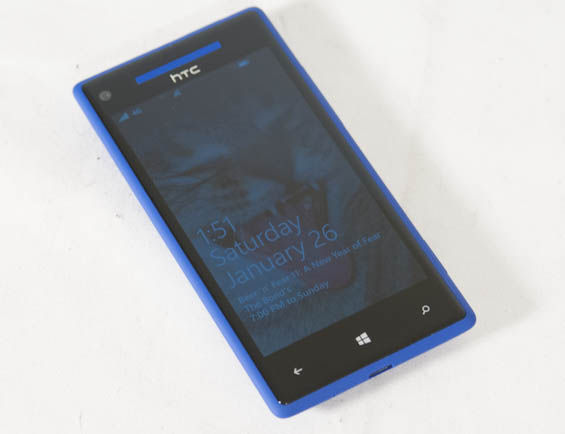 As for the HTC Windows Phone 8X itself? The blue polycarbonate shell is beautiful without being ostentatious, and though the black levels of the display make me long for AMOLED again, the high pixel density results in incredibly sharp images. I feel like button placement could be slightly better, as I often accidentally squeeze the volume rocker while trying to press the power/lock button. I've also found the automatic brightness setting to often be a shade too dim, though ironically the phone's rear-facing camera is remarkably adept at handling low light.
Interestingly, though the 8X has a slightly lower resolution display than the Lumia 920, the change in aspect from 15:9 to 16:9 has ameliorated one of my minor complaints about the Dell Venue Pro and Windows Phone: the extra space at the top of the display stemming from the slightly taller aspect means you can still access the notification pane in applications designed for the 15:9 ratio.