This year has seen a revitalized Dell aggressively attacking HP on the enterprise workstation front. While HP has been content to recycle last year's models, Dell has made substantial strides in improving their desktop workstation offerings across the board. We had a chance to check out their T3600 this year and found it to be a demonstratively superior offering to the competing HP Z420, and today we have the T1650, a model that updates the lackluster T1600 with a new chassis and some new hardware.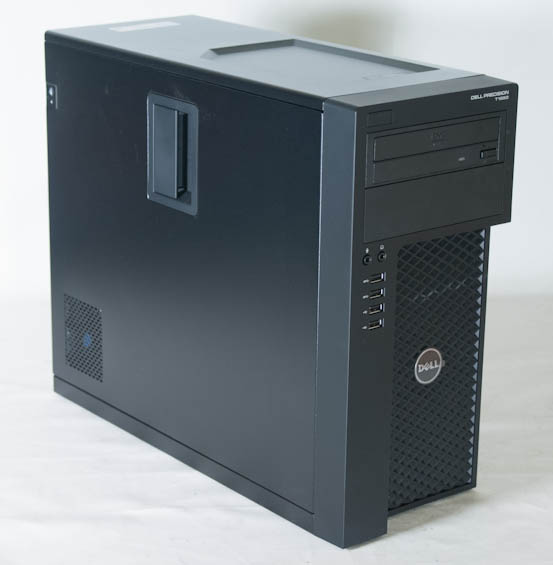 In addition to being our first look at Dell's new entry level workstation, this is also our first look at Intel's new Ivy Bridge based Xeons. While the improvements from Sandy Bridge were underwhelming for enthusiasts and incremental for desktop-using consumers, on the enterprise side the combination of reduced power and thermal envelopes and increased IPC make Ivy Bridge a much, much better value proposition.
Dell outfitted our review system pretty close to as fast as it can get; we have the fastest video card option, the second fastest CPU option, and middle-of-the-road storage and memory options. You can get pretty close to it with their $1,679 top-end preconfigured machine, but our system does have some notable differences.
Dell Precision T1650 Specifications
Chassis
Dell Custom
Processor
Intel Xeon E3-1280 v2
(4x3.6GHz + HTT, Turbo to 4GHz, 32nm, 8MB L3, 69W)
Motherboard
Dell Custom with C216 Chipset
Memory
2x4GB Micron Non-ECC DDR3-1600 (max 4x8GB ECC)
Graphics
NVIDIA Quadro 2000 1GB GDDR5
(192 CUDA cores, 625MHz/1250MHz/2.6GHz core/shaders/memory, 128-bit memory bus)
Hard Drive(s)
2x Seagate Barracuda 7200.12 500GB 7200RPM SATA 6Gbps HDD in Striped RAID
Optical Drive(s)
PLDS DVD-ROM DH-16D6S
Power Supply
Dell Custom 80 Plus Gold
Networking
Intel 82579LM Gigabit Ethernet
Audio
Realtek ALC269
Speaker and mic/line-in jacks
Front Side
Optical drive
2x USB 2.0
2x USB 3.0
Headphone and mic jacks
Top
-
Back Side
PS/2 keyboard and mouse ports
4x USB 2.0
2x USB 3.0
2x DisplayPort (disabled)
Ethernet
Serial
VGA (disabled)
Headphone and mic/line-in jacks
DVI-D (Quadro)
2x DisplayPort (Quadro)
Operating System
Windows 7 Professional 64-bit SP1
Extras
80 Plus Gold power supply
USB 3.0
vPro
Warranty
3-year parts and 3-year on-site service
Pricing
Starting at: $549
Price as configured: $2,790
Our review configuration is on the quirky side (as they often are), but I do want to draw your attention to the Intel Xeon E3-1280 v2. While I'm not a fan of Intel's branding, with the "v2" designating an Ivy Bridge core, it's not really that much more nonsensical than any of their other branding. What we do get is a CPU without an IGP (thus subtracting 8W off of the TDP) but more interestingly, a CPU that actually turbos up to 4GHz on a single core. None of their desktop chips thus far have scraped the 4GHz barrier, but this Xeon can hit it and the next one up on the ladder can even hit 4.1GHz. Ultimately what we have here is what should wind up being the fastest single-threaded processor we've tested and a very respectable one under multi-threaded situations (though undoubtedly inadequate compared to the hexa- and octo-core Xeons we've tested).
The updated C216 chipset brings to the table the same difference Intel brought to consumer desktops jumping from the 6 to 7 series chipsets: USB 3.0 support. All four of the C216's USB 3.0 ports are accounted for, with two on the front of the chassis (along with two USB 2.0 ports) and two on the rear.
Handling graphics duties is the stalwart NVIDIA Quadro 2000, and that's as fast as it gets for the T1650. The system is only designed to support cards up to 75W (meaning no PCIe power connector), and the remaining graphics options are fairly underwhelming. AMD's new GCN-based workstation cards are unavailable; the fastest FirePro available is still using a Turks core. As a refresher, the Quadro 2000 is essentially a cut-down GF106 (GeForce GTS 450); it features all 192 CUDA cores, but the memory bus remains at 128-bit and all of the clocks have been reduced to conserve power.
Dell continues to employ a RAID 0 as a cost efficient means of increasing storage throughput without resorting to SSDs. Our review unit only features a DVD-ROM, but since we never use the optical drive in testing anyhow it's no great loss, and the upgrade to a DVD writer is a moderately inexpensive one.
All in all, the T1650 is as basic as Dell's Precision workstations get, but already I'm a bit uneasy. The chassis definitely has the stylistic improvements of its bigger brothers, but as you'll see in the build section, it seems some corners were cut to get the T1650 down to its low starting price.