Introducing the HP Z420 Workstation
Recently we had a chance to review Dell's Precision T3600, and we found it impressive. A company that seemed content to be an also-ran in the enterprise desktop space reinvigorated itself with smart new chassis designs to go along with the refreshed hardware from Intel and NVIDIA, and the resulting system proved as easy to service as it was powerful. Dell and HP can both talk up how fast their computers are, but fundamentally they're still working from the same building blocks that Intel, NVIDIA, and AMD provide them.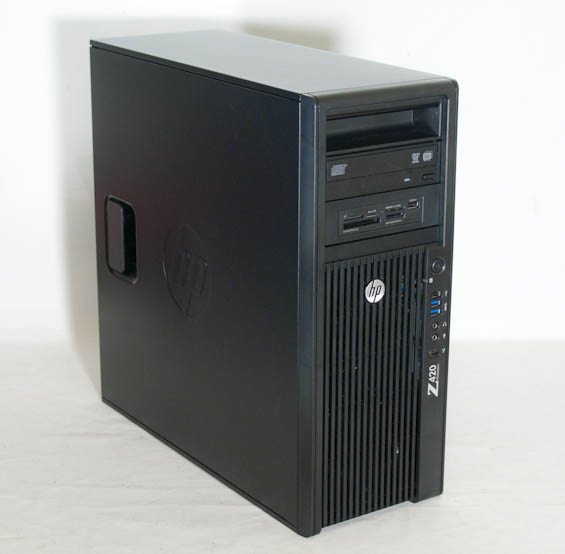 HP, as the incumbent enterprise vendor, sent us their Z420. From the chassis design perspective it's certainly nowhere near as radical a departure as Dell's revised Precision lineup is, but now we get a chance to set these standards against each other. On top of that, we also get our first look at Intel's octal-core Xeon processors in a desktop workstation environment.
When last we checked in with HP's workstation line, it was with their small form factor Z210, a respectable amount of power crammed into a remarkably tiny chassis. Despite being an SFF system, the Z210 sported NVIDIA Quadro graphics, a strong Xeon processor, and all of HP's software trimmings. Those same trimmings emerge again here, but this time HP benefits from a full ATX enclosure and the relaxed thermal constraints therein. Here's what we received for review:
HP Z420 Specifications
Chassis
HP Custom
Processor
Intel Xeon E5-2687W
(8x3.1GHz + HTT, Turbo to 3.8GHz, 32nm, 20MB L3, 150W)
Motherboard
HP Custom with C600 Chipset
Memory
8x2GB Hynix ECC DDR3-1600 (max 8x8GB)
Graphics
NVIDIA Quadro 4000
(256 CUDA cores, 475MHz/950MHz/2.8GHz core/shaders/memory, 256-bit memory bus)
Hard Drive(s)
Micron RealSSD C400 256GB SSD
Optical Drive(s)
HP DVD-RAM GH80N
Power Supply
HP Custom 80 Plus Gold
Networking
Intel 82579LM Gigabit Ethernet
Audio
Realtek ALC262
Speaker and mic/line-in jacks
Front Side
Optical drive
1x USB 2.0
2x USB 3.0
1x 6-pin FireWire
Headphone and mic jacks
Card reader
Top
-
Back Side
Power button
2x PS/2
1x 6-pin FireWire
4x USB 2.0
2x USB 3.0
Ethernet jack
Speaker, mic, and line-in jacks
DVI-D (Quadro)
2x DisplayPort (Quadro)
Operating System
Windows 7 Professional 64-bit SP1
Extras
USB 3.0
HP Performance Advisor software
600W 80 Plus Gold PSU
Intel vPro
Warranty
3-year parts and 3-year on-site service
Pricing
Starting at: $1,711
Price as configured: $6,757
Dell's competing revised Precision line is still nowhere to be found on their site, giving HP the advantage of time-to-market, but it may cost you. Even in a comparable configuration to Dell's Precision T3600, HP costs at least $200 more. And our review sample? It will set you back a whopping $6750, though that's pushing some of the highest performance configuration options.
The hardware itself is in many ways very similar to Dell's configuration, but HP was able to secure an Intel Xeon E5-2687W for us to test with. This CPU is nearly $2,000 on its own, but with the added cooling requirements the CPU upgrade tacks on over $3300 relative to the base model E5-1603. The E5-2687W is the fastest octal-core processor HP offers, sporting a nominal 3.1GHz clock on all eight cores with a hefty 150W TDP (what the "W" on the model number signifies), and it's capable of turbo-ing up to 3.4GHz on six-to-eight cores, 3.5GHz on four or five cores, 3.6GHz on two or three cores, and 3.8GHz on a single core. That's actually mostly competitive with desktop Sandy Bridge chips in terms of clock speed. Because the E5-2687W is a Sandy Bridge-EP part, it doesn't benefit from Ivy Bridge's architectural improvements or 22nm process technology; it's still built on 32nm.
This may actually be of interest to enthusiasts, though, since I think the clocks on Intel's octal-core Xeons are indicative of why we probably won't see a standard consumer version. Even with an additional 20W of thermal headroom, the E5-2687W still isn't able to run at the same nominal clocks as the i7-3960X. With diminishing returns for enthusiasts even at six cores, sacrificing a substantial amount of clock speed for eight cores to hit the 130W threshold probably just doesn't seem worth the investment to Intel. I'm not sure I blame them. Turbo makes up for a lot of the difference but not all of it.
The rest of the build is a touch more aggressive than the system Dell sent us. We get 16GB of ECC DDR3-1600 at 11-11-11-28 timings as opposed to 8GB of ECC DDR3-1333 along with a fast Micron RealSSD C400 SSD. HP was actually willing to walk us through a review configuration, which is how we arrived at a single 256GB SSD with no hard disk backup (and the octal-core Xeon).
Our Quadro 4000 remains identical to the Dell model, based on GF100/110 but heavily cut down to fit a thermal envelope. As I mentioned in the T3600 review, this is the kind of GPU configuration that only makes sense in a workstation where double-precision performance can be relevant. That's part of why Tesla cards on GK104 may not be as appealing to enterprise users, and why NVIDIA essentially bifurcated their enterprise lineup depending on usage scenario. GK104 beats the pants off of GF110 in gaming situations, but the instant double-precision math or ECC memory support are added to the mix, the GK104 gets taken off the table. HP does offer an even higher performing Quadro 5000 if you need even more GPU power.
All told, the Z420 we received should be one of the fastest workstations in our test suite. It's going to cost an awful lot, but for the intended market the cost of the hardware likely pales in comparison to the salary of the user and the software it will run. Let's get to the benchmarks and see how it stacks up to the competition.