OCZ has added a low profile version of the Vertex 3 to their SSD portfolio. The drive has a height of 7mm, which is 2.5mm slimmer than most 2.5" drives are. Other specifications match the regular Vertex 3, so reading our Vertex 3 review will give you an idea of the performance, but below is a specification table in case you don't remember the main details off hand:
OCZ Vertex 3 Low Profile Specifications
Capacity
60GB
120GB
240GB
480GB
Interface
SATA 6Gb/s
NAND
2Xnm MLC
Number of NAND Packages
8
16
16
16
Number of Die per Package
1
1
2
4
Sequential Read
535MB/s
550MB/s
550MB/s
530MB/s
Sequential Write
480MB/s
500MB/s
520MB/s
450MB/s
Max 4K Random Write
80K IOPS
85K IOPS
85K IOPS
35K IOPS
A Canadian retailer, Canada Computers, is already listing the low profile versions and pricing appears to be slightly higher compared to normal Vertex 3. However, Canada Computers has not received any stock yet so the prices may not be final yet. Availability is unknown as of now but expect to see these SSDs in stores within a week or two.
We are definitely experiencing a shift towards smaller form factors in storage devices and computing in general. Especially Intel's Ultrabook project is fuel for the fire because in order to meet Intel's strict dimension limitations, it's necessary to use either mSATA SSDs or thinner 2.5" SSDs/HDDs. On top of that, the internal components of SSDs don't usually even need the extra 2.5mm and making a drive 7mm instead of 9.5mm is only a matter of shaving off some of the chassis. I'll give you a sneak preview of our Plextor M3 Pro review to demonstrate this: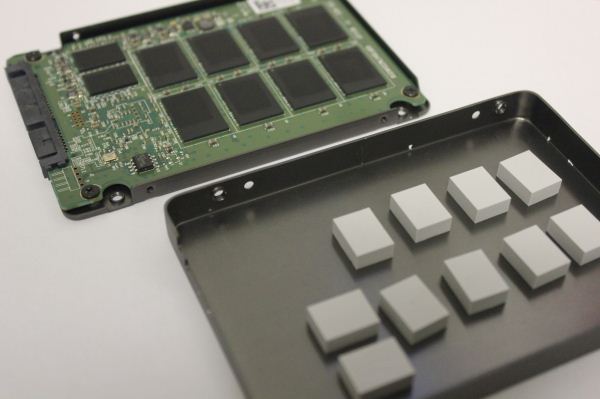 Plextor M3 - 9.5mm tall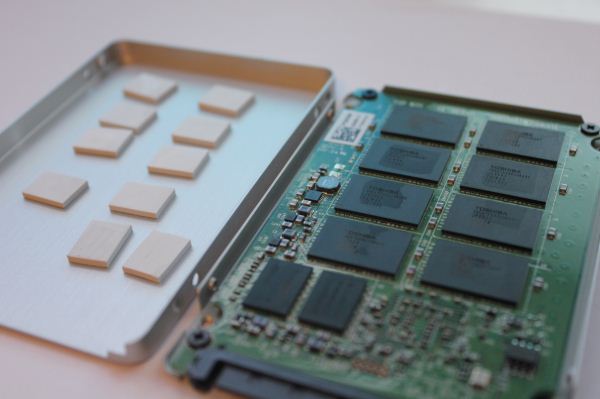 Plextor M3 Pro - 7mm tall
Both SSDs have exactly the same PCBs and the only thing that makes the M3 Pro thinner is the fact that it has thinner thermal pads. What this means is that pretty much any 2.5" SSD could be turned into a 7mm model without even modifying the PCB.
I would like to see more hybrid approaches like what Intel is doing, though. Hybrid in this case means that there's a riser attached by screws that turns a 7mm SSD into a 9.5mm SSD. Some laptops are designed for 9.5mm drives and a 7mm drive might jiggle inside the laptop.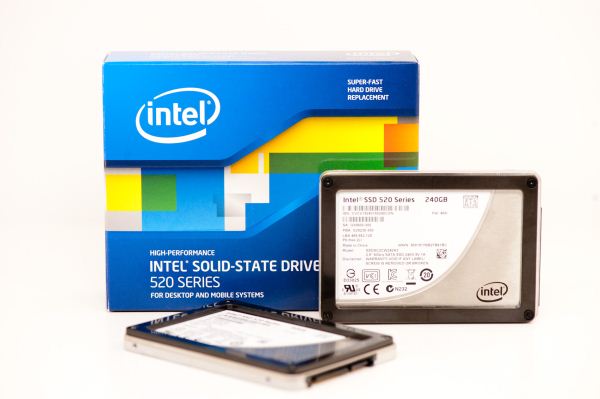 Example of the use of a riser
Having a riser means the user doesn't need to decide between 7mm and 9.5mm as you can easily remove the riser if you need to fit drive inside a computer that only takes 7mm drives. Of course, offering 7mm and 9.5mm drives like OCZ and Plextor are doing is better than offering only 9.5mm drives, but using a riser still looks like the best option.
Source: OCZ