Getting the Most Out of GCN: Driver Improvements
With the launch of any new architecture there's still a lot of room for improvement on the part of driver developers, and GCN is no exception. On January 20th AMD released the first driver update for the 7000 Series, which brought with it an interesting mix of bug fixes, new features, and performance improvements. On the feature side AMD enabled support for Analytical Anti-Aliasing and Super Sample Anti-Aliasing for DX10+ games, an overdue feature that we're very happy to see finally make it to AMD cards. Meanwhile on the performance side the new drivers improved the performance of the 7000 series in several games. Game performance typically rises slowly over time, but as this is one of the first post-launch driver releases, the gains are larger than what we're used to seeing farther down the line.
To get an idea of where performance has improved and by how much, we reran our entire benchmark suite on the 7970.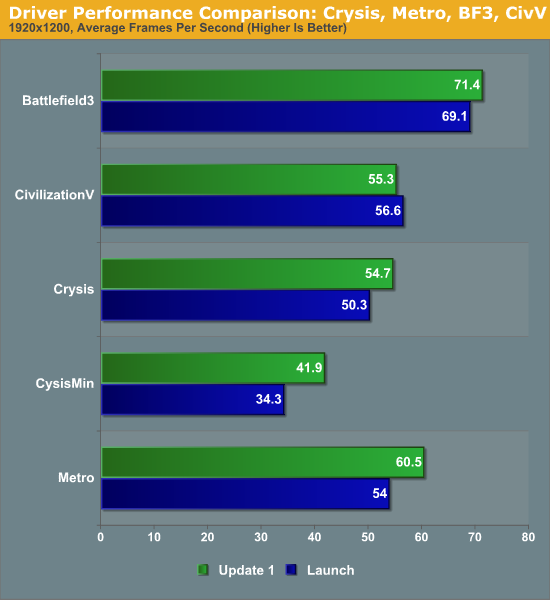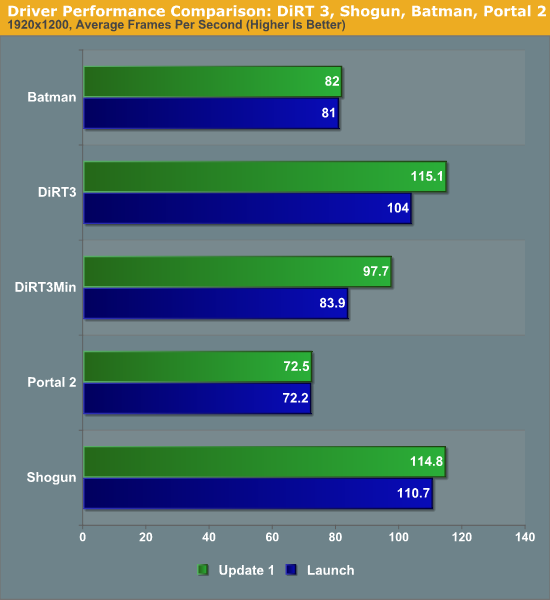 As to be expected, at this point in time AMD is mostly focusing on improving performance on a game-by-game basis to deal with games that didn't immediately adapt to the GCN architecture well, while the fact that they seem to be targeting common benchmarks first is likely intentional. Crysis: Warhead is the biggest winner here as minimum framerates in particular are greatly improved; we're seeing a 22% improvement at 1920, while at 2560 there's still an 11% improvement. Metro:2033 and DiRT 3 also picked up 10% or more in performance versus the release drivers, while Battlefield 3 has seen a much smaller 2%-3% improvement. Everything else in our suite is virtually unchanged, as it looks like AMD has not targeted any of those games at this time.
As one would expect, a result of these improvements the performance lead of the 7970 versus the GTX 580 has widened. The average lead for the 7970 is now 19% at 1920 and 26% at 2560, with the lead approaching 40% in games like Metro that specifically benefited from this update. At this point the only game the 7970 still seems to have trouble pulling well ahead of the GTX 580 is Battlefield 3, where the lead is only 8%.