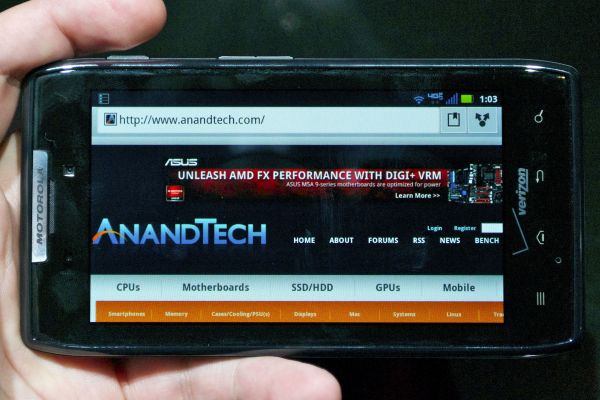 Unlike some prior events, reps were more than happy to let us get our grubby mits on the devices. Even going so far as to let us run benchmarks, as you can see, something often left until the PR reps are not looking. In fact, I was surprised when Motorola Product Manager Jeff Snow actually volunteered the SunSpider scores as soon as he saw our tag. This sort of access was appreciated and adds a lot to our coverage in the lead up to a full review. We got plenty of time with the Droid RAZR and got great answers from Jeff and his team. So what does the "world's thinnest smartphone" feel like?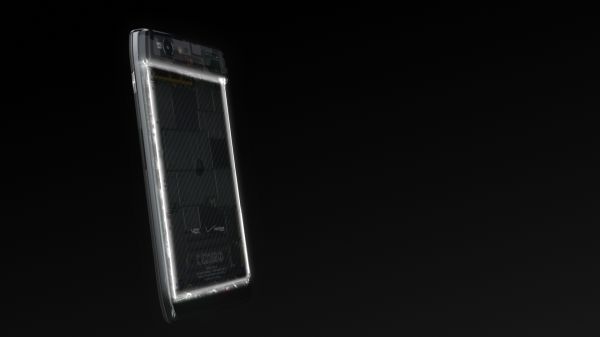 Hardware wise, this feels as light as the SGSII (and it should at 127g it is 3g lighter than the Samsung Epic 4G Touch), but with a rigidity in the hand that you don't get from Samsung's thinnest phones. The stainless steel chassis of the device provides this rigidity, while being exceptionally thin, other body components are laminated upon this chassis to keep the phone thin, including the Kevlar layer that graces the back of the phone. It's unclear whether this is anything but a cosmetic addition, but either way it looks great. The Gorilla Glass covered display tapers down into the frame, like the Bionic, and at the similarly tapered corners of the device. Motorola's design language is much curvier than the original Droid. We've got a comparison table below that gives you dimensions, it feels similar to other 4.3" devices in the hand, despite being a little wider and a little taller, but compared to the Bionic the thinness is very noticeable. And the 30g weight savings is easy to notice. Update: Added Galaxy Nexus and Galaxy S II to the table.
Physical Comparison
Galaxy Nexus
Galaxy S II (International)
Motorola Droid RAZR
Motorola Droid Bionic
Height
135.5 mm (5.33")
125.3 mm (4.93")
130.70 mm (5.15")
127.5 mm (5.02")
Width
67.94 mm (2.67")
66.1 mm (2.60")
68.90 mm (2.71")
66.9 mm (2.63")
Depth
8.94 mm (0.35")
8.49 mm (0.33")
7.1 - ?? mm (0.28" - ??")
10.99 mm (0.43")
Weight
135 g (4.76 oz)
115 g (4.06 oz)
127 g (4.48 oz)
158 g (5.57 oz)
CPU
1.2 GHz Dual Core Cortex-A9 OMAP 4460
1.2 GHz Dual Core Exynos 4210
1.2 GHz Dual Core Cortex-A9 OMAP 4430
1 GHz Dual Core Cortex-A9 OMAP 4430
GPU
PowerVR SGX 540 (@384 MHz)
ARM Mali-400
PowerVR SGX 540 (@304 MHz)
PowerVR SGX 540 (@304 MHz)
RAM
1 GB LPDDR2
1 GB LPDDR2
1 GB LPDDR2
1 GB LPDDR2
NAND
16 / 32 GB NAND
16 GB NAND with up to 32 GB micro SD
16 GB NAND, 16 GB microSD class 4 preinstalled
16 GB NAND, 16 GB microSD class 4 preinstalled
Camera
5 MP with autofocus and LED flash, 1080p30 video recording, 1.3 MP front facing
8 MP with AF/LED Flash, 2MP front facing
8 MP with AF/LED Flash, 1080p30 video recording, 720p front facing
8 MP with AF/LED Flash, 1080p30 video recording, VGA front facing
Screen
4.65" 1280 x 720 Super AMOLED
4.27" 800 x 480 Super AMOLED Plus
4.3" 960 x 540 Super AMOLED Advanced
4.3" 960 x 540 RGBW LCD
Battery
?Removable 6.48 Whr
Removable 6.11 Whr
Sealed 6.56 Whr
Removable 6.11 Whr
Whipping around the UI was a breeze, transitions were snappy and opening and closing the app drawer was smooth. Opening apps was quick and as Anand mentioned in our browser preview, this is not the browser we handled in the Bionic. We don't know where the optimizations came from but scrolling and zooming were quick. Connected to Verizon's 4G LTE network we got decent, though not spectacular Speedtest scores inside the event venue. Loading the Anandtech homepage was quick, and the only one pause that I noted was likely the Flash components loading.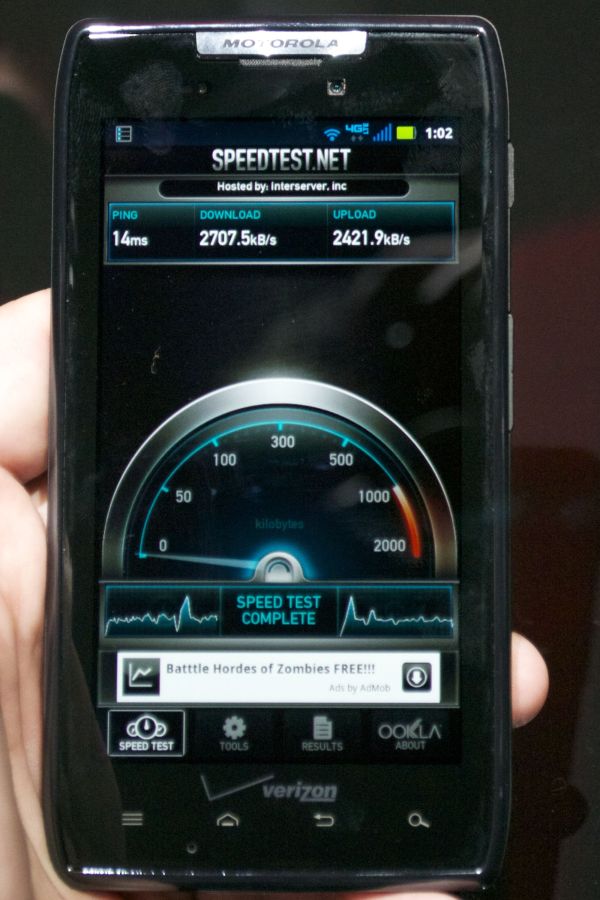 The display was bright and crisp, and if it didn't come off in the pictures, let me be sure to mention that the viewing angles were spectacular. At this point, we've come to expect good things from Super AMOLED displays, and this looked good. The question is, what type of pixel arrangement are we looking at? We confirmed with Motorola that the display was Pentile, and initially it was described as the same arrangement as in the Bionic, which would make it RGBW. We haven't seen an AMOLED RGBW display yet so this was surprising. Further clarification leaves us still a bit confused, as it is now being described to us as RGB Pentile. This is likely RGBG Super AMOLED, though we won't know for sure till it comes in as this will be the first qHD Super AMOLED display we've seen, whichever Pentile stripe it comes in.

We'll know more when the review sample comes in but for now we can say that this phone felt every bit as fast as the Samsung Galaxy S II, had an impressive display and felt great in the hand. Stay tuned for our review as soon as we can get it out, and stay tuned for more coverage tonight.