Speaking of the Sensation, a lot of the internal hardware looks pretty similar. The two devices share Qualcomm's now standard dual-core MSM8260 Snapdragon S3 SoC. That basically translates to two 1.2GHz Scorpion cores and the excellent Adreno 220 graphics processor.
Anand is going to do a deep dive into the dual-core Snapdragon microarchitecture in our forthcoming EVO 3D review. The EVO 3D has the MSM8660, which has the same CPU/GPU combo as the 8260, just with a CDMA capable modem onboard. So I'm just going to present benchmark results here, but for the most part, we're looking at performance pretty similar to the Sensation.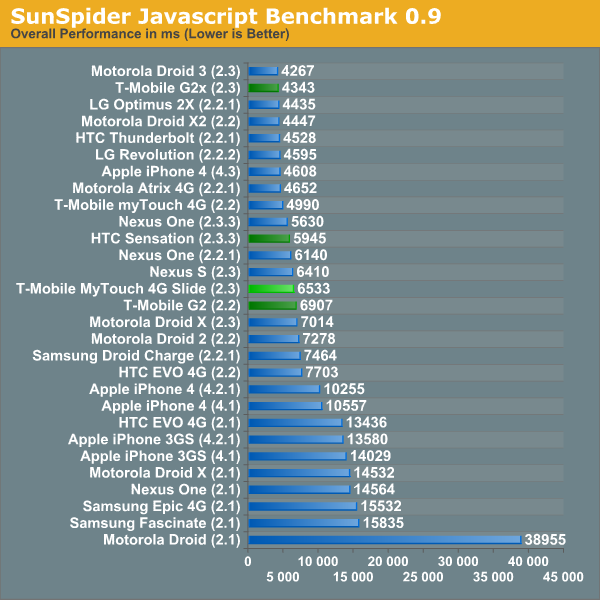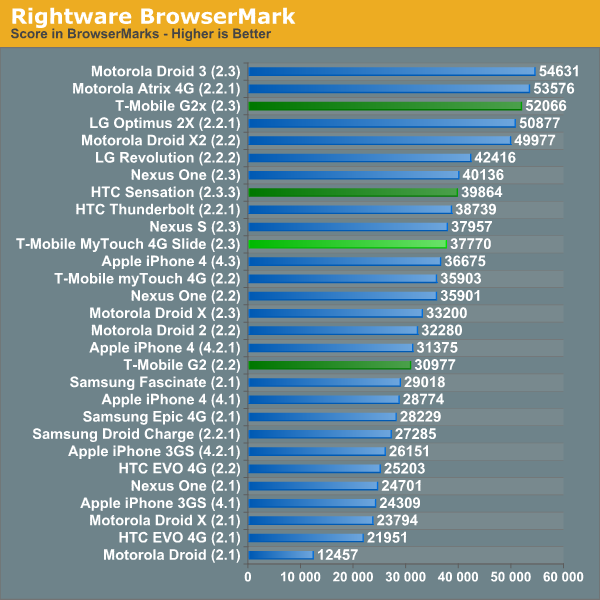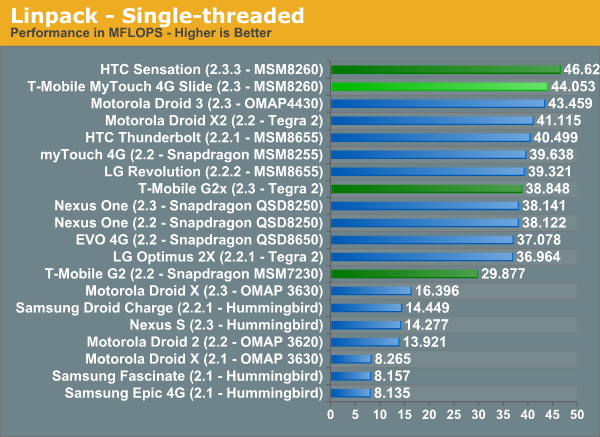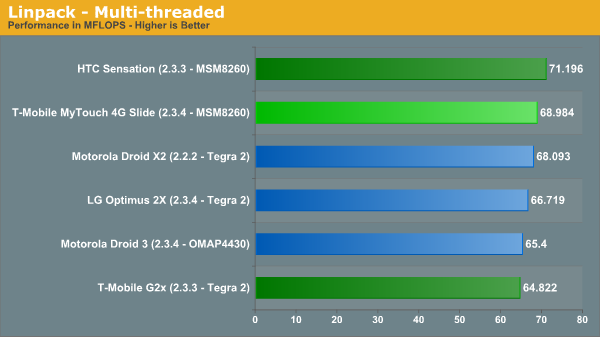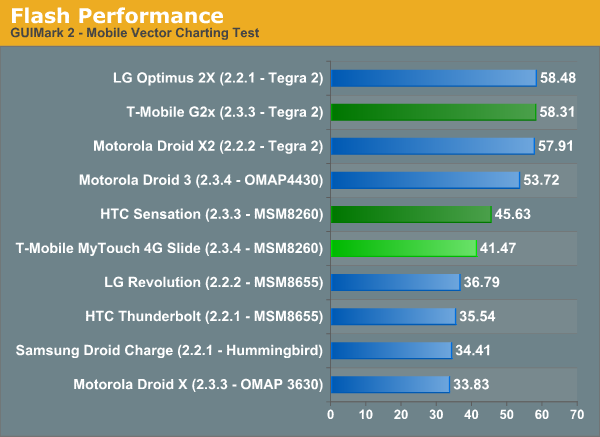 The Sensation's graphics tests aren't an apples-to-apples comparison with the MT4GS because of the resolution difference, but we can get some meaningful data out of them. No search button means no results from Kwaak 3 (yes, there are ways around that, but it's not worth the effort - Quake 3 results are losing relevance at WVGA resolution, since the average is somewhere very close to the vsync of Android regardless of which dual-core SoC you're running).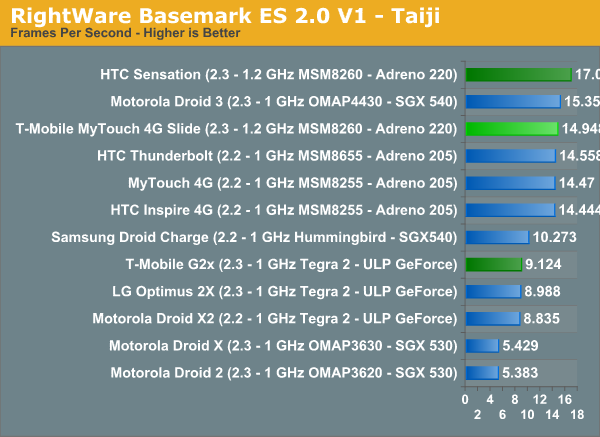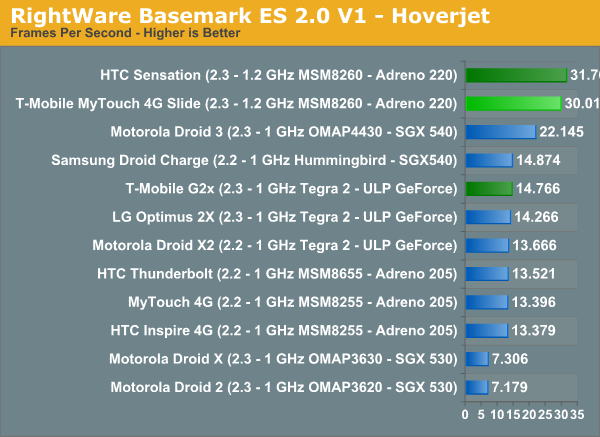 Basemark runs at VGA regardless of native screen resolution, so we see pretty similar numbers between the Slide and the Sensation, and especially in the Hoverjet benchmark, we see that Adreno 220 wipes the floor with....everyone.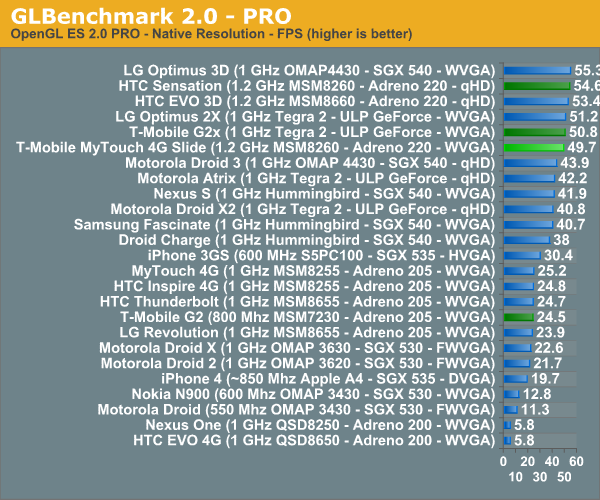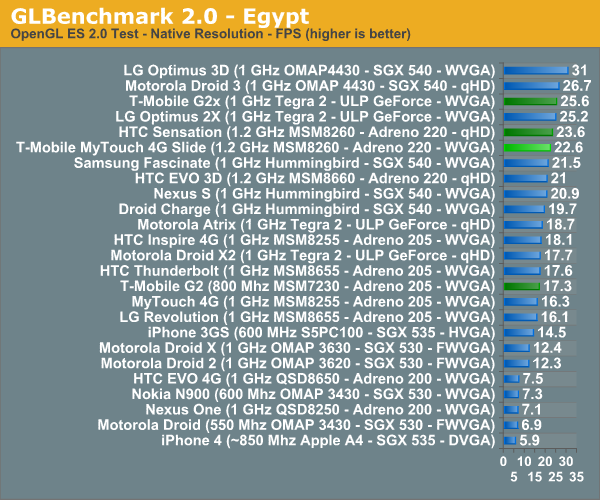 GLBenchmark doesn't actually tell us very much. The Slide benchmarked a hair slower than the Sensation, even with the WVGA vs qHD thing. Given that most of our results are clustered in that region, it's possible that there's something in the textures or geometry that is limiting the framerates to around 25 fps in the Egypt benchmark and around 55 fps in the PRO benchmark. We'll talk more about the Adreno 220 and how it performs in our EVO 3D review as well.
We ran the MT4GS through our entire battery life suite. Given that the Slide has roughly the same components and battery size as the Sensation, and as such, the battery life ends up being pretty similar.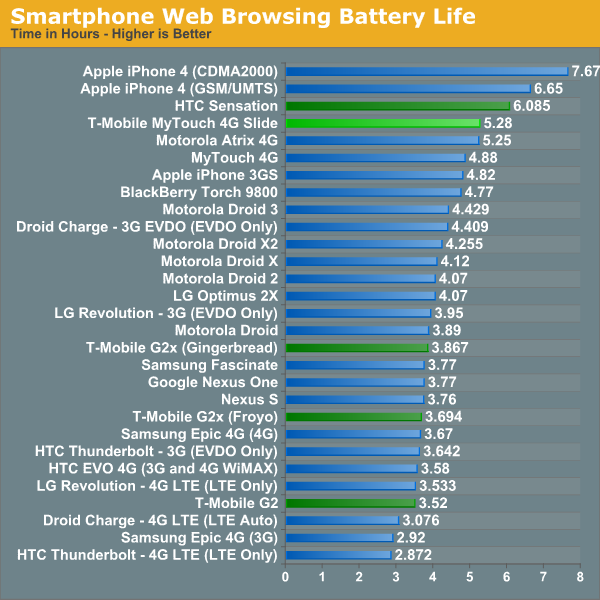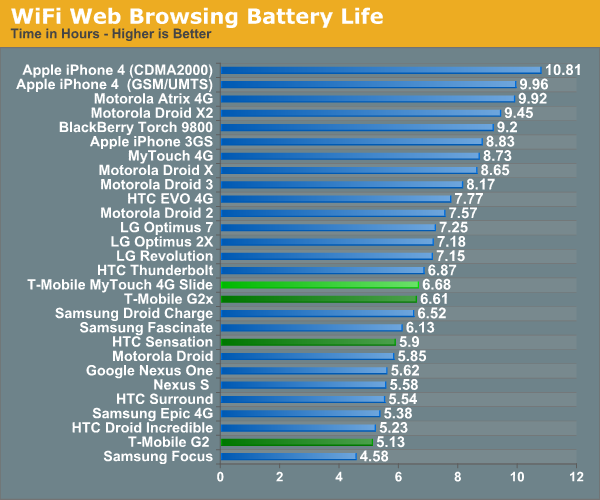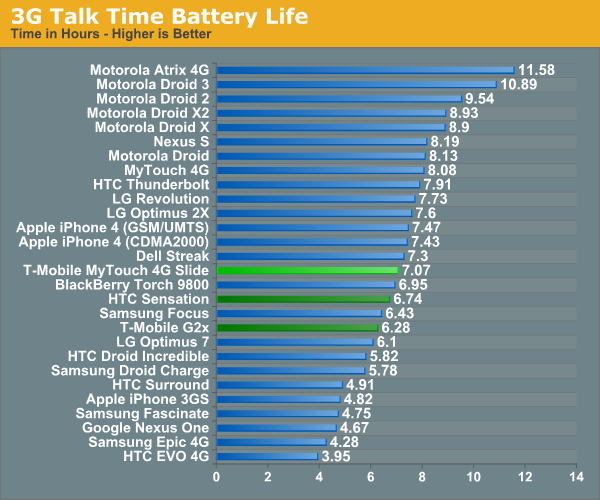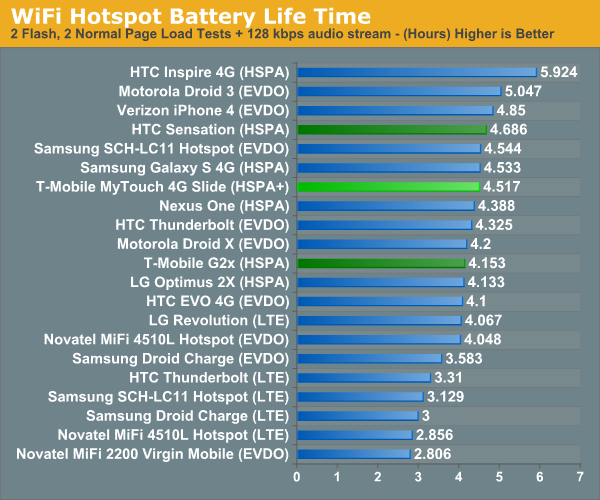 Overall, the Slide fares pretty well. The Sensation gets pretty good battery life for a dual-core smartphone, and the MyTouch is no different.