Testing Turbo
The original MacBook Air had a 1.86GHz Core 2 Duo that pretty much never ran at 1.86GHz. Instead the chip typically ran at or below 1.4GHz, allowing the second generation 11-inch MacBook Air to outperform it. Since then I've been quite concerned about Apple playing clock speed games with its systems, but thankfully since then we haven't seen any similar issues.
Letting my guard down wasn't something I was interested in doing so I went about verifying Turbo on the new Air. First a quick refresher about what Turbo Boost does on Intel CPUs. All CPUs are designed to certain power and thermal limits. Those limits are shared with manufacturers who then spec power supplies, cooling systems and cases that can handle those CPUs. In the old days this was pretty simple, you had a single core and a single thermal design point (TDP) that you had to hit. Then multicore CPUs came around and made things more complicated. TDPs couldn't go up (laptops weren't going to double in size) but you now had multiple cores sharing the same TDP, so each core had to dissipate less heat. This meant that your dual-core CPU would run each core at a lower frequency than your single-core CPU, and your quad-core CPU would run at an even lower speed. When using all of your cores the tradeoff was worth it, but when only one or two were in use, it wasn't. We needed a way of shutting down cores to free up TDP and dynamically adjusting clock speed.
| | | | |
| --- | --- | --- | --- |
| | Single Core | Dual Core | Quad Core |
| TDP | | | |
| Tradeoff | | | |
Nehalem came along and introduced power gating to x86 CPUs. Unused cores could be power gated, effectively shutting them off, and the resultant available TDP could be used by turbo boosting active cores. All subsequent Intel architectures have supported Intel Turbo Boost, a feature we investigated extensively in our 2011 MacBook Pro review earlier this year.
Lion got rid of the 32-bit kernel so my previous trick to run MSR Tools to measure clock speed stopped working. I needed an alternative.
I offer you three pieces of evidence that support the theory that Apple is not artificially limiting clock speed on any of the MacBook Air systems I've tested.
The first is output from Lion's boot process, note the line that begins with AppleIntelCPUPowerManagement:

The screenshot above is from a 1.6GHz Core i5 on an 11-inch MacBook Air. This chip runs at 1.6GHz by default but can turbo up to 2GHz with two cores active and 2.3GHz with one core active. The line above lists turbo ratios 0047. This four digit number shows turbo ratios for 4C/3C/2C/1C active, with each digit corresponding to a different max turbo ratio. Each value is in hex to represent ratios above 9 with a single digit.
Take the example above: 0047. The first two numbers are 0s because the chip doesn't have more than two cores and thus doesn't support any turbo ratios when 4 or 3 cores are active. The third number tells us the maximum turbo boost with two cores active: 4. That's 4 bins, where each bin is 100MHz, or 400MHz above the stock 1.6GHz operating frequency (2.0GHz).
The fourth number gives us max turbo when only a single core is active: 7. Seven bins is 700MHz, which on top of the 1.6GHz base frequency gives us 2.3GHz.
What about the 1.7GHz Core i5 in the 13-inch MacBook Air? Its turbo ratios look like this:

The first two digits are 0 again since this is a dual-core processor. The third digit is a 7, representing a 700MHz max turbo boost with two cores active. The fourth digit is an A, which is 10 when you convert from hex to base 10, or a maximum 1GHz turbo boost with one core active. If you had a 1.8GHz Core i7 you'd see the string 008B.
The second bit of evidence supporting that Apple isn't mucking with clock speeds comes via Cinebench. The 2.0GHz Core i7 in the 15-inch MacBook Pro can turbo up to 2.9GHz with only one core active. Cinebench has a great single threaded test that ensures only one core is active. The chip in the 13-inch MacBook Air should be able to hit 2.7GHz with one core active. We already know the CPUs in the 2011 MacBook Pro have fully functioning turbo ratios based on our earlier investigations. While the i7 in the MacBook Pro has a larger L3 cache, we should still see around a 7% performance advantage in single threaded Cinebench for the 2011 MacBook Pro vs. the 13-inch MacBook Air (2.9GHz vs. 2.7GHz) if the Air is properly turboing up:
Clock Speed Scaling Comparison
15-inch MacBook Pro (Core i7 2.0GHz)
13-inch MacBook Air (Core i5 1.7GHz)
11-inch MacBook Air (Core i5 1.6GHz)
Cinebench R10 - Single Thread
4060
3770
3154
The 2011 MacBook Pro is 7.7% faster in Cinebench's single threaded test. Perfect. We can't do the same comparison with multithreaded performance because the i7 in the MacBook Pro has twice the number of cores/threads as what's in the Air, but by this point I'm pretty confident that Apple is allowing these chips to turbo up.
If you need one more piece of evidence I present to you behavior of the 2011 11 and 13-inch MacBook Air under Windows 7, where we do have good turbo monitoring tools courtesy of Intel.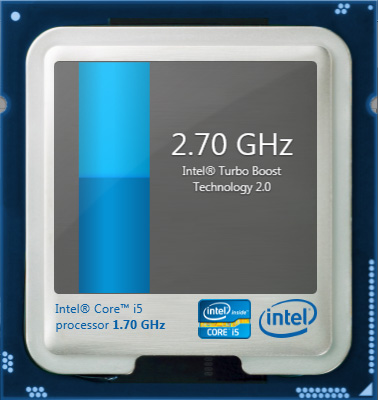 13-inch MacBook Air, Core i5 1.7GHz, max single-core turbo
Both systems had no problems hitting their specified turbo ratios, we are not artificially constrained here at all. In fact, the 11-inch MacBook Air was able to even exceed its dual-core turbo ratio by a small amount during some of my testing: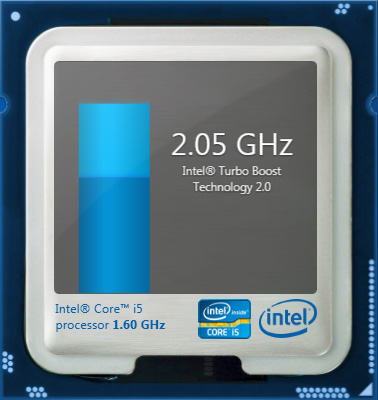 11-inch MacBook Air, Core i5 1.6GHz, temporarily exceeding max dual-core turbo
In the example above the 1.6GHz Core i5 is running a multithreaded workload, Cinebench once again. Both of its cores are pegged at 100% and it is able to turbo up to 2.0GHz, its max turbo frequency with two active cores. For a short period of time during the render however, we actually see numbers above 2GHz.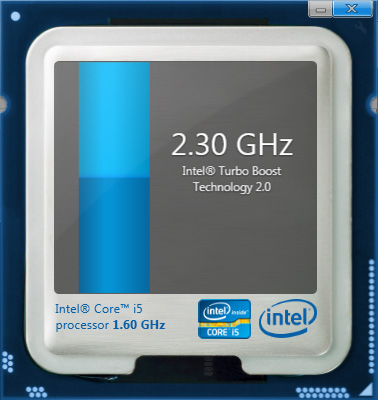 11-inch MacBook Air, Core i5 1.6GHz, max single-core turbo
This is a feature of Sandy Bridge. If your chip is idle then all of sudden gets a heavy workload it'll try to turbo up to its max ratio. The chip itself will take time to actually hit its max operating temperature though, it doesn't simply jump up to max TDP just because it's running at a higher frequency. During this TDP ramp, Sandy Bridge actually allows the chip to run even faster than its max turbo frequency for a short duration. This overboost gives you a little extra oomph in performance without ever violating the chip's TDP.