If this were a race of numbers, Apple would have already won. It isn't. The iPad 2, as successful as it is, isn't perfect. There's tons of room for innovation and we're seeing its competitors offer clear examples of that innovation. As with any market, the lower your market share the more likely you are as a company to take risks. After all, you've got nothing to lose. It's in breaking the mold and taking these risks that great ideas are often born.
For HP there wasn't much of a risk to take with their first entry into the new tablet market, thanks to Palm's risk taking three years ago. For those who have used a webOS phone in the past, the OS needed very little functional improvement. It was just a matter of needing better hardware, squashing bugs and improving performance. The fundamentals were sound.
In fact, I'm still surprised that no one has managed to really copy the things that made webOS so great given how much time has passed since the Palm Pre first went on sale. Even today with multitasking improvements in Honeycomb and iOS, it's still easier to launch, exit and switch between apps on webOS.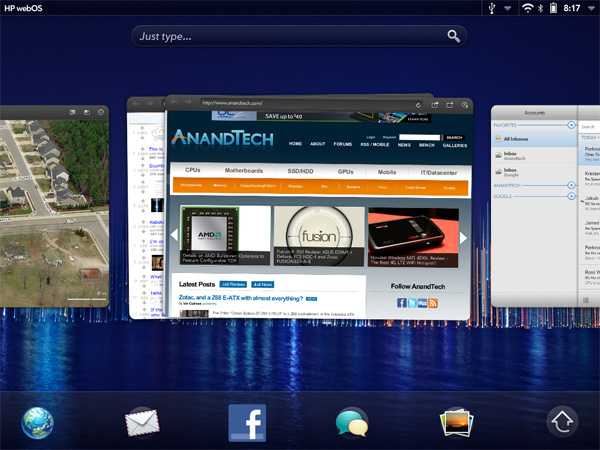 Has HP been able to give webOS the rest of the ingredients it needs to succeed? On the hardware side I think that's definitely the case. The new webOS family is powered by the latest and greatest from Qualcomm. Fast single core SoCs in the phones and Qualcomm's fastest dual-core SoC in the tablet. It's the software that remains webOS' blessing and curse. The functionality is there and remains unrivaled in many ways, but the platform is still buggy and is at times seriously limited in the performance department.
We'll get to all of that throughout the course of this review but first let's meet the TouchPad.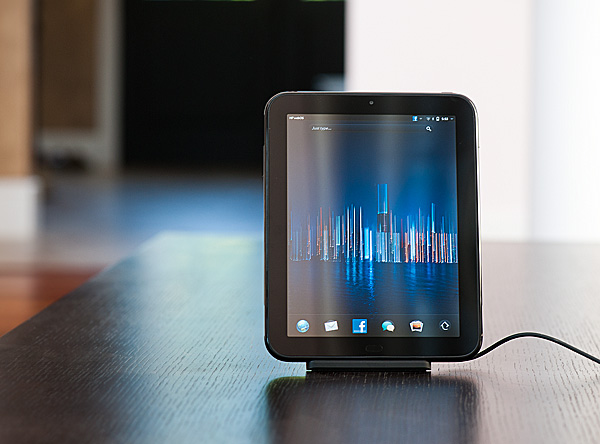 The hardware itself is pretty. The TouchPad is made entirely of glossy black plastic around the back and a 9.7-inch glass touchscreen on the front. The edges are all curved making the tablet easy to hold. While the glossy black plastic looks elegant at first, it shows fingerprints just like an old iPod.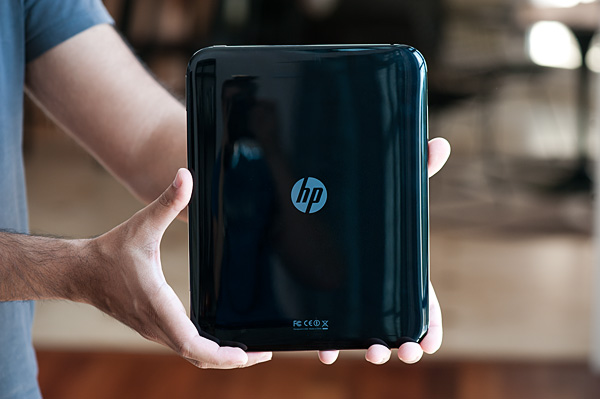 The TouchPad is thicker than the iPad 2 or Galaxy Tab 10.1, but it's not the thickness that bothers me. The TouchPad is the heaviest tablet we've reviewed. At 730g it's over 20% heavier than the iPad 2 and the weight is noticeable. If you're using it on its dock or on your lap the weight isn't a problem, but holding it up for long periods of time can be fatiguing.
Build quality is good but not great. I detected a little bit of movement in the chassis if I tried to flex the TouchPad slightly. The micro USB connector at the bottom isn't perfectly lined up with the cutout in the chassis either, requiring me to insert its USB cable at an angle. The volume rocker on the right side of the unit wiggles a bit in place. All of these are minor complaints in the grand scheme of things but they're worth pointing out.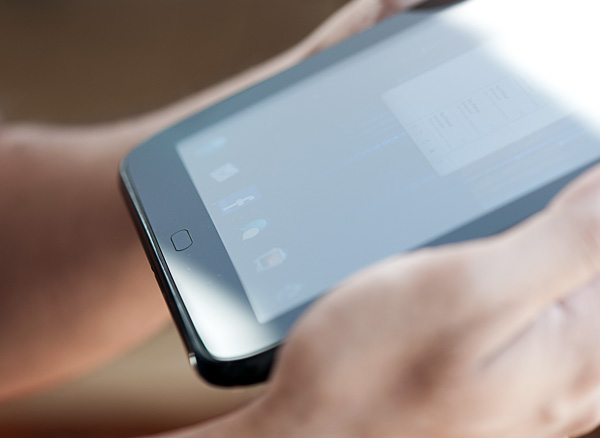 There's a microphone up top as well as your standard power/lock button and 1/8" headset/mic jack. A physical home button is in the usual place with a built in white LED notification indicator.
The TouchPad has two speakers along its left side: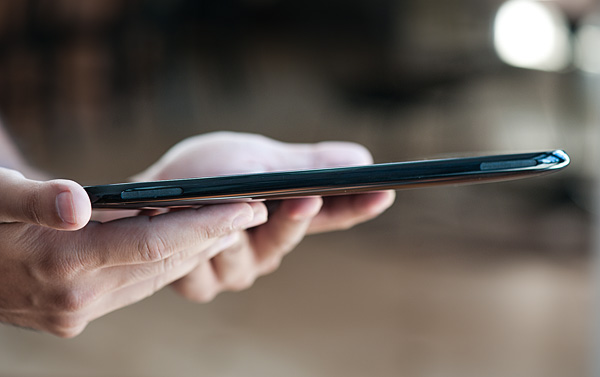 Like its competitors the TouchPad has a built in accelerometer and gyroscope to detect rotation and movement along multiples axes. You can orient the TouchPad in all four directions and the OS will rotate accordingly. The accelerometer in the TouchPad is extremely sensitive, often rotating the screen for very slight movements of the tablet itself. While this sounds like a good thing, in practice it's not. The TouchPad usually rotated when I didn't want to and then seemed to lose its sensitivity issues when I tried to rotate it back. The problem here is likely in software.
2011 Tablet Comparison
Apple iPad 2
ASUS Eee Pad Transformer
HP TouchPad
Samsung Galaxy Tab 10.1
SoC
Apple A5 (Dual ARM Cortex A9 @ 1GHz)
NVIDIA Tegra 2 (Dual ARM Cortex A9 @ 1GHz)
Qualcomm APQ8660 (Dual Scorpion @ 1.2GHz)
NVIDIA Tegra 2 (Dual ARM Cortex A9 @ 1GHz)
GPU
PowerVR SGX 543MP2
NVIDIA GeForce
Adreno 220
NVIDIA GeForce
RAM
512MB
1GB
1GB
1GB
Display
9.7-inch 1024 x 768 IPS
10.1-inch 1280 x 800 IPS
9.7-inch 1024 x 768 IPS
10.1-inch 1280 x 800 PLS
NAND
16GB - 64GB
16GB - 32GB
16GB - 32GB
16GB - 32GB
Dimensions
241.2mm x 185.7mm x 8.8mm
271mm x 175mm x 12.95mm
240mm x 190mm x 13.7mm
256.6 x 172.9 x 8.6mm
Weight
601g
695g
730g
565g
Price
$499
$399
$499
$499
There is no support for external storage and HP offers a 16GB and 32GB version at $499 and $599 respectively. Both support WiFi although AT&T has already announced a HSPA+ version for use on its network.