Late last year Intel announced the intention to acquire Infineon's Wireless Solutions business, highlighting an important trend in the application processor space: those determined to lead in the smartphone/tablet SoC market have an intense desire to control as much IP as possible. It's not enough to simply bundle licensed IP blocks, acquiring the IP is the first step towards consolidating the market.
It started years ago with the acquisition of companies that made audio and video decoders. Qualcomm even purchased ATI's Imageon GPU business, again with the mindset that if you don't own your IP, you're no different than just another competitor who licenses it.
Qualcomm itself has done very well as it has a rare combination of owning a considerable amount of IP within its application processor but also having a successful cellular baseband business. Qualcomm designs its own CPU cores (based on ARM instruction sets), its own GPU cores and likely controls much of the other IP going into its SoCs. On top of all of that, Qualcomm designs its own modems which can be both integrated into its application processors or used externally as a separate chip.
Having an extensive baseband portfolio is no different for a player in the app processor space as owning your own chipset business was for Intel in the early 2000s. If you can provide your customers (smartphone/tablet vendors) with a platform rather than individual chips there's the potential to market synergies between your offerings and then of course you can sell more chips to the same customer rather than sending that business elsewhere. Eventually this approach drives the individual vendors of various IP out of business as power is consolidated in the hands of the strongest SoC players.
Today NVIDIA announced that it too is going to play in this game with the acquisition of Icera. The acquisition is expected to close in 30 days and is worth $367 million in cash.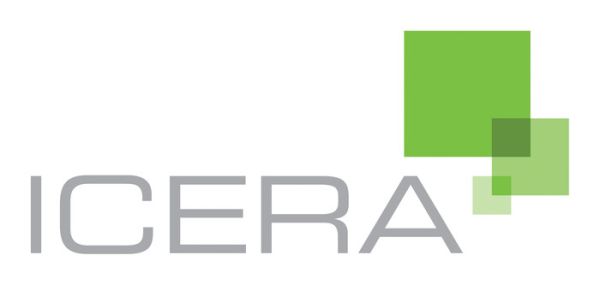 Icera's modems aren't too common in high end smartphones. A quick look through its product offering shows a strong focus on mobile broadband devices (e.g. USB modems), however it's possible that Icera simply could never break into the handset market - something NVIDIA can help address with its recent success on the back of Tegra 2. It's clear that eventually integrating Icera's technology into Tegra SoCs now becomes an option which, assuming there are no fundamental issues with Icera's baseband designs, would obviously increase its presence in the handset space.
What Icera offers that's unique is what it calls a software baseband. All cellular baseband processors require some sort of on-board processing, which is usually handled by a licensed ARM core, fixed function logic or combination of the two. Icera's baseband chips feature its own custom designed microprocessor (something Icera calls its DXP - Deep Execution Processor) that can be upgraded, through software, to support a wide range of wireless standards.

The Icera Livanto ICE8060 baseband for example supports HSPA category 8 (7.2Mbps) all the way up through category 24 HSPA+ (42Mbps) and 50Mbps multimode LTE. Presumably Icera charges more for the faster software packages, but it does allow its customers to build a single design that's quickly adaptable to other networks.
Icera argues that its software baseband architecture results in a smaller overall die size and lower power consumption than the competition. If true, this would mean better levels of integration both in an SoC and in a handset as well as longer battery life. That being said, we all know better than to trust a vendor's claims without hard evidence.
Icera did publish this diagram which shows the size of its baseband IC compared to solutions from Qualcomm and ST-E: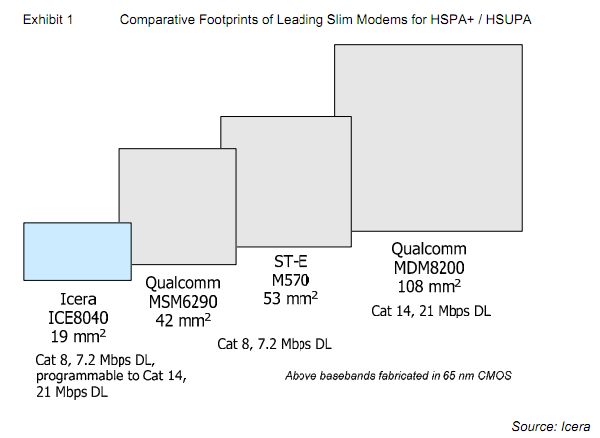 It's unclear how similar Icera's approach is to what companies like Qualcomm already do. Given that there's only a single baseband listed on Icera's product pages I suspect it's at least a bit more configurable than the competition. NVIDIA's press release makes mention of Icera's patent portfolio, which is likely a big part of what NVIDIA is after in this acquisition.
Today's announcement is mostly about NVIDIA continuing to take the SoC market seriously. If you believe that those who will ultimately succeed here will own as much of their own IP as possible, then NVIDIA is on the right path.
NVIDIA posted its own blog on the acquisition
here
.