Last year at the iPad introduction Steve Jobs announced that Apple is a mobile device company. Just last week Steve returned to introduce the iPad 2 and point out that the majority of Apple's revenue now comes from products that run iOS. The breakdown is as follows:
AAPL Revenue Sources—Q1 2011
iPad
iPhone
iPod
Mac
iTunes Store
Software/Services
Peripherals
Percentage
17.2%
39.1%
12.8%
20.3%
5.4%
2.9%
2.2%
Just looking at iPad and iPhone, that's 56% of Apple's sales. All Macs put together? Only 20%. Granted 20% of $26.7 billion in sales is still $5.3 billion, but the iOS crew gets most of the attention these days.
It shouldn't come as a surprise that when Apple launched its 2011 MacBook Pro lineup last week that it did so with little fanfare. There was no special press event and no video of an unusually charismatic man on a white background describing the latest features of the systems. All we got two weeks ago were a few pages describing the high level features of the lineup, a short outage on the Mac Store and five new configurations available for sale.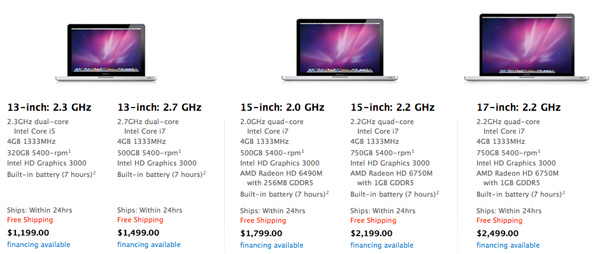 Apple tends to not mix architecture updates and chassis changes. The 2011 MacBook Pro lineup is no different. These models fundamentally implement the same updated unibody shell that was introduced in 2009. The term unibody comes from the fact that the base of the chassis is machined out of a single block of aluminum. There's no way to gain access to the MacBook Pro's internals from above, you have to go in from below. As a result there's absolutely no chassis flex or squeaking while you pound on the keyboard, use the trackpad or just interact with the part of the machine that you're most likely to be touching. Apple has been shipping unibody MacBook Pros since 2008 and from my experience the design has held up pretty well.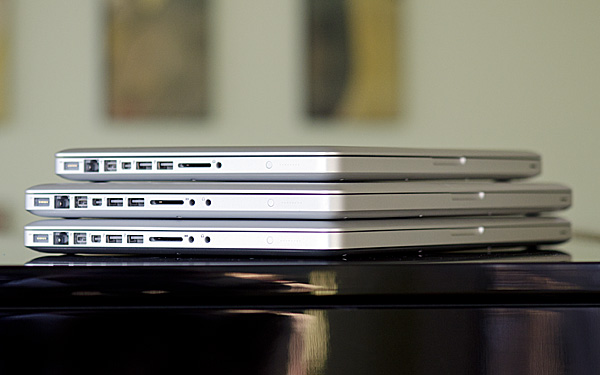 From top to bottom: 13-inch MBP (2011), 15-inch MBP (2011), 15-inch MBP (2010)
The biggest letdown in the design has been the hinge connecting the display to the rest of the chassis. I haven't had it fail completely but I've had it become frustratingly loose. Even brand new, out of the box, the 15-inch MacBook Pro will have its display move by a not insignificant amount if you tilt the machine 90 degrees so that the display is parallel to the ground. A number of readers have written me over the years asking if Apple has improved the locking ability of the hinge in each new version of the MacBook Pro. It doesn't seem to be any better with the 2011 model—sorry guys.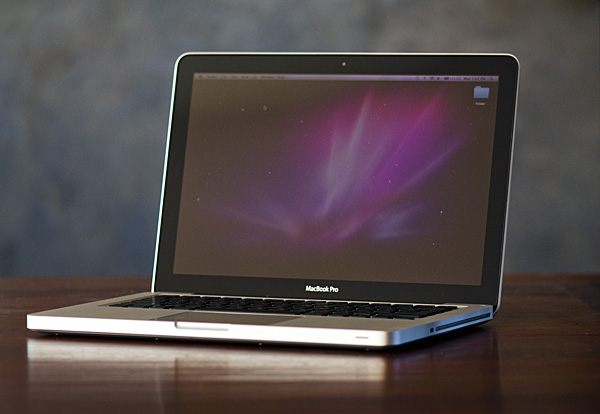 Other than screen size, ports and internals, there's nothing that separates the 13-, 15- and 17-inch MacBook Pros from one another. They all feature the same excellent backlit keyboard (keyboard size is constant across all models) and a variant of the same high quality display. All of them have the same front facing 720p camera and the same large glass-covered trackpad.
Battery capacity hasn't changed compared to last year, although power consumption on some models has gone up (more on this later).
2011 MacBook Pro Lineup
13-inch (low end)
13-inch (high end)
15-inch (low end)
15-inch (high end)
17-inch
Dimensions

0.95 H x 12.78 W x 8.94 D

0.95 H x 14.35 W x 9.82 D

0.98 H x 15.47 W x 10.51 D

Weight

4.5 lbs (2.04 kg)

5.6 lbs (2.54 kg)

6.6 lbs (2.99 kg)

CPU

2.3 GHz dual-core Core i5

2.7 GHz dual-core Core i7

2.0 GHz quad-core Core i7

2.2 GHz quad-core Core i7

2.2 GHz quad-core Core i7

GPU

Intel HD 3000 Graphics

Intel HD 3000 + AMD Radeon HD 6490M (256MB)

Intel HD 3000 + AMD Radeon HD 6750M (1GB)

Intel HD 3000 + AMD Radeon HD 6750M (1GB)

RAM

4GB 1333MHz DDR3 (8GB max)

HDD

320GB 5400 RPM

500GB 5400 RPM

500GB 5400 RPM

750GB 5400 RPM

750GB 5400 RPM

Display Resolution

1280x800

1440x900 (1680x1050 optional)

1920x1200

Ports

Gigabit LAN, Firewire 800, Thunderbolt, 2x USB 2.0, SDHC slot, combined audio in/out jack

Gigabit LAN, Firewire 800, Thunderbolt, 2x USB 2.0, SDHC slot, separate audio in/out jacks

Gigabit LAN, Firewire 800, Thunderbolt, 3x USB 2.0, separate audio in/out jacks, ExpressCard 34 slot

Battery Capacity

63.5Wh

77.5Wh

95Wh

Price
$1,199
$1,499
$1,799
$2,199
$2,499
The new MacBook Pros are still equipped with DVD drives and thus Apple still distributes OS X and the application preload on a pair of DVDs. I was hoping Apple would go to an all-USB distribution starting with the MBA but it looks like we'll have to wait for another generation of Pro systems before we see that.