On the first day of MWC 2011, LG announced its four-part smartphone and tablet strategy for 2011 as part of what it's calling a "new beginning" for becoming a key contender in the mobile space.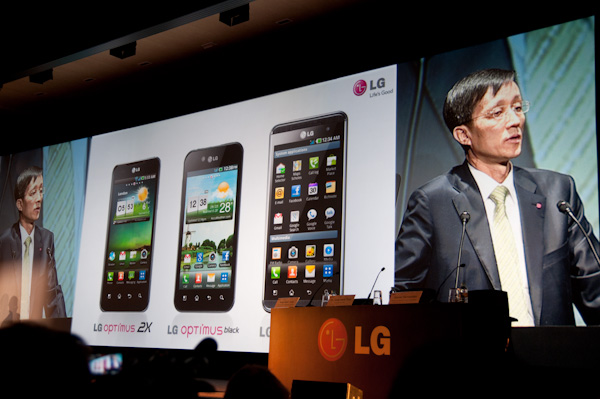 The strategy is simple and four-pronged. The first is dual-core and multi-core processing for performance. We've already taken a look at the LG Optimus 2X, the first dual-core phone, and found that it brought Android an appreciable speed increase. The software on the Optimus 2X is getting more stable - we're told the instability we saw in our review unit is totally fixed in newer builds, which we're having flashed.
The second part is display innovation, which no doubt is a reference to the LG Optimus Black and its super-bright NOVA display, or the inclusion of 3D stereoscopic displays on other LG smartphones. We got to look at the NOVA briefly at CES and were impressed with how bright and contrasty the display is, and we'll look at it in due time. Hopefully NOVA displays will move into more displays beyond just the Black.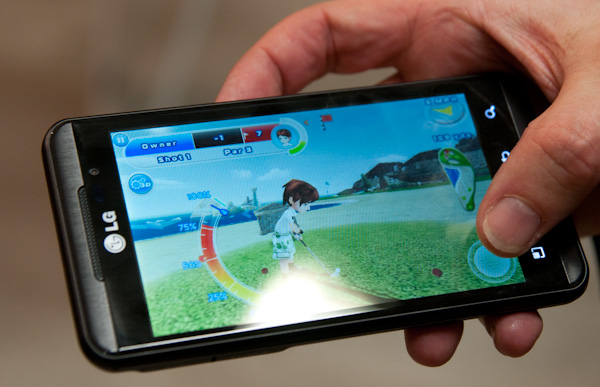 The third arm is 3D - which brings us to the LG Optimus 3D. As we already mentioned, the LG Optimus 3D is OMAP4 based with an OMAP4 4430 and features a glasses-free autostereoscopic 3D display and stereoscopic camera. The 3D camera system consists of two rear-facing 4 MP cameras spaced 24 mm apart. Recording in 3D also includes a live 3D preview with real-time adjustible depth control. We got a few minutes to look at the Optimus 3D and came away decently impressed with the glasses-free 3D screen. You can't see it above, but that golf game is entirely 3D on the Optimus 3D.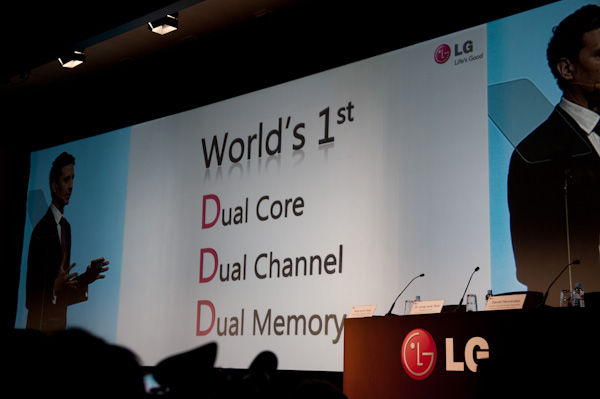 LG is aggressively marketing fact that the Optimus 3D is both dual-core and dual-channel. By dual-channel, LG is referencing OMAP4's dual-channel LPDDR2 memory interface. The Optimus 3D is listed as having 4 Gigabits of RAM translating to 512 MB. LG showed off the overall quadrant score of the 3D, and though we're not completely sold on Quadrant being a competent benchmark that truly reflects performance, the 2958 score is impressive next to 2670 which we saw on the Optimus 2X. The Optimus 3D captures 3D at 720P and 2D in 1080P. We look forward to benchmarking OMAP4 in due time.
Physical Comparison
Samsung Galaxy S Fascinate
LG Optimus 2X
Motorola Atrix 4G
Samsung Galaxy S II
LG Optimus 3D
Height
106.17 mm (4.18")
123.9 mm (4.87")
117.8mm
125.3mm
128.8 mm
Width
63.5 mm (2.5")
63.2 mm (2.48")
63.5mm
66.1mm
68 mm
Depth
9.91 mm (0.39")
10.9 mm (0.43")
10.95mm
8.48mm
11.9 mm
Weight
127 grams (4.5 oz)
139.0 grams (4.90 oz)
135.0 grams
116 grams
168 grams
CPU
1 GHz Samsung Hummingbird
NVIDIA Tegra 2 Dual-Core Cortex-A9 (AP20H) @ 1 GHz
NVIDIA Tegra 2 Dual-Core Cortex-A9 (AP20H) @ 1 GHz
Samsung Exynos 4210 Dual-Core Cortex A9 @ 1GHz
TI OMAP 4430 Dual-Core A9 @ 1 GHz
GPU
PowerVR SGX 540
ULV GeForce @ 100-300 MHz
ULV GeForce @ 100-300 MHz
ARM Mali-400 MP
PowerVR SGX 540
RAM
512 MB LPDDR1
512 MB LPDDR2 @ 600 MHz data rate
1024 MB LPDDR2 @ 600 MHz data rate
1GB
512 MB LPDDR2 - Dual-Channel
NAND
2 GB, 16 GB microSD (Class 2)
8 GB integrated (5.51 GB internal SD, 1.12 phone storage), up to 32 microSD
16 GB integrated, up to 32 microSD
16 GB integrated, up to 32 microSD
8 GB integrated, up to 32 microSD
Camera
5 MP with auto focus and LED flash
8 MP with autofocus, LED flash, 1080p24 video recording, 1.3 MP front facing
5 MP with autofocus, LED flash, 720p video recording, VGA MP front facing
8 MP with autofocus, LED flash, 1080p video recording, 2MP front facing
Dual 5 MP autofocus stereoscopic - 720P 3D capture, 1080P 2D
Screen
4" Super AMOLED 800 x 480
4" IPS LCD 800 x 480

4" PenTile LCD 960 x 540

4.3" Super AMOLED Plus 800x480

4.3" Autostereoscopic 3D LCD 800x480
LG has secured a strategic partnership with YouTube to enable the Optimus 3D to both upload and locally play 3D content. YouTube feels that the Optimus 3D provides a leading 3D experience by enabling record and playback, and and in this way will catalyze 3D adoption.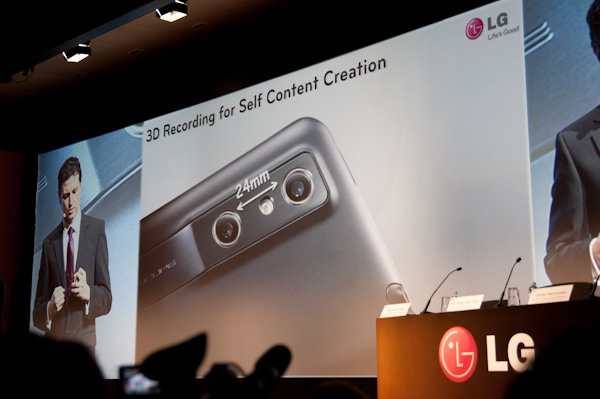 The Optimus 3D also has a dedicated 3D interface, including some preloaded 3D games from gameloft. It looks like NOVA (as in the game, not the display - how's that for a namespace collision) will be an included HD 3D title.
The fourth part of LG's strategy is getting into the "true tablet war" with the Optimus Pad.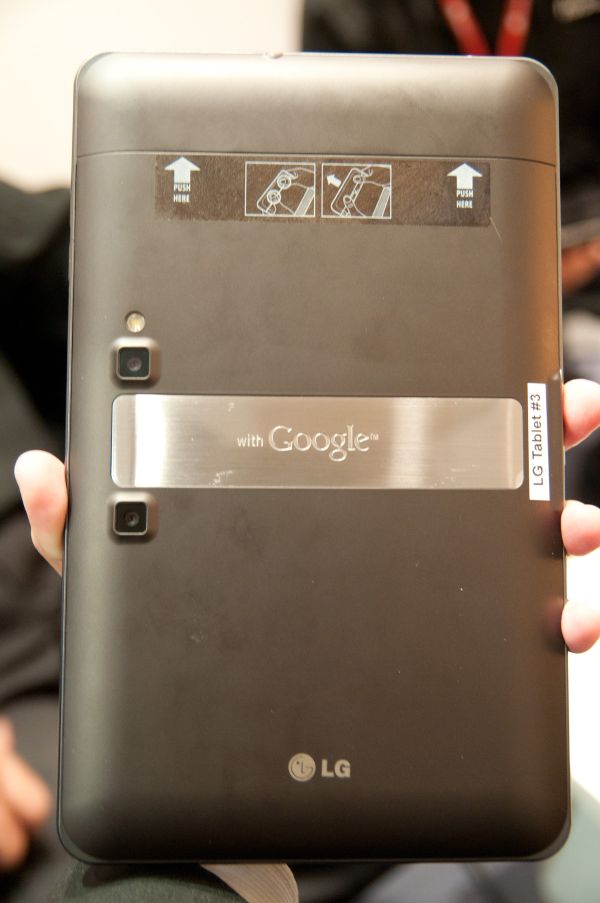 LG wants the Optimus Pad to be an optimal balance between portability and productivity with an 8.9" size, and thinks it has the form factor right. The size is indeed an interesting balance between the 7" and 10" form factors we've seen thus far. LG made numerous illustrative comparisons with the Galaxy Tab and iPad.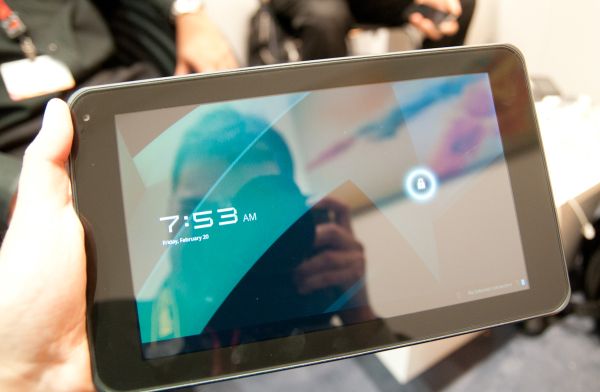 The Optimus Pad is NVIDIA Tegra 2 powered, running Android 3.0 Honeycomb, and also incorporates a 3D camera system consisting of two 5 MP cameras. There's a host of preview modes, including mixed, anaglyph, and side-by-side viewing. There's also HDMI 1.4 output to playback that 3D on appropriate displays. The Optimus Pad also brings a 2 MP front facing camera (which seems to be the new standard) for HD video conferencing. We got some time with the Optimus Pad and plan to publish our impressions of the tablets we've seen so far in the next few days of MWC.
The Optimus Pad will be available in April, the Optimus 3D in May.