Introducing the Puget Systems Serenity SPCR Edition
This is our second review unit from the Washington-based Puget Systems (our first was several years ago when they were first starting out), and it's a doozy. While the P67/H67 chipset recall has proven to be a boot to the collective breadbasket of the industry, we were fortunate enough to get the Serenity SPCR Edition in before the recall hit, and Puget was kind enough to let us review it anyhow. That seems reasonable, since the SATA bug in the chipset isn't liable to affect any of our test results outside of PCMark, leaving us with an opportunity to show you a remarkable system that you'll be able to get your hands on in the near future.
Puget Systems' has also issued a post discussing how they'll handle systems with the SNB chipset bug. The short summary is that they'll let you continue to use your system and send it in for a replacement motherboard when those become available, or they'll ship you a PCIe SATA controller to use in place of the affected SATA ports. It's a nice change of pace from the motherboard side of things, as Puget Systems will let you use your new system now, and get the problem fixed in the next few months with a minimum of hassle. With that out of the way, let's look at the system we received for review.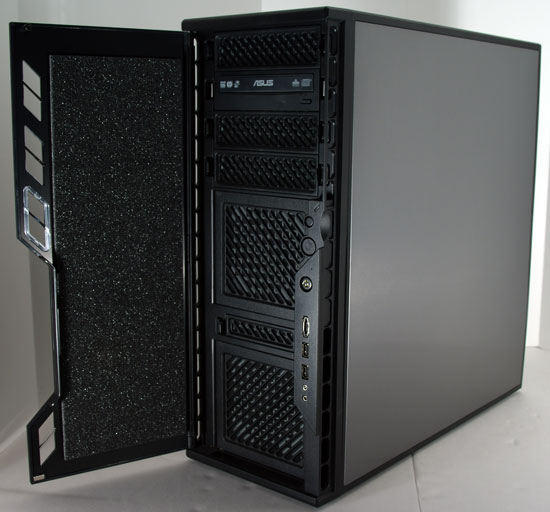 Puget Systems' Serenity line of computers are designed to maximize silent operation, with the SPCR Edition being the quietest system in their lineup. This tower is designed in cooperation with Silent PC Review and independently certified by them to run at a staggeringly low 11db; the regular Serenity models have a noise ceiling of 20db, which is still impressively quiet. If you're wondering whether the Serenity SPCR lives up to that claim, we can't tell you: the unit is inaudible unless you put your ear against the side (even under heavy load), and operates below the noise floor of my apartment at any hour. Simply put, we're not equipped to measure the noise level of something this quiet. So how is our review unit outfitted?
Puget Systems Serenity SPCR Edition Specifications
Chassis
Antec P183 (Customized)
Processor
Intel Core i5-2500K @ 3.3GHz
(spec: 4x3.3GHz, 32nm, 6MB L3, 95W)
Motherboard
ASUS P8P67 Pro Motherboard with P67 chipset
Memory
2x4GB Kingston HyperX DDR3-1333 @ 1333MHz (expandable to 16GB)
Graphics
PowerColor Radeon HD 5750 1024MB GDDR5 with Passive Cooler
(720 Stream Processors, 700MHz Core, 4.6GHz RAM, 128-bit memory bus)
Hard Drive(s)
Intel X25-M 34nm Gen 2 120GB SSD
Western Digital Caviar Green 1.5TB
Optical Drive(s)
ASUS DVD+/-RW Combo Drive
Networking
Intel Gigabit Ethernet
Bluetooth 2.1+EDR
Audio
Realtek ALC892 HD Audio
Speaker, mic, line-in, and surround jacks for 7.1 sound
Digital and optical out
Front Side
Optical Drive
2x USB 2.0
eSATA
Headphone and mic jacks
Top
-
Back Side
2x PS/2
Digital and optical out
2x eSATA
6x USB 2.0
6-pin FireWire
Ethernet
2x USB 3.0
Speaker, mic, line-in, and surround jacks for 7.1 sound
Operating System
Windows 7 Home Premium 64-bit
Dimensions
19.9" x 20.25" x 8.1" (WxDxH)
Weight
31 lbs (case only)
Extras
Antec CP-850 850W Power Supply
Gelid Tranquilo CPU Cooler
Scythe Silent Fans
Silent Case Modification
Warranty
1-year limited warranty and lifetime phone support
Pricing
SPCR Edition starts at $1,550
Review system quoted at $2,149
For most of this review we were able to handpick and outfit the tower with the components of our choice; as a result the Intel Core i5-2500K we chose didn't ship overclocked and Puget Systems doesn't offer overclocking on this model (though you can still do it yourself). By now you already know that Sandy Bridge processors are the fastest clock-for-clock on the market, and also among the most efficient (which our thermal and power consumption testing will bear out).
If you're a little bit underwhelmed by the Radeon HD 5750 in our review unit, don't be. This 5750 is arguably the fastest passively-cooled card on the market (only the Sparkle GTS 450 really competes), and is included in this build for what should be obvious reasons. Our rep did tell us that a passively-cooled Radeon HD 6850 is in the works right now; when that becomes available expect it to be offered with the Serenity SPCR Edition. That said, just because it's fanless doesn't mean it's slower: this 5750 runs at spec.
As for the parts we didn't choose, most of them make sense, though the lack of a card reader is disappointing when most of the review units we've seen include one as a matter of course. An SSD is a shoo-in with no moving parts to produce noise—though you could argue for using a SandForce-based drive instead of the Intel one—and the inclusion of the Western Digital Caviar Green sacrifices some performance in the name of silent running. A basic DVD+/-RW combo drive instead of a Blu-ray drive was disappointing, but the upgrades are at least available for a reasonable price. Puget Systems claims on their website to test individual components and cherry pick them and I can believe it. And finally, a brief thumbs up for including 8GB of DDR3 instead of 4GB in the review unit. This really should be standard and it's perplexing why so many of our review towers don't ship with 8GB at this point.
Finally, wrapping everything up is the Antec P183 enclosure. The P183 is often regarded as among the quietest cases available, but as you'll see Puget Systems takes it a few steps further in the name of silent operation. If I could really complain about anything, the Antec CP-850 power supply seems like gross overkill for a machine with specs this modest. You'll see in our power consumption testing that it's not really an issue, though.