Samsung Galaxy Tab - Oh, That Screen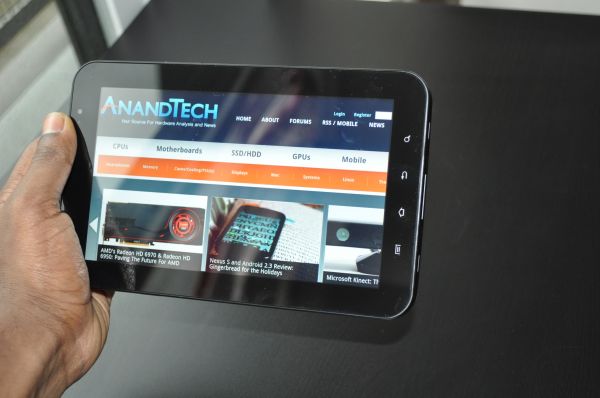 Really, I have to commend Samsung here. There's no AMOLED, no IPS, and no S-LCD, but they managed to put a very high quality LED-backlit LCD panel into the Galaxy Tab. The contrast ratio is a devilish 666:1, neatly splitting the difference between the EVO 4G and the Dell Streak, but well short of the iPad's stellar 934:1 number. But the best thing about the screen is that even without any of the more advanced display technologies, viewing angles are still excellent. As we've mentioned before, viewing angles are significantly more important for tablets than netbooks or notebooks, so it's reassuring to see that Samsung recognizes this.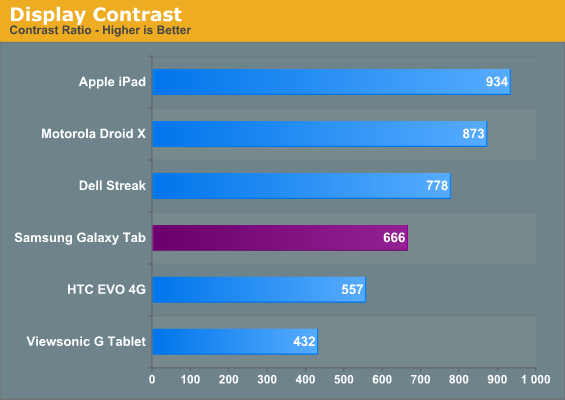 The 7" display packs the same WSVGA resolution as most 10" widescreen tablets, so the pixel density is relatively high at 170ppi (versus 138 for the iPad and 116 for most 10" WSVGA tablets). Current rumors put some of the upcoming 10" tablets at 1366x768 or 1280x800, so we'll see pixel density rise for the industry as a whole, but overall the Galaxy Tab has a pleasantly crisp screen.
The end user experience of any tablet really begins with the screen, and it's probably one of the most overlooked components in any given device. The display can really make or break any tablet, so it's important to note that the Galaxy Tab has a very good one.